No one wants to plan for this eventuality, but unfortunately, it can happen, especially if you choose to travel to Cancun during the rainy season. I guess if you've decided to save money by going at a less popular time, you'll probably already have factored in the possibility of rain and bad weather.
Luckily a little rain won't completely ruin your trip as there are plenty of things to do in Cancun on a rainy day. Below are just a few of the highlights Cancun has to offer.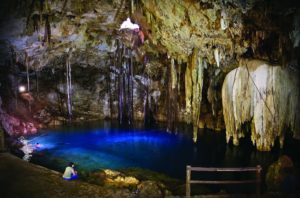 Caves of Yucatan Peninsula
You might not fancy getting wet above ground, but heading underground for the day could still prove a little on the damp side. The flat terrain of this part of the world is peppered with caves and cenotes for you to explore.
There are plenty of trips you can take with transport and guides provided for your entertainment and convenience, or you might choose to head off the beaten track for a while and do some cave exploration on your own. The cenotes in this part of the world aren't seen anywhere else across the globe and so while the weather may not be all rainbows and sunshine outside, you can entertian yourself for hours in this subterranean paradise.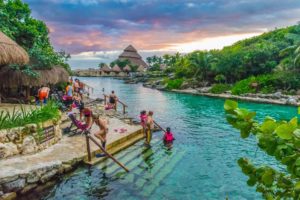 Xcaret Eco Park or Xel Ha
A visit to the Xcaret Eco-Park or Xel Ha won't necessarily keep you dry, but it'll definitely keep you and the rest of the party out and having fun. This protected environment is so rich and features a diverse range of flora and fauna. There's a good chance you'll see something new at every single turn in the path or bend in the road or water.
There are also some incredible ancient Mayan ruins to explore as well, making this park an experience to be treasured, whether the sun is shining or not. Not sure which one would be better? We break down Xcaret vs. Xel Ha here fully and give you the scoop on each.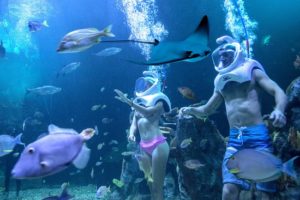 Interactive Aquarium
With over 70 different types of fish and marine animals, the interactive aquarium in Cancun is one of the main attractions for visitors and tourists. The fact that a natural creek is found here, where saltwater meets freshwater, is just an added bonus to your trip. This is one of the best rainy day activities in Cancun to do with kids, and you can find other things to do with kids in Cancun if you're looking for more that they'd enjoy.
There are parts of the aquarium which are outdoors, but the indoor area is huge and you'll be able to spend at least half a day wandering around open-mouthed and gazing at some of the spectacles within this prized collection. Sometimes a rainy day on a vacation needs real punctuation and purpose, and both of those things are provided in ample amounts by this interactive aquarium which is well worth a visit.
Kukulcan Plaza
This plaza in Cancun is a place where you can literally shop til you drop, or at least until the rain stops anyway. With a range of retail outlets featuring items ranging from cheap and tacky right through to the high end and designer, this plaza has something for everyone and is one of the biggest of its kind in the whole of Mexico.
Shopping here could end up turning into a rather expensive day if you choose to avoid the rain here, but just think of the smiles on the faces of all those people back home, when you give them the tacky gift that they've always been wanting. Seriously though, when the weather takes a turn for the worse, you could do a lot worse than choosing to head inside the relative sanctuary of this place.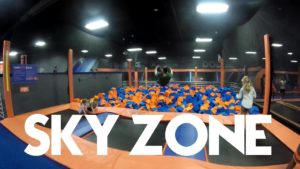 Sky Zone
Everyone loves a trampoline park, and Sky Zone is all that and more. After you've got over the pretty high entrance fee, you'll be amazed at the sheer number of different activities that you can get up to. This is a great place to bring the kids for a run-around and to allow them to let off some steam.
It has to be warned though that if you don't like trampoline parks at home, there's a good chance you won't enjoy the trampoline parks in Cancun either. They are loud and in your face, but that's sort of the point, and when it's raining cats and dogs outside, it might just be time to bite the bullet and head to the Sky Zone for half a day or more.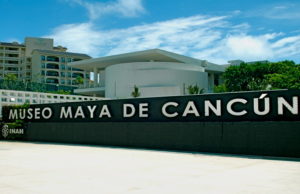 Museo Maya de Cancun
If you're feeling like using your bad weather day to broaden your horizons and to enlighten your mind, why not think about paying a trip to Museo Maya de Cancun? Here you'll be able to learn all about the history and the geography of this fascinating place, all under one roof.
The exhibitions are full of genuine Mayan artifacts and the explanations and tour videos are available in a range of languages for your convenience. The museum is also very accessible to people with limited mobility, making it a top spot to avoid the rain for any kind of touring party. Put it on the list and get yourselves inside and learning.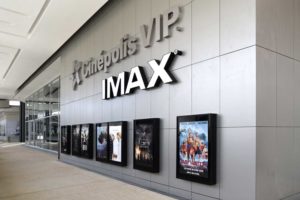 Cinepolis
You probably didn't come to Cancun to go the movies, that much is true, but when the weather is really bad and it shows no signs of stopping any time soon, something that a lot of people choose to do is to head for Cinepolis. This is a huge cinema in the heart of Cancun.
It's a good idea to ask a lot of questions about the type of screening you're booking, as there will be a mix of options on sale, from Spanish without subtitles to English with Spanish subtitles. You have to remember that you're not at home anymore, and so your cinema experience might be a little different than what you're used to.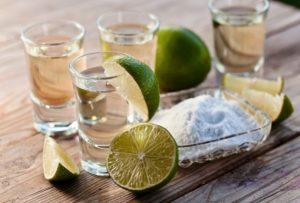 Tequila Tasting
For the true taste of Mexico, you could always opt to experience one of the many tequila tasting opportunities. You might want to pencil in some recovery time afterward and it's probably a good idea to line your stomach with a hearty meal in the build-up, but a spot of tequila tasting could go a long way to lifting your spirits once the rain arrives and the heavens open, especially if you visit one of the bars in the Cancun area that visitors typically frequent.
Just try and remember which order the lime, salt and shot go in, as that's the key to the perfect tequila slammer.