Mother's Day is fast approaching and many of us are worrying what to do or to give to one of the most special people in our life, our mom. There are moms who would be happy for a simple card and phone call, but wouldn't it nicer to give her something to remind her how special she is?
A personal handcrafted gift is usually an impressive gesture, but if you're anything like me, you may not have much in the way of artsy creativity, so shopping for gift would be the next best option. Flowers, chocolates and cards are the most common Mother's Day gifts, but for mom who loves to travel there are thousands of useful and amazing travel accessories that are both thoughtful and useful you can give.
When packing for a vacation, women usually tend to bring more things than men. Some women even bring multiple suitcases for just a short weekend stay nearby. This is especially true for those moms who are always ready for anything that may come up.
When picking out a gift for your mom (or wife, or grandmother, or sister, etc.) for Mother's Day is should be both fun and exciting at the same time. It may also be time consuming, but we got you covered here and hopefully we can help you find the perfect gift. Try some of these travel accessories for this coming Mother's Day (or birthday or Christmas). Most of these can be found on Amazon and delivered quickly, although other sources have been included for your convenience.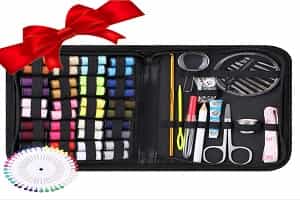 Coquimbo Sewing Kit from Amazon
(https://www.amazon.com/dp/B07L6V73YJ)
Moms are the best for sewing back or fixing clothes that may rip or tear at the worst time possible . If your mom has the talent or love of sewing this would be a perfect gift. While traveling she might lose a button or find that she has ripped a seam and this kit will have any item she may possibly need to fix it. It's a compact kit, so it won't take up too much space in her suitcase, and it makes quick repairs easy, even in a crunch.
All items are housed in a sleek black zipper case and held in place by elastic bands. Inside the case you can find: 1 pair of stainless steel scissors, 1 long measuring tape, 40 different color spools of thread, 30 sewing needs in varying sizes, a needle holder, 7 buttons, a magnifying glass, and much more. The pouch has a cute design making it easy to carry in style anywhere she travels. The price is around $16. This would make an amazing gift for any mom that loves to travel and knows her way around a piece of cloth.
Compass Rose Secret Bra Wallet
(https://www.amazon.com/Secret-Travel-Anti-theft-Protection-Fashion/dp/B07D7G65YH)

This is a small wallet or pouch that holds cash and cards in the most discreet places. Your traveling mom would definitely love the idea of being able to hide her cash under her clothing where it will be very safe and secure when she is out and about. It is lined with RFID blocking materials, so she will have no need to worry about digital theft either.
One can never be too careful when traveling in foreign or unfamiliar places, so it's best that your mom has a secret money pouch that would be very difficult to detect, let alone pickpocket. Of course there are other secret bra wallets, but what makes Compass Rose unique is that it is comes with a long strap and can be attached to fit any cup size from A to DD+ as well as a variety of bra band widths. For $15 it can give you less to worry about while she is on a vacay and it's the perfect gift for any adventurous mom.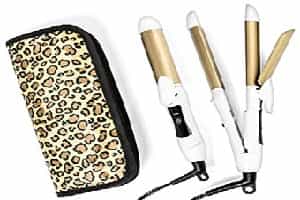 6th Sense 2 in 1 Travel Flat Iron / Curling Iron With Carrying Case
(https://www.amazon.com/Straightener-Curling-Voltage-Temperature-Titanium/dp/B06Y3K796F)

This is a MUST for any stylish mother that loves to have the perfect hairstyle while traveling. It will allow for many versatile styles to help your wandering mom create whatever the outing calls for. Does she prefer flirty curls or a no-nonsense straight look? Either way, she can achieve it with this handy travel accessory.
Having this will make sure that she looks her best in all her social media updates, too. Plus, it also comes with a heat resistant carrying case in two style options. Should you go for the standard leopard print or blue snake print? For about $30 your mom won't need to visit a salon and waste any time or money for her next vacation.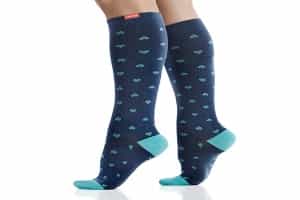 Compression Travel Socks by
VIM & VIGR
(https://www.amazon.com/VIM-VIGR-Medical-Compression-Midnight/dp/B07VNJ7RW7
This is definitely an overlooked, but necessary, accessory for any real travel. You might not have even known it existed or what it's purpose really is. Compression travel socks offer half designer sock and half medical device. This company, VIM and VIGR, creates trendy medical socks that are designed to help energize the legs, reduce swelling in the legs and feet, alleviate overall achiness, and aid in muscle recovery. For any long flight or road trip, this is a must. It's been scientifically designed to support legs and help with blood flow, while still providing all day comfort for regular wear.
This type of compression is usually recommended by healthcare professionals to help with certain conditions like edema, deep vein thrombosis, and spider veins. These socks are FDA approved and were created in collaboration with experts including vascular surgeons and workers from various vein clinics from around the country.
With these socks your mom can fly across the country without having to endure achy legs, clots or swelling. They're great for all seasons, too, due to the unbelievably breathable and incredibly flexible materials used. When she arrives to her destination and gets off that 12 hour flight she will be energized and ready to face the beautiful journey ahead. These socks also comes with different style options and sizes, too, so she can match it with her outfit. The price is around $20 to $33. Don't let those swelling legs from long flights ruin her dream vacation.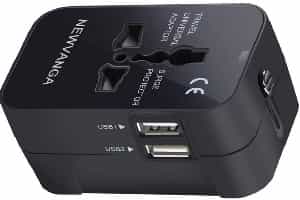 Newvanga International Universal All in One Worldwide Travel Adapter
(https://www.amazon.com/NEWVANGA-International-Universal-Worldwide-Charging/dp/B01FO4W5W2)

This is a great travel accessory for all the tech-savvy moms out there that love to escape to far off destionations around the world. This travel adapter works with plugs from over 150 countries. This includes countries like United Kingdom, Thailand, Italy, Spain, Canada, Australia, Peru, China, and many (many) more. It comes with built in safety shutters that will help to protect the users from direct touch of any live parts on the socket outlet, too.
There are 5 different input plugs included that connect to one adapter and it is able charge up to three devices at a time. It also has 2 USB charging ports that are compatible with almost all USB devices such as Apple's iPhone, LG, Huawei, Samsung and so on. She will be able to charge her phone, laptop, camera and whatever else she may need safely and quickly and with no hassle.
This adapter comes in two color options, so you can pick either a black or a white one to match her style or preference. Now your mom won't have to worry about how she will manage to charge her gadgets on a vacation abroad.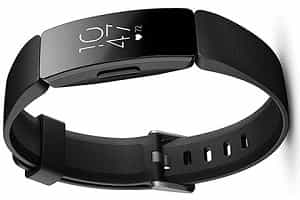 Fitbit Inspire HR
https://www.amazon.com/Fitbit-Inspire-Fitness-Tracker-included/dp/B07MSYTQNM)

This is a recently released edition in the Inspire line. It just launched in March 2019, so chances are your mom does not have one yet, nor do many of her friends. This is a perfect gift for a fitness-loving, health-conscience mom. The Fitbit Inspire HR brings all of Fitbit's best features, like heart rate monitoring, sleep activity, and calories burned. It has a wonderful and sleek design with a lot of options for custom bands, like black, white and pink. This will allow your mom to stay healthy, even while she's out globetrotting, and do it in style, too.
These are just few things you can give as a Mother's Day gift, or even a birthday or Christmas gift. Either way, no matter what you decide to get her, make sure to let her know that you are grateful for everything she's done for you and that you love her. That by itself may be considered the sweetest gift of all. Mother's Day only comes once a year, but that doesn't mean you can only give them gift on that day. They are one of the most important women in your life, so they deserved the best every day.