Check out one of our newest Premium Orlando promotions, The Point Hotel and Suites, a 4-Star luxury property right in the heart of Orlando and less than 2 miles from Universal Studios!
Everyone is on the quest to finding the best Orlando hotel whenever they're planning a vacation to the Sunshine State. The Point Hotel and Suites in Orlando is perfect for a family vacation, guests traveling for business and even for a romantic getaway with your partner.
It is right by the world-famous International Drive, so it will keep you near many of Orlando's most popular attractions. After a long day, relax and give yourself a treat by spending the night at The Point Hotel and Suites in Orlando.
The Point Hotel & Suites offers every visitor a great experience to remember. You can try it for yourself and discover why it's known as one of the most premier hotels in the area. It offers top-notch service, comfort, and a peaceful atmosphere, while still keeping you right in the middle of all the major attractions Orlando is known for.
It accommodates guests from all over, offering suites ranging from studios to two bedrooms, and all the in-room comforts you would have at home. You can spend the day lounging by the pool and take full advantage of the poolside Cabana Bar and Grill or head out for a day of shopping at the local outlets or running around at the parks.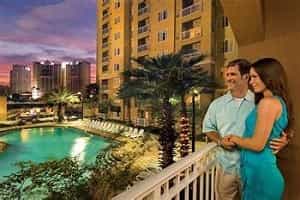 Onsite Dining At The Point Hotel And Suites In Orlando:
If you're looking to fill up before heading out, The Barista, located inside the lobby, offers an egg-ceptional hot American breakfast buffet from 7AM until 11AM every day. It's modestly priced at just $8 for kids and $12 for adults.
It features delicious scrambled eggs, bacon, sausage, oatmeal, cereal, fresh fruit and juices, bagels and more. You can also enjoy a hot Starbucks beverage. If you're too tired from a previous day at the parks, or just feeling too lazy to get out of bed, you can also order a la carte from The Barista and have it delivered to your room.
Alternatively, if you're not an early riser, The Cabana Bar and Grill, located by the pool, may be a better fit for you. It's open from 11AM to 11PM every day. They offer a wide selection of dishes including hot sandwiches, salads, quesadillas, tacos, and other fantastic munchies. There are also great cocktails, beer, wine and other spirits you can enjoy from the bar.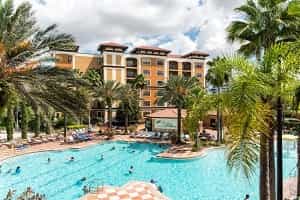 Location, Location, Location!
Obviously if you're coming to Orlando it's not so you can just sit up in your hotel room, right? No! You're going to be out and about enjoying all the great things Orlando (and maybe even the rest of Florida) has to offer. Luckily, this hotel offers shuttle transportation to a few of the best local attractions, including Epcot, Universal Studios, and Seaworld for a very modest price. It's also right near an I-Ride Trolley stop.
I-RIDE Trolley is a service that operates daily from 8 AM until 10:30 PM and offers transportation all up and down the world-famous International Drive Strip. If you're going to be in town for a few days or even longer, we definitely recommend investing in an Unlimited Ride Pass.
If you plan to explore I-Drive quite a bit (and why shouldn't/wouldn't you?), it will end up saving you quite a bit. You can check out the prices and routes on I-RIDE Trolley's site or you can get it included free with the purchase of the Sightseeing Pass along with dozens of other attractions.
As mentioned before, you will be conveniently located near I-Drive, so you will have literally hundreds (possibly thousands?) of restaurants and attractions within a short hop, skip, and a jump away. You can find pretty much any type of food you can imagine. There are a few restaurants and attractions listed below that are all l a mile or less away from the hotel and within easy walking distance:
Restaurants
Aashirwad Indian Restaurant – (407) 370-9830 – Indian Cuisine
Café Miniero Brazilian Steak House – (407) 248-2932 – All-you-can-eat Brazilian
Cooper's Hawk Winery & Restaurant – (407) 956-3400 – Contemporary American With Wine Bar
Mango's Tropical Café – (407) 673-4422 – Latin American/Caribbean Dining (also a great choice for an Orlando dinner show with the show option)
Some other popular restaurants in the area included Kobe's Japanese Steakhouse which is just over one mile away, Yard House (great for beer fans) is less than a mile and a half away. Other restaurants such as Fogo de Chão Brazilian Steakhouse, ICEBAR Orlando, Season's 52, Ocean Prime, Del Frisco's Double Eagle Steak House, Maggiano's Little Italy and Café Tu Tu Tango are great ones to consider, too. There's really something for every taste.
Attractions
Ripley's Believe It or Not – (get a great discount on tickets here)
Titanic: The Artifact Exhibition
ICON Park Orlando
Magical Midway
And many, many more…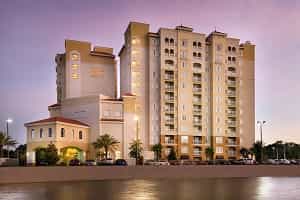 Other popular nearby attractions, probably not considered walking distance to most would be Universal Studios, which is only a 1.5 miles away, Seaworld is only 5 miles away, and Disney World is only 8.5 miles away. Also, don't forget, as mentioned before, you can arrange for the hotel's shuttle to take you to these attractions for a nominal fee. Basically any attraction you're planning to visit will be within a 10 mile radius of this hotel.
Also, if you're hoping to spend a day or two at the beach while you're down in Florida on vacation, you're in luck. Although Orlando is located and land-locked in central Florida, you're never more than an hour's drive away from a beach.
You could head south to Miami or Ft. Lauderdale, east to Daytona Beach or Cocoa Beach or west to Clearwater or St. Petersburg. Florida beaches, as you may already know, are world-famous and contribute millions to Florida tourism every year…and for good reason. This is one of the few properties we would be proud to give a 5 out of 5 stars rating to.
So, what's better than the superb location of this luxurious 4-star hotel and all the attractions and restaurants you'll be surrounded by? How about saving 70-80% off a stay here? The average cost per night for this hotel is around $200, but you can get 4 days and 3 nights in a huge 1-bedroom suite for just $189 total, for all 3 nights! Check out our new Orlando resort promotions and find out how you can stay directly at this property, enjoy all the perks mentioned above.