Orlando has a reputation for providing some of the best attractions in the world. With an ever-changing lineup and new experiences, you can rest assured that visiting Orlando will always bring a new adventure that will leave you begging for more.
Today we're going to focus on one of the most thrilling attractions in Orlando. This is by far one of the more exciting activities you can do here, especially if you've never done it before. What's great about attending this type of venue is that it doesn't even matter who you're traveling with or what your budget is.
It's great for all ages and not that expensive, compared to other well-known Orlando attractions. This is definitely a must-try. We're talking about the best escape room Orlando can offer to its visitors and locals alike.
What Is An Escape Room?
An escape room, or an escape game, is a themed game played by a group of players. Your main goal is to figure your way out of the game. In order for you to do so, you will have to look for hidden clues, solve puzzles and accomplish the tasks in a limited period of time.
You and your party will need to really observe all the details in the room and explore every crevice and hidden space. The best strategy to win is to work as a team. You will be locked in a room together and that's when the timer starts.
This is probably one of the most intensively fun ways to test your escape skills. If you are ready to take on this task and are looking for the perfect place to start your Orlando adventure or vacation, America's Escape Game would be the best place! This is what we personally consider as the most daring escape room in Orlando, Florida.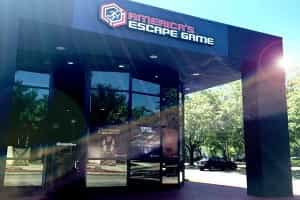 America's Escape Game
8723 International Dr. # 115
Orlando, US 32819
(407) 412-5585
As mentioned before, America's Escape Game is the most engaging and challenging escape room attraction in Orlando.
Insider Tip: If you are from Florida, they offer an excellent Florida resident discount, just make sure to bring your valid Florida ID for proof of residence. Also, active and retired military get their first game free, but you will need to call to schedule your time slot.
Being located directly on International Drive (I-Drive) means this is located right in the heart of Orlando's best attraction area. This intellectually challenging game is best played with a family, but even colleagues and friends can make great team members. If you've decided to tackle this attraction alone you can also meet new people here and spend an interactive journey with them.
There are many mysterious escape rooms and themes you can choose from, too. No matter which one you choose it will truly a very thrilling race against time. The game masters will help guide you from start to finish with extra hints and tips, but don't be fooled. The games are very challenging, but still fun and family-friendly. There are no live actors in the escape rooms and nobody will jump at you or grab/scare you in any way. It's really just a great mental exercise.
At America's Escape Game you will have the option for either a private or mixed game rooms. If you choose to reserve a Private game, it will be set aside for you and your specified time slot and nobody will be able to book your game on the website. Also, walk in customers will not be able to join you in your private game. Private games are offered to parties with 2 players or more.
On the other hand, if you choose to reserve a mixed group game, the game will be open for other players to join. The games allow from 5-10 people at a time depending on the theme, so walk-ins and online bookings can join until all spaces are filled.
You may come across some players that are apt to using "adult" language. If you or anyone in your party is easily offended or you do decide to bring the kids with you, it may be best for you to reserve a private game. This may end up being a little pricier, but it could also lead to a much more fun experience. Also, your kids won't have to be subjected to foul language or be playing with unknown people. The choice, of course, is yours. You can reserve a private game for your family, colleagues and friends or pair up with new players in the mixed game room.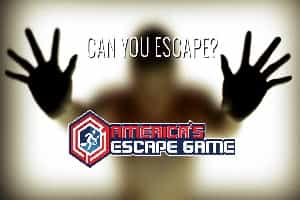 Escape Room Reservations:
The reservation can be made for any available game up to 90 days in advance online through their website. You can also reach them by phone at (407) 412-5585 or just walk in. If you do decide to purchase online or over the phone remember that all sales are final since America's Escape Game is a live event they won't grant refunds, but you do have 24 hours of booking to reschedule should you not be able to make it.
You will want to arrive at the site about 15 minutes prior to the scheduled start of the game so you can find a parking space and finish the registration prior to playing. All the games will start at their designated times since they are scheduled live events and there is a strict timetable to stick to. Worst case scenario, if you arrive late and you have scheduled a mixed game group, the other players will have to start without you. You can just join the game late whenever you're able to make it.
If you have booked a private game and you have arrived late, since there are no other players, the game will start once you arrive and after you finish filling out the registration paperwork. The game will still end at the scheduled end time, meaning you will have less time to solve your puzzles and escape. There will be no refunds or credits for late arrivals, so make sure to arrive on time or a little early to make sure to get your money's worth and get the most of your experience.
Unfortunately, if by any chance because of some unforeseen events you are unable to show up, the game is forfeited. Again, there are no refunds. The game purchase is transferable, though, so if you aren't personally able to make it for the time you have reserved a space for you may give that space to a relative, colleagues or friends to attend and play. This only takes a phone call ahead of time to let them know the name of the person or people arriving for your game.
If you want to save even more on your adventure, make sure to do a quick online search before you book for a coupon or promo code. The venue often offers special deals online. If you find one you would simply go to their website, proceed to the booking page, choose the game/theme and specific time you want to play. On the next page, where they ask for your billing/payment information you will be able to enter your discount code or voucher if you have any.
That discount, if valid, will be automatically applied to the reservation you're making. You can also add extra players with your credit card on the website. All of the prepaid vouchers, coupons, and code are only valid within the regular opening hours and cannot be combined with other offers. Also, it cannot be used for Private Team building events outside of the regular operating hours. Any special codes/discounts can only be applied on the website and cannot be used for walk ins or redeemed in the store, so do keep that in mind, too.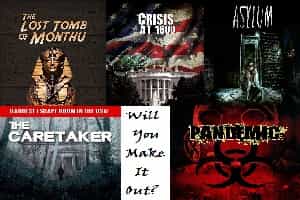 Escape Rooms In America's Escape Game
Do remember, the objective is to have fun, and not every party ends up winning and escaping in time. Actually a very small percentage does. If you and your party are able to beat the clock, and the game, you will make it on the America's Escape Game famous leader board. The games do get updated throughout the year, so always check their site for the most current, up-to-date games and descriptions available for play during your visit.
The Lost Tomb of Monthu / Revenge Of The Tomb
Your goal is to find the priceless Ruby of the Black Sands before the grave robbers do. You have 75 minutes. This one can be played by up to 10 players at a time. The escape rate is 20% and the best time is 46 minutes and 16 seconds.
Crisis at 1600
You're in a group of tourists that become trapped inside the White House when a heavily armed group of invaders breach the gates. The president is safe, but there are no guards to help you and your team. Oh, yeah, there are also missiles that will be launched and can only be diverted by reaching the Oval Office. Can you and your team save the millions of lives that are depending on you?
This game can be played by up to 10 players. The escape rate is 14% and the best time played is 29 minutes and 59 seconds.
Asylum
Your goal is to enter the remains of the Oakridge Lunatic Asylum and figure out the deep, dark secrets of Dr. Rutger's horrifying deeds (suspected murder and mayhem, of course). You need to solve the case if you can. Helen (Dr. Rutgers's wife) made a deathbed confession that her husband owns a special room where he makes the darkest and horrifying works.
This is where 5 patients under his care were murdered (presumably,) but their bodies were never found. Now, it's up to you to solve this murder mystery. This can be played by up to 8 players. It has an escape rate of only 10% and the best time played is 40 minutes and 35 seconds.
The Caretaker
An evil lies in a dark and vast forest in Oregon. Dr. Vermillion, a brilliant geneticist, has been disbarred for unspeakable experiments on both animals and people. Now he's seeking revenge for his disbarment. He has unleashed giant wolf-like creatures into the nearby town. The police are unable to stop the deaths. Now the townspeople and an isolated hermit, known as the Caretaker, need your help.
This can be played by up to 5 players and has an escape rate of only 8%. The best time played is 31 minutes and 10 seconds.
The Pandemic
This may not be a best-seller right now, but it's one of the most challenging themes they have. When the Red Death comes sweeping across the planet there's no other option than to look for the cure inside a now shuttered laboratory. This may just be the only chance humankind has and it all rests on you.
This can be played by up to 8 people and has an escape rate of 15%. The best time played is 31 minutes and 28 seconds.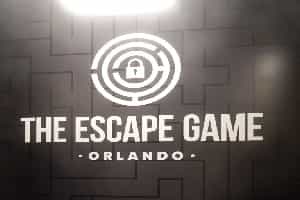 As you can see America's Escape Game is full of fun and thrilling adventures. Your goal is to escape the game, but really it's a great opportunity to escape reality (however briefly) and enjoy some real excitement. Be prepared to put your thinking cap on and really challenge yourself and your family and friends. This makes the list of great Orlando date night ideas and can really add some adventure to any Orlando trip.