We all know about the massive theme parks and other attractions in Orlando, but what about when it's time to sit down to a hearty meal with some entertainment? Don't worry, Orlando's got you covered on that, too!
There is a wide variety of great dinner shows to be found in the Orlando area. From swashbucklin' pirates to knights saving the princess, to solving a murder mystery, you can pretty much find any type of theme you might be looking for.
Here are some of the newest dinner shows in Orlando, some that offer experiences you may not have even thought possible. Most are family friendly, but a couple might just make a great Orlando date night out with your spouse. Take a look and decide for yourself.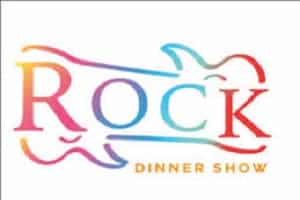 The Rock Dinner Show
6362 International Dr. Orlando, FL 32819
Entertainment lovers rejoice! Las Vegas is now in Orlando. Well, not technically, but The Rock Dinner Show gives you a true one-of-a-kind dining event, like the ones they offer in Las Vegas. It feature family-friendly shows and has something that everyone, of all ages, will enjoy.
Cover artists will perform some of your most favorite iconic rock and pop songs from some of the biggest and best artists of all time. Their website is a bit vague, but you are able to call ahead to know who's songs are going to be performed. If you're a pop or rock fan, you can skip this part, as you know the show's going to be good.
You can hear tunes live that were written by the likes of Elton John, Adele, Michael Jackson, Elvis, Stevie Wonder, Prince, Bruno Mars and even Katy Perry. The wide variety helps to make sure everyone in attendance will be entertained for the duration of the show. There are also going to be numerous dancers and acrobats. The shows and dinner last about 2 hours, but the doors open an hour beforehand, so you will want to show up a little early to secure a good seat.
Also, you are allowed to take photos during the show and when the show is over you can even meet the performers and take pictures with them, so make sure to bring your camera for this event.
The dinner and show tickets for The Rock start at around $65 per adult (13+) and about $40 per child (3-12). Kids 2 and under get in for free. The meal starts getting served about a half hour before the show starts.
Adults will get to enjoy three courses starting with a house salad, followed by roast chicken with mashed potatoes and seasonal veggies (or gluten free vegan pasta with marinara), and a chef-selected dessert. Kids will get bread sticks with marinara, chicken tenders and fries (or pizza), and a chef-selected dessert. There are dinner upgrades available, too.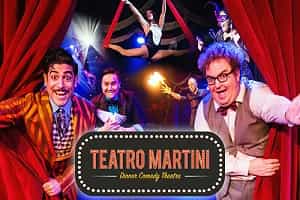 Teatro Martini Orlando Dinner Show
6400 Carrier Dr. Orlando, FL 32819
This is the variety show of variety shows. Some say you'll never see the same show twice. You will be entertained by magicians, dancers, acrobats, clowns and, if you're lucky, you may even get to see puppies perform for you at Teatro Martini Orlando.
This is not one for the younger kids, it's limited to visitors 17 and up, since there is always a lot of adult-themed comedy and performances. You'll get to enjoy a wonderful combination of laughs and thrills, singing and dancing, and more.
There are two types of ticket options to choose from, both include the show. The first one is Dinner & Show, which is roughly $70, and includes a three-course meal (tomato soup or Caesar salad & chicken or pork loin & shrimp or veggie penne pasta, & a dessert (brownie or cheesecake+$5) and unlimited soft drinks during the show. Your second option, should you choose to eat before the show, is appropriately named Drinks & Show, which costs just over $45 and includes two Budweiser beers or two glasses of house wine.
The show doesn't have to stop when the show is over. Afterwards you can linger and enjoy their new dueling piano speakeasy ultra-lounge named Jewel. You can buy a package for $25 which will include 1 martini or glass of wine and 6 wings, along with some lively entertainment.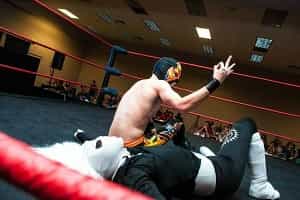 Manor Professional Wrestling Dinner Show
1875 Silver Spurs Ln. Kissimmee, FL 34744
Manor wrestling is a dinner show with classic old school wrestling. If you were a fan of WWF (or WWE), it's basically just like that, but with dinner. You'll get to watch 7 total fights. This may (or may not) be for children, as some of the characters and effects may scare them, so use your own discretion.
The dinner includes appropriately named dishes including drop kicking vegetable medley, head lock tossed green salad, body slam oven roasted chicken and more. Tea, lemonade, coffee, and water is available for self-service, too.
You have a few different ticket options. If you're a big wrestling fan we recommend the VIP package, which is $47 for kids 4-12 and $60 for adults, and includes the dinner, the show, priority seating, meet and greets with some of the wrestlers INSIDE the ring where you can take photos, and a free T-shirt.
If you're on a budget and just there for a little entertainment you can enjoy general seating with dinner and the show for $37 for the kids and $43 for adults. If you're out with your spouse they do offer a deal for a couple for $75 with general seating and $145 for a family of 4 with general seating.
Either way you choose to go kids 3 and under are free, however they do not get their own seat or meal, so they will need to sit on your lap and eat from your plate.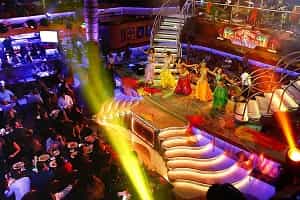 Mango's Tropical Cafe Dinner Show
8126 International Dr. Orlando, FL 32819
If you're looking to spice things up while watching one of the hottest shows in Orlando, look no further than Mango's Tropical Cafe. They feature the rhythms of Latin America, the Caribbean, Cuba and more from the 80's and 90's. You will become enthralled with the beautiful and ornate costumes worn by the dancers. It's a great night out for the whole family.
There is a three-course dinner included with the show and many options to choose from. Depending on your budget, you have many choices for dinner, starting at $39. You'll start with either a soup or salad and then you can opt for the Cuban ropa vieja (shredded beef with white rice and black beans) or maybe you'd prefer the baked short rib ravioli? If you're willing to move up a bit on the price you could enjoy their world famous Churrasco steak dish or an excellent salmon filet. Then wrap it all off with a fresh Flan of the Day (delicious custard delicacy).
Don't worry, Mango's didn't forget about the kids. They can enjoy some chicken strips and fries or popcorn shrimp, chicken quesadillas, or even pizza. There's something for even the pickiest eater.
As you can see, there are a bunch of options as far as the dishes go, so it'll really depend on what you're in the mood for at the time. Whatever you end up deciding on you will want to pair it with one (or maybe two – you are on vacation after all) of Mango's classic cocktails. Enjoy a mojito, martini, daiquiri or margarita.
These are just a few of the most unique dinner shows we've found in the area. Check back here as we do plan to update and add more. If you're planning a trip to Orlando we definitely recommend you visit at least one of these dinner shows. They are all well worth the money and will ensure prime Orlando entertainment.