If you're looking for a bar in Playa Del Carmen, you won't have to look very far or for very long at all, given that there are bars virtually everywhere you look. If you're after the best bars Playa Del Carmen though, you may just have to dig a little bit deeper and look in places you might not have expected to look.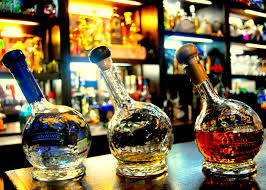 Need To Know
There are a few things that tourists visiting Playa del Carmen need to know about the bars there, to ensure they have a safe and enjoyable time. The first thing to take note of is the fact that the quality of the drinks you'll find here range from bottom shelf alcohol, all the way through to finely made premium cocktails.
As a rule, you can expect to find better quality alcohol in Playa Del Carmen itself, as opposed to that found in the surrounding all inclusive hotels and resorts, but that's because the hotels have tight margins to think about. Within Playa Del Carmen itself there are differences in price range, and one can expect to pay a little more per drink on 5th Avenue than you would if you were a little off the beaten path. This isn't too different from any city around the world though.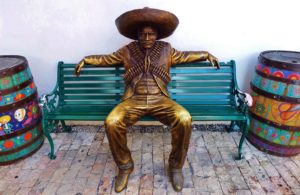 Cocktails and high-end liquors tend to be out of the price range for a lot of local drinkers, meaning that a wide range of beers is available at affordable prices. You may just stumble upon your new favorite beer, you never know. The majority of Playa Del Carmen bars close at 2:00 am, which is pretty late considering there are night clubs as well.
It's worth noting that tipping is not always essential or even expected when ordering things like a single beer. By all means, go ahead and tip if you feel inclined to, but it isn't necessarily the custom. Also, it's important to try and stick together with a group of people, but that sort of advice is useful anywhere in the world.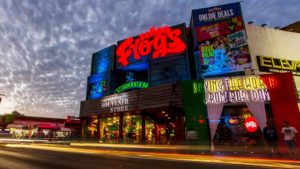 Beach Bars
Playa Del Carmen is known for its beach bars, and it isn't hard to see why. What could be better than sipping a cold cocktail while watching the world go by with the warm sand beneath your feet? Not much that's for sure, and here are two of the best beach bars in Playa Del Carmen to visit.
Zenzi Bar is right on the beach itself, over on 10th street. On some nights of the week, you'll find live music here, as well as salsa dancing, but they also serve food throughout most of the day. This is a bar that is ideally situated for people watching and for enjoying the atmosphere of a beach bar.
Senor Frogs is the second most popular Playa Del Carmen beach bar that is definitely worth visiting, given that its reputation for all things touristy and tacky happens to precede it. You'll find an authentic Mexican vibe mixed with a welcoming atmosphere, where food and alcohol are served from mid-morning to early morning the next day.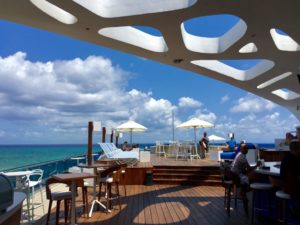 Rooftop Bars
With all the action happening at street level, or along the beach front, it can be easy to forget to look up every once in a while, especially with the hot Mexican sun beating down on you. Looking up though could lead you to some of the best bars in Playa Del Carmen.
Exploring these higher up bars can give you a break from the hustle and bustle, whilst providing you and your friends with some time and space to relax with a nice cold beer and a slightly different perspective of Playa Del Carmen's unique and interesting atmosphere.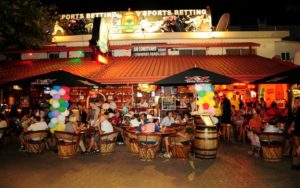 Sports Bars
Some visitors to Playa Del Carmen might want to escape the beachfront commotion altogether, and the many sports bars which line the streets and hide in the alleyways can provide the perfect air-conditioned retreat from the madness of the avenue and beyond. Sports bars can be a great place to kick back with some snacks and a few cold beers, while watching the game with friends.
Tequila Barrel is one of the most popular places along 5th Avenue to do just this. The bar food here is reasonably priced and even though the bar has recently added a gambling area above it, you can still zone out and tune in to your heart's content here. The wonderfully named Taco City is another place along 5th Avenue which provides some of the best TVs in the city. Catch a game here and then hang out until 1:00 am in one of the best bars in the whole of Playa Del Carmen.
Los Tabernacos is another lively bar, but this one has a slightly Canadian theme to it. Any visitors from Canada should definitely head to this bar for an extraordinarily warm welcome. For those people looking for a smaller sports bar with a more relaxed atmosphere, you can do a lot worse than by heading to Sr. Dan's Margarita and Sports Bar, which is a little bar that has 3 TVs and enough room for a group of guys who just want to drink beer and watch sports.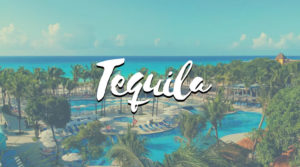 Best Bars
When it comes to choosing the best bar for you and your party, there really is only you and your party who can decide. The good news about Playa Del Carmen is that the variety and the sheer number of bars are pretty impressive, meaning that there really should be something for everyone's tastes.
You might like to watch the world go by while sipping a nice cold beer, in which case the beach bars are perfect. You may feel more inclined to let your hair down and follow each beer up with a tequila slammer, and fortunately for you, you can do this too. If you and your friends prefer to watch the game, whatever sport it is that you're into, you'll definitely be able to track the right place down in Playa Del Carmen. One thing's for sure, it can be a lot of fun going from bar to bar, trying to find the one that's right for you!
Traveling to Cancun and Playa Del Carmen may seem like it'd break the bank, especially when you factor in all the meals and drinks and your accommodations. Here at StayPromo, the site that you're on right now, we can help save you hundreds of dollars, up to 80% off, your stay. We have a bunch of timeshare promotions for Cancun, Mexico that'll have you staying in Luxury Resorts and they even include meals and drinks. Planning a vacation to Mexico doesn't have to cost thousands, if you know where to look and can find great deals online.