If there's one thing that can be said about Florida it's that the outdoors and wildlife here is amazing. That being said, many people come here looking for the best place to pitch a tent and roll out the sleeping bags. If you too are looking for the best camping in Florida you can find, you've come to the right place.
Listed below are the greatest places to camp here in The Sunshine State, so pack your sleeping bag and don't forget the bug spray and marshmallows.
Table Of Contents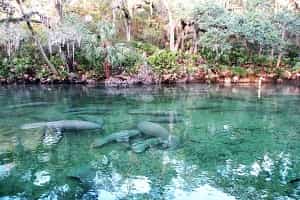 Blue Spring State Park
(2100 W. French Ave. Orange City, FL 32763)
The best time to come to Blue Spring State Park is sometime between November and March because that's when you can see herds of manatees, which is one of the biggest things this park is known for. There is a charge of about $25 per night to camp and a $6 entrance fee per car, so a weekend camping trip here would cost about $60 total.
This is a very popular camping spot for locals and visitors driving down in their RVs, so prior reservations are highly recommended, especially on the weekends. This site also includes the convenience of water and power, too.
Bahia Honda State Park
(36850 Overseas Hwy. Big Pine Key, FL 33043)
This is some of a camping site that's located right on the beach at Big Pine Key, Florida that offers one of the most tranquil and natural experiences you can find. It costs about $40 per night and is a very popular camping site, so it's recommended that you reserve your spot in advance.
Besides enjoying a clear view of the night sky and the popular Old Railroad Bridge, you can also take advantage of cycling trails, amazing snorkeling, fishing, and great picnicking sites. Kayak rentals and concession stands are available for visitors as well.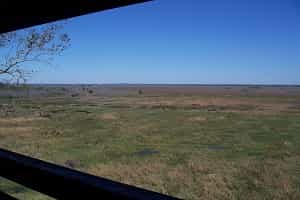 Paynes Prairie Preserve State Park
(100 Savannah Blvd. Micanopy, FL 32667)
This camping site is located on a National Landmark and Florida's first state preserve. It costs around $20 per night. It's well known for the wildlife you can see including numerous species of birds, snakes, alligators, bison, and even wild horses.
No motorized water equipment is permitted, but you can bring non-motorized items, like kayaks and paddleboards, to take full advantage of the lake. You can also fish, with the appropriate fishing license, so don't forget the bait and tackle.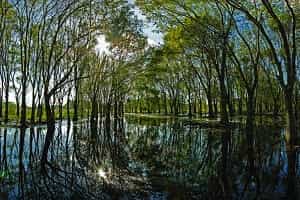 Hillsborough River State Park
(15402 N. US Hwy 301 Thonotosassa, FL 33592)
This state park is located just a few minutes from downtown Tampa and offers over 7 miles of hiking trails and plenty of water to take a dip in. You can even race down the river rapids in a canoe or kayak, and check out their reconstructed fort.
It's a good place to park your RV and enjoy a few days out in natural surroundings. For your comfort and convenience, there's even a pool and café onsite. This will cost around $30 per night and bike and canoe rentals are available, too.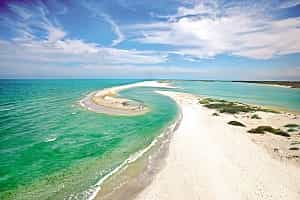 Cayo Costa State Park
(4 Nautical Miles W Of Pine Islands Cayo Costa, FL 33922)
This is an island located off the gulf coast of Florida, right off of Pine Island. You will need your own boat for this one, or you can take the ferry, since it cannot be reached by cars. It's a truly untouched and unspoiled part of Florida and if you're looking for the best tent camping in Florida, you've found one of them right here.
You're sure to see amazing wildlife here including manatees, dolphins, turtles, and numerous varieties of birds. You can rent a cabin or bring your own tent, either way you're in for a treat at this campground. Admission is $2 per person and $22 per night if you bring your own tent, so you can easily spend a weekend camping here for around $50. Not a bad deal!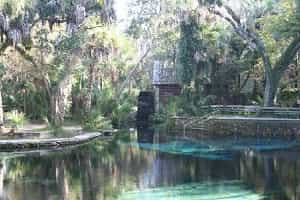 Juniper Springs Recreation Area
(26701 E. Hwy 40 Silver Springs, FL 34488)
Looking for a fairy tale camping experience with great photo ops? Juniper Springs is the one for you. Having been around since the 1930s, it's one of the oldest and best camping sites in Florida.
This particular camping site features many springs, most of which are accompanied by a tranquil setting of palm and oak trees. Canoe and Kayak rentals are available and there are plenty of places to set up a picnic.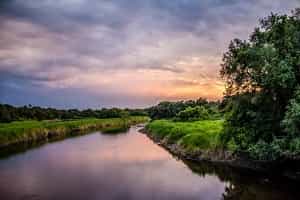 Myakka River State Park
(13208 State Road 72 Sarasota, FL 34241)
Featuring almost 60 square miles, this is one of the largest recreational and camping sites in Florida. Animal lover and adventure seekers are in for a treat here! With snaking rivers and wetlands, this park is known for plenty of wildlife (think gators, turtles, birds, snakes, etc.).
Besides ample opportunities to enjoy fun water activities, guided wildlife tours are also offered, or you can do a self-guided tour through the canopy walkway. The average cost per night is just under $30, plus $6 per vehicle.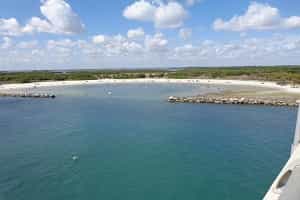 Sebastian Inlet
(9700 S. Hwy A1A Melbourne Beach, FL 32951)
This location is famous worldwide and has surfer from all over visiting annually. Those looking to do some camping at the beach should seriously consider Sebastian Inlet State Park. This park is perfect for those with campers that have different interests. There's something for everyone.
If you're looking for a calm beach to lounge on, large waves that'll allow you to feel the wind in your hair or jetties to fish from, you can find it here. There are also two museums on site for history buffs looking for more information on the area. This truly is a one-stop spot for those looking for the ultimate Florida camping experience. You can even check out their live webcam here (www.sebastianinletcam.com).
T.H. Stone Memorial St. Joseph Peninsula Park
(8899 Cape San Blas Rd. Port St. Joe, FL 32456)
This campsite area offers 20 miles of land that stretches along the Gulf of Mexico. Think white beaches and gorgeous blue waters and tall dunes to set up camp in. Here you can expect to see plenty of wildlife like nesting sea birds, turtles, and even beach mice.
It's a great place to BBQ, fish, and enjoy a beautiful sunset with the family. It costs about $25 per night and $6 per vehicle, so a weekend here would only run you about $60. You can also see an amazing view of the stars at night.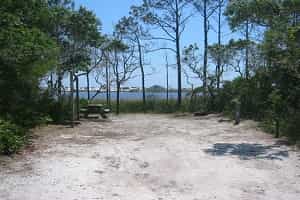 Grayton Beach State Park
(357 Main Park Rd. Santa Rosa Beach, FL 32459)
Grayton Beach is almost always on the top when it comes to the most pristine beaches in the US. It is home to Western Lake which is well-known to locals and visitors alike for great fishing and water sports.
There is four miles of hiking trails you can take advantage of as well featuring some of the most beautiful landscapes you can find in Florida with their twisted and bent magnolias and oaks. Here you can opt to rent a cabin or take a more rustic approach with your own tent. There's over 2000 acres to enjoy, so you can be sure that you will find some peace and quiet here.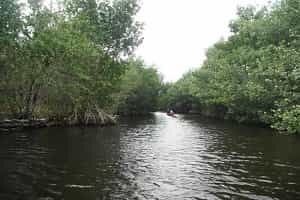 Flamingo Campground
(1 Flamingo Lodge Hwy Homestead, FL 33034)
This one is located in Homestead, Florida on the shores of Florida Bay. It's pretty much right on the tip of mainland Florida. Birdwatchers will be happy to hear that you can see over 300 species and don't be surprised if you happen upon a sunning crocodile or a lazy sea cow. There are plenty of areas to explore here and they also offer bike, kayak, and canoe rentals for you to enjoy.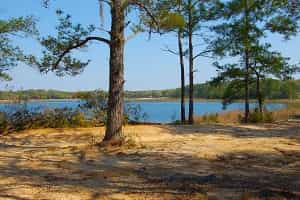 Little Lake Bryant Primitive Camp
(4390 County Rd 314 A, Ocklawaha, FL 32179)
Located in the Ocala National Forest, if you're looking to really rough it in the wilderness and have a good old-fashioned camping experience, this is the place for you. They have zero facilities, literally just some open areas to post up your tent, so make sure to pack the TP for this one.
There are a couple of towns nearby (Forest Corners and Moss Bluff) with supermarkets and restaurants, if necessary. The good news is this one is FREE to set up camp in and you can also enjoy their lake with boat ramps, for free too.
Bonus Florida Camping Site: Did you know that Florida has caves and waterfalls? Florida Caverns State Park features open-air caves available to the public. It's only costs $5 per vehicle and $20 per night to camp there, and for a small cost, you can even opt to take a guided cave tour.
Then there's also Rainbow Springs State Park which features beautiful man-made waterfalls. This one is located in Dunnellon, Florida and costs $30 per night to camp there. They also offer the awesome experience of tubing through their winding waterways April through September for just an extra $15 per person. If you've never been tubing, it's totally worth it.
Florida is such a great place to plan a getaway to. There is a such a variety of activities to enjoy and as you can see there's definitely no shortage of amazing places to camp in Florida.
Whether you're looking for the tent camping or if you're more interested in having a great water view while camping at one of the famous beaches Florida, you will not be disappointed here. Some of the best places to camp in Florida are also in some of the least known areas.
These are the ones that are not overrun by tourists and have not lost their best appeal, which is the natural beauty and wildlife. Pack the tent, hop in the car, and head on down to Florida.