Bottom line, we can't be confined inside the four corners of our home forever. One way or the other we have an intrinsic need to travel. It is a need we don't often notice, but once we do we can't live without getting away.
We all travel for different reasons. These may include traveling for business, food tastings and blogging, leisurely vacations, attending special events like a wedding, convention or family reunion, or even traveling for humanitarian reasons.
Whatever the case may be, traveling needs thorough planning ahead of time in order to make sure the trip goes as smooth as possible and to organize and take care of any arrangements needed before taking off.
For example, many of us will need to file for time off from work, find and book the best tickets, select the perfect accommodations, and put together our itineraries, if needed. It can be a daunting task, to say the least, if not carefully planned and executed.
Another thing to consider when planning for travel is the luggage that we'll be using for the trip. It's imperative to have and maintain the best multi-functional and durable bag or case to carry with us and to keep and hold our dearest and most valuable travel-related possessions.
A lot of problems may arise if you chose the wrong carry-on or luggage for your trip. You may pay an extra amount when you check in for an extra-large bag which is costly especially if you are traveling on a budget. There are also cases of lost luggage and belongings which is becoming a common problem among many airlines now more than ever, and the, even worse you might find that your bag did not protect certain valuable items and you find that they have broken sometime during the trip. That can be very painful to see.
We don't want that to happen to you, so we've come up with some great tips for you to choose the right luggage for you. Here's a guide to selecting the best luggage that will fit both your style and budget.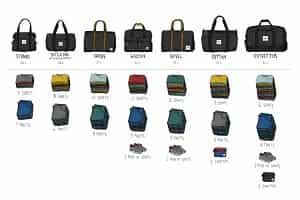 Select The Right Size
One costly mistake, mentioned previously, is traveling with the wrong size luggage. Whether it is a duffel bag, a leather one, or a suitcase, the size should be the first one to consider. You have to keep in mind what things you will be packing in it and the load you'll have to carry. You also need to consider how long your trip will be in order for you to know the amount of clothes and other items you need to bring with you.
You don't want to overstuff your suitcase with things that won't be needed, so a perfect size should be a must. If buy a large one, then you should think that it will need to a checked bag, but if you buy the smaller one, it might not fit all the essentials you will be needing for your trip.
This could end up costing extra if your bag weighs too much or is too large, or if it's too small causing you to have to bring 2 smaller ones instead of just one large one. So picking the right size can be tricky. If you'll be taking a short trip, you may just want to carry a backpack that you can carry all the stuff you need and that can be your free carry-on bag that will fit in the plane's overhead compartment. Finding the right size of your luggage is the first thing you have to keep in mind when buying your luggage and everything else follows.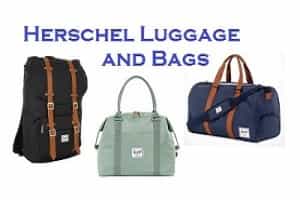 Make Sure It's Lightweight
When traveling we should always want to have the lightest load to carry on us. Trust us, your back will thank you. It is ideal that we choose the luggage that is made from light, but durable, materials. As I've said above, extra weights on our carry-ons can also come with an extra cost and we don't want you to have that issue.
Having a light suitcase means that you have a more room to pack your stuff inside. Can you imagine traveling on a long trip and carrying 50 pounds of baggage with you and half of that is just the weight of your suitcase? That definitely doesn't make sense. It's better to pay attention to the weight of your luggage before you buy it, and check the airlines rules and restrictions for baggage weight, so you can plan accordingly.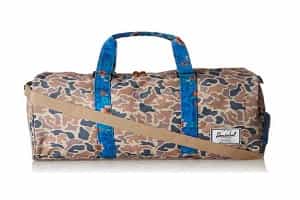 Check The Internal Capacity
Does your maximize the space inside or is there a bunch of wasted space? Those are the things you need to consider as well. Other suitcases may look huge in the outside, but when you open them, you may be shocked that you cannot fit the things you will carry. That is definitely a no-no. Every available inch inside your bag should be useful.
You should also check if there are handy pouches inside for special items or items that you need easy access to. You don't want them to scatter around your clothes or get lost in your other stuff, so make sure your bag has useful pockets. Everything should be maximized inside since your aim here is definitely to travel light and have just the necessary amount of room.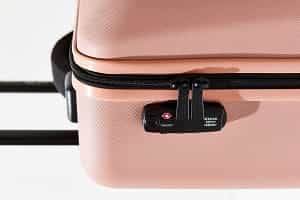 Must Have A Heavy Duty Zipper
One of the most overlooked components of a luggage set is one of the most important aspects to consider: The Zipper. You will definitely want to make sure you can you trust that it will not easily get torn off or open at will. You don't your underwear dangling around out of your bag, right? We're sure that is an embarrassing moment you don't want to be a part of.
You should make sure that the zipper is made from quality materials, like steel, so that it won't give out during the many times you are going to be opening and closing it while traveling. You should also look up reviews to see what others are saying. You will want to ensure that the zipper moves smoothly and it not notorious for getting stuck. If you're purchasing it at the store, versus online, and it's giving you trouble the first time you try to move it, Don't Buy It. You better move on to the next one and look at another brand.
Also, if we've got you worrying about you undies dangling out (which actually happens more often than you might think), you should also consider investing in a TSA approved lock to keep your zippers together like the ones here. Just click on Utilities when you're there. It's a great investment at under $30, and it comes in 3 distinct color options.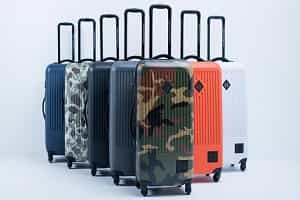 Consider the Materials Used
The materials that are used in making these suitcases and bags are another thing to pay close attention to. Backpack and duffel bags may be made from leather, nylon, polyester, microfibers and other materials. Suitcases generally use materials like plastic, polycarbonate or polypropylene which can be hard but lightweight.
Here we can consider the fact that the soft material bags can be expanded and manipulated to accommodate a little more space for your belongings. Also, the quality of the material would matter when packing up some valuables like fragile goods that we usually travel with, such as cameras, laptops, tablets and other breakable (and usually expensive) things.
You should keep in mind what types of things you will be putting inside when traveling so you will know whether you need to go with the harder and more protective materials or the soft ones. You should also decide if you want wheels (which are very convenient) or a strap or what carrying mechanism is preferable for you. If you go with the wheels, you should double check that they are securely attached and are made from quality materials, too. The wheels are attached on them for additional comfort for you and the last thing you want is for them to fall off.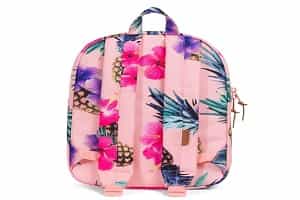 Color and Designs
Probably the last thing to consider, or the first one depending on your taste and purpose, is the color or design on the bag itself. Some want to travel in style, so they want the nicest print and designs on their bags and backpacks, like these bags that are specifically for travel. This will help you to easily locate your bag on the conveyor belts and in the compartments after arriving to your destination.
However, some may just want something inconspicuous and chic, like an all-black, brown or other darker shades, to prevent dirt and marks from showing. Or something personal, with a theme that you enjoy, like say your favorite NBA team, MLB team, or cartoon character. No matter what, it's always important that you get the best deal, so on this sale page you can find all the travel luggage and accessories on sale now at up to 50% off.
These, for us, are the most essential things to consider when choosing the best luggage when you travel. If you're looking for great luggage that will not disappoint, plan to spend (read: invest) several hundred dollars. Remember, you get what you pay for. We travel for pleasure, for fun, and sometimes even to make money. Having a sturdy set of luggage will help give you peace of mind when traveling, and one less thing to worry about. Consider the things mentioned above and you will definitely enjoy your trip. For cool points while you're getting yourself some luggage, grab some nice travel apparel and clothes to look your most stylish while you're globetrotting.
It would also be beneficial to learn the proper way to pack and other packing hacks. Remember, at the end of the day, you are the captain of your own ship and the pilot of your own plane. Wander worry free and everything else will just fall into place.