Part of the magic that is offered by Disney World Orlando includes getting to meet and greet your favorite characters. Little kids, teenagers, middle-aged adults and even senior citizens, can all get a kick out of seeing people dress up to resemble some of the most iconic cartoons from some of the best films from our childhood.
Getting a chance to have your photo taken with, or get an autograph from, them takes the whole experience to another level. These are literally memories to last a lifetime, especially for the little ones. So, if you're looking to find where you can meet your favorite Disney Princesses while visiting Disney World in Orlando, Florida, this information should help you and your family find them with ease and allow you more planning time before you head out.
We've also included some back story on the movies these princesses appeared in, for those that have not had a chance to see them, or who may have seen them many, many years ago. This will be an ongoing reference as we add more or the princesses to the list, so bookmark this page and keep checking back.
FYI Before We Get Started
Not many people are aware, but not every Disney heroine is a Disney Princess. The Disney Franchise was establised in 2000 by the chairman for the Disney Consumer Products division, Andy Mooney, who put together guidelines (or a checklist) every Princess must meet in order to qualify for the franchise. So, basically, there's a set of rules in order to become a true Disney princess and currently there are only 12 Official Disney Princesses. The rules to becoming a part of the Disney Princess franchise are as follows:
1.) Have a primary role in an animated movie

2.) Be human, or become human

3.) Don't be the primary star in your sequel (if there is a sequel)

4.) Be royal, marry into royalty, or perform a great act of heroism

5.) Be a box office hit
Ok, let's get to it. These princesses are in order of when they were added into the official Disney Princess franchise.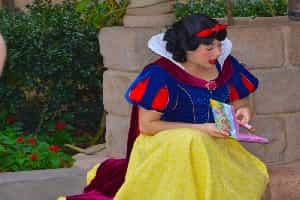 Snow White
This is another one that was adapted from the Brothers Grimm. This is a story about a fair princess who was envied by her evil stepmother because of her innocence and beauty. One day, the wicked queen, her stepmother, orders a huntsman to kill Snow White, but the huntsman pitied her and let her runaway to the woods. The huntsman then told a lie to the queen saying that Snow White was dead.
While Snow White was wandering through the woods she found a small hut with small things inside. She ate the foods on the small table and slept in the little beds not knowing that this was the home of the seven dwarfs. When the dwarfs came home they were shocked to see Snow White sleeping soundly on their beds. When she woke up she made a deal with them to let her stay. She would cook, clean, and do household chores while the dwarves are at work mining diamonds.
One day the wicked queen finds out that Snow White is still alive through her Magic Mirror so she decides to take care of Snow White herself, once and for all. She disguises herself as a poor, old woman and gives Snow White a poisoned red apple.
Snow White takes one bite and falls into a deep sleep. When the dwarves find Snow White they put her into a glass coffin with flowers and one day a prince that was passing by saw Snow White. Since she is only sleeping she still looks very beautiful so the prince decides to kiss her. To the surprise of all, that wakes her up and as the story goes they live happily ever after.
Snow White Disney Movie
Snow White and the Seven Dwarfs movie was released in December 1937, right before Christmas, in Los Angeles. Its nationwide release didn't happen until February 1938. It is the earliest full-length cel animated feature film (meaning each frame is hand drawn) and the initial Disney animated feature film. It wasn't released on VHS for home viewing until the 1990s.
Meet Snow White In Walt Disney World Orlando
Snow White is the first original Disney Princess and stays busy. You can take pictures with and get an autograph from her in these particular areas in Disney World. First Snow White has a meet and greet in the Germany Pavilion at Epcot at various times. She often appears among the princesses at the princess meals in Princess Storybook Dining at Akershus Royal Banquet Hall in Norway Pavilion and in Cinderella's Royal Table Princess Meals at Magic Kingdom. Snow White and the Prince also participate in the daily Festival of Fantasy Parade inside the Magic Kingdom and are featured on a float in the Fantasmic parade at Hollywood Studios. How does she do it?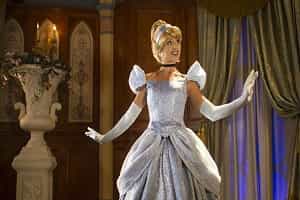 Cinderella
Cinderella story is about a girl who was mistreated by her stepmother and two stepsisters after her father died. One day the kingdom held a ball where all ladies were invited, but Cinderella was forbidden by her stepmother to attend. Luckily her fairy godmother was there to help her.
She turned her rugged old dress into a beautiful ball gown and even added a special touch to the outfit with a pair of glass slippers. The only catch is she has to be back before the clock strikes midnight because the magic will expire at exactly that time.
She goes to the ball and is instantly noticed by the prince just as her time starts running out. Cinderella is forced to run away from the prince leaving behind one of her glass slipper. The prince picks it up and by the next day is visiting all the houses in the land with ladies to look for the owner of the glass slipper.
Finally, he gets to Cinderella's home, and through much protest of her stepmother and sisters, and even though she looks lowly, he places the slipper on her foot. To much surprise it's a perfect fit. Obviously, they live happily ever after that.
Cinderella Disney Movies
There were also other movies featuring Cinderella that were produced by Walt Disney and released by RKO Radio Pictures. The first movie was Cinderella which was released on February 15, 1950. After 52 years they decided to create a sequel entitled Cinderella II: Dreams Come True which was released on February 26, 2002. It was one of the Walt Disney Pictures' top selling animated sequels that year. It was then followed by the third movie, which was a continuation of the original Cinderella, titled Cinderella III: A Twist in Time was released on February 6, 2007. There are many other Cinderella-esque movies that have been created over time, but nothing that compares to these.
Meet Cinderella In Walt Disney World Orlando
Basically, Cinderella is considered to be the hostess of Magic Kingdom and its events that happen throughout the park. She has a castle of her own, rightfully named Cinderella's Castle, which is the central focal point of the park. So, where can you see and meet Cinderella? Well, she's got a constantly full schedule, but the castle has Cinderella's Royal Table, where Cinderella serves up breakfast, lunch and dinner.
Aside from these places Cinderella, together with Prince Charming, Lady Tremaine, Drizella, and Anastasia (stepmother and stepsisters), can be seen in Disney's Grand Floridian Resort only at dinner time. She makes appearances sometimes in Epcot at the Princess Storybook Dining inside the Akershus Royal Banquet Hall in the Norway Pavilion. Cinderella and Prince Charming also appear on the Princess Garden float in the daily Festival of Fantasy Parade in the Magic Kingdom.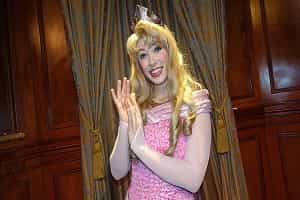 Aurora
On the princess' christening everyone was invited including the fairies. There was one that was left out, an evil fairy known as Maleficent. While the fairies were casting their gifts to the princess the uninvited fairy arrives with rage. Before the last fairy could bestow her gift to Aurora the uninvited fairy curses the princess to die when she reaches her sixteenth birthday. Luckily there is still a fairy who has not given her gift yet, so that fairy softens the curse and let the princess sleep instead of dying when she pricks her finger on a spindle of a spinning wheel. In true Disney fashion, she can only be saved by true love's kiss.
In order to prevent this atrocity she is raised by three good fairies and the King orders that all the spindles in the kingdom be destroyed in order to save his daughter. Of course her fate is written and that turns out to be useless.
Her 16th birthday is a very eventful day for her. She not only meets her true love, Prince Philip, but is also tricked by the evil Maleficent to prick herself on a spindle. This allows her curse to come true, Aurora falls into a deep sleep and it's now the prince's job to save her. After many trials and tribulations he finally gets to kiss her and wake her up.
Aurora Disney Movie (AKA: Sleeping Beauty)
The original movie titled Sleeping Beauty was released on theaters on January 29, 1959. The movie was the first animated film to be photograph in the Super Technirama 70 widescreen process and in 2019 the film was nominated for preservation in the United States National Film Registry. The story has a live action movie adaption titled Maleficent which was released on May 2014 and features Angelina Jolie as the evil fairy. The sequel to that one, titled Maleficent: Mistress of Evil, was released on October 2019. (Fun Fact: The movie was almost abandoned because Walt Disney couldn't find the right voice actress for Aurora).
Meet Aurora in Walt Disney World Orlando
Meet and greet Aurora at France Pavilion in Epcot. Take pictures and autograph as she appears several times in the pavilion. You could also often see her at Princess Storybook Dining at Akershus Royal Banquet Hall in Norway Pavilion, in Cinderella's Royal Table Princess Meals at Magic Kingdom, and in Princess Fairytale Hall at Magic Kingdom.
Or you can let your young princess participate at My Disney Girl's Perfectly Princess Tea Party at Garden View Tea Room. This tea party includes storytelling, singing, dining, and a little princess parade with Aurora. She also participates in the daily Festival of Fantasy Parade in the Magic Kingdom with Prince Philip and Maleficent.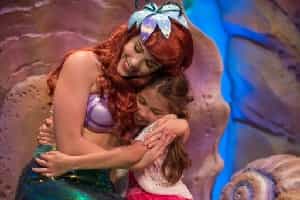 Ariel – The Little Mermaid
Ariel is a mermaid princess who is fascinated by human world. One day a ship was wrecked by a storm and Ariel was able to save the prince. She, of course, instantly falls in love with the prince, but knows that it'd be impossible and dives back into the water as the prince begins to awaken. The prince only catches a glimpse of his rescuer, but promises to find the girl who saved him. Ariel decides to go to Ursula, the evil sea witch, for "help" and makes a deal with her. Ursula transforms Ariel into a human, but only for three days, and in exchange for Ariel's voice. Within three days Ariel must receive a true love's kiss to become human permanently and get her voice back. If she does not succeed Ariel will become one of Ursula's prisoners forever. Ariel almost succeeds, but Ursula finds a way to intervene, but at the end, Ariel finds a way to get her kiss and she and Prince Eric get married on the ship.
Ariel Movies
There were three animated films from of The Little Mermaid from Disney. The original first movie was released on 1989 titled The Little Mermaid. It was followed by The Little Mermaid II: Return to the Sea on September 19, 2000. The third, and final, movie was a prequel to the first film was released on 2008 entitled The Little Mermaid: Ariel's Beginning.
Meet Ariel in Walt Disney World Orlando
The only certain place to see and meet Ariel is at Ariel's Grotto in Fantasyland at Magic Kingdom. There you will be able to get Ariel's photo and autograph. She can also be seen at Disney's Boardwalk at the Bon Voyage Adventure for Breakfast at Trattoria al Forno. She also occasionally appears in her human form at both Cinderella's Royal Table in the Magic Kingdom and the Princess Storybook Dining at Akershus Royal Banquet Hall in Epcot.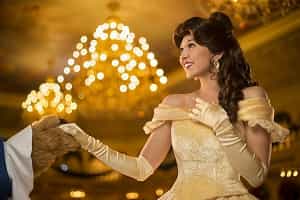 Belle – Beauty and The Beast
A girl managed to find her way into a magical castle where the tempered Beast lives and where most of the objects inside the castle are alive. Later, after Belle finds herself a captive of the Beast, she's informed by the magical talking objects that the beast was once a handsome prince and he's been cursed, as have all the living things inside the home. After being informed of the situation, Belle and the Beast warm up to one another and, in true Disney fashion, eventually fall in love and manage to break the curse just in time. This allows everyone to turn back into their human forms. It's a great concept and a true Disney Classic.
Belle Movies
There are series of movies for Belle of Beauty and the Beast. The first original Beauty and the Beast animated classic was released in 1991 (30 years ago! Feel old yet?). It was directed by Gary Trousdale & Kirk Wise. Then you have Beauty and the Beast: The Enchanted Christmas, released in 1997 and another series a year after titled Belle's Magical World in 1998. Belle's Tales of Friendship was released in 1999 and the latest movie which was a live action film (not animated) was directed by Bill Condon and featured Emma Watson (best known for the Harry Potter franchise) as Belle. This one was released in 2017 and was titled Beauty and the Beast.
Meet Belle in Walt Disney World Orlando
Beauty and the Beast fans will be pleased to know that you can meet and greet Belle in Magic Kingdom, Epcot, and Disney's Hollywood Studios at Disney World. In Magic Kingdom you will want to go to the Enchanted Tales with Belle. Here the princess spends time with each guest and allows for the perfect picture with the princess. You can also snap a photo with her and get her autograph inside Epcot at the Belle Meet-and-Greet in the France Pavilion. Then, together with some of the other princesses, Belle also appears in Epcot at the Princess Storybook Dining at Akershus Royal Banquet Hall in the Norway Pavilion. You may also find her at the Magic Kingdom at one of the Cinderella's Royal Table Princess Meals and the Festival of Fantasy Parade.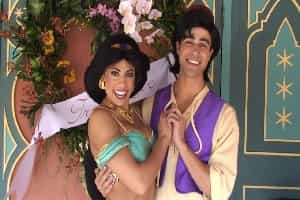 Jasmine of Aladdin
Jasmine is a spirited princess, who was forbidden to go out of her palace, however from time to time she escapes the palace. One day she meets Aladdin, a local "street rat", and is instantly captivated by him. Her father, the Sultan, is insistent that she get married to a prince, but she opposes that, and wants to marry someone she truly loves. With a bit of typical Disney pizzazz and real conflict with Jafar, one of the more nefarious Disney villains, Jasmine and Aladdin eventually succeed in showing the Sultan that love is above all.
Jasmine Movies
There were many films and shows for this princess. The original animated was released in 1992 titled Aladdin, and then the more recent, live action one, featuring Will Smith as the Genie, released in 2019. In between you had some direct-to-video movies like Return of Jafar released in 1994, Aladdin and the King of Thieves released in 1996, and Disney Princess Enchanted Tales: Follow Your Dreams in 2007.
Meet Jasmine in Walt Disney World Orlando
You can intermittently meet, greet, and get photos and autographs with Jasmine and Aladdin at the Agrabah Bazaar in Adventureland at the Magic Kingdom, Restaurant Marrakesh in the Morocco Pavilion at Epcot and the Epcot – Princess Storybook Dining at Akershus Royal Banquet Hall in the Norway Pavilion.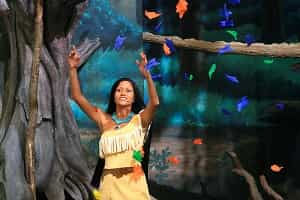 Pocahontas
Pocahontas' story is about a Native American woman that is the daughter of the powerful tribal chief. One day Captain John Smith and other European settlers arrive and start enacting their plan to take over for the expansion of their colony. Pocahontas gets herself, and her friends, entangled with the settlers and eventually she even falls in love with John Smith. Although her father wants her to have nothing to do with John Smith and wants her to marry a strong warrior from their tribe, but in the end true love prevails and the rest is history.
Pocahontas Disney Movies
There is more than one Walt Disney Pocahontas movie. The first was released on 1995 and was the 33rd movie released by Walt Disney Animation Studios. It grossed over a whopping $346 Million dollars at the box office. The second Pocahontas movie, Pocahontas II: Journey to a New World, was released 3 years later in 1998, direct to video.
Meet Pocahontas in Walt Disney World Orlando
Pocahontas will pose with you and give you an autograph at Discovery Island Trails inside Disney's Animal Kingdom Park. She appears here daily at various times for meet-and-greet. Lines are shorter earlier in the day. If she's on your "Must Meet" list, check the times she's there and make sure to go early.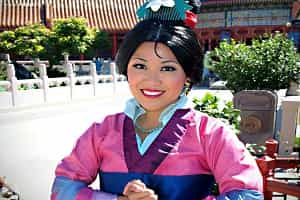 Mulan
This is an animated historical action film based on the legend of Hua Mulan. Mulan's story begins centuries ago in China. Mulan was a beautiful young woman that was sent to a matchmaker to learn how to act like a lady in order to find husband. She bombs the meeting, however, and the matchmaker basically tells her that she will never be able to achieve this. One day invaders breach the Great Wall which causes a direct order for all men to fight, including Mulan's elderly father.
With determination and the desire to make her father proud, Mulan takes her father's old armor, cuts her long hair and disguises herself as a man and joins up herself. Her family learns about her departure and prays to their ancestors, which releases a protector (of sorts).
It's a tiny dragon name Mushu, voiced by the talented Eddie Murphy. She was initially able to join the army, disguised as a man, and become a trained warrior, but was cast out once her secret was revealed. Her perseverance and stubbornness, however, greatly contribute to defeat of the invaders, in the end.
Mulan Disney Movies
Although the marketing campaign for Mulan was small compared to Pocahontas and Hercules, it still managed to tally up a gross of $304 million worldwide. It was actually the second-highest grossing family film of 1998. You also have Mulan II, which was a straight to video continuation of the original released in 2004.
Mulan agrees to marry General Shang, however when Mushu hears that this will prevent him from being her ancestor, he attempts shenanigans to tear them apart. It's a very involved story plot. Lastly, you have the live-action movie, which is planned to be released some time in 2020 and features Liu Yifei, a Chinese-American actress, as Mulan.
Meet Mulan in Walt Disney World Orlando
You are able to meet Mulan in the China Pavilion inside the Epcot park. You can also take photos with her and get her autograph. She's usually by the water garden or near the temple. Check the Epcot Times Guide for the exact locations and times while you're visiting.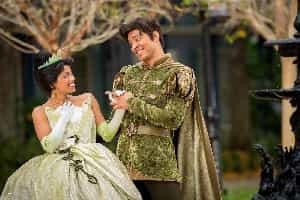 Tiana
Tiana was actually not born as a princess, she was Princess Charlotte's best friend. She loved to cook and her greatest dream was to open a family restaurant, so she works very hard to make that dream come true. One day her best friend, Princess Charlotte was throwing a masquerade ball for a prince and Tiana decides to get dressed up as a princess for the ball. Tiana was on the balcony of the room when a frog spoke to her. It was the prince and he had been cursed and only a kiss from a princess would break the spell.
Since Tiana was wearing a princess gown the prince thought she was the real princess. They agreed that the prince will help Tiana to open a restaurant in return for a kiss. But then after they kiss Tiana becomes a frog as well. They hurriedly leave the palace and end up in a bayou where they meet an alligator who knows someone that can help them.
Throughout the journey they both teach each other valuable lessons. Tiana teaches the prince to work hard for something he wants while the prince shows Tiana how to let loose and have some fun.
Soon they reach an enchantress who tells them that only a kiss from Princess Charlotte will break the spell, but it has to be done before midnight. Unfortunately, they aren't able to reach Princess Charlotte on time, so they become frogs forever. They decide to go back and live in the bayou as frogs.
Because of the incredible journey they had together and the experiences they shared they fall in love and get married and that's how the spell ends up breaking. Now Tiana gets to become a real princess and they both open the restaurant of her dreams.
Tiana Disney Movie (AKA The Princess and the Frog)
Tiana was inspired by the Brothers Grimm's tale called The Frog Prince. Tiana was loosely based on a real person, Leah Chase, who the directors of the movie met in New Orleans when visiting for research purposes. The movie was originally supposed to be a computer animated film, but the directors fought hard to have it be a traditionally animated Disney movie.
Although it was initially due to be released on Christmas Day of 2009, Disney decided it was best not to battle with Alvin and the Chipmunks: The Squeakquel. It ended up initially being released in New York and Los Angeles in November of 2009, and then nationwide December 11, 2009. (Fun Fact: Beyoncé, Alicia Keys, Tyra Banks, and Jennifer Hudson all had interest in voicing Tiana, but the role was eventually given to actress/singer Anika Noni Rose).
Meet Tiana in Walt Disney World Orlando
Meet and greet Tiana and Naveen at the Liberty Square Bridge in the Magic Kingdom. You can easily take pictures with and get an autograph from her as she appears numerous times in the area throughout the day. Tiana, Naveen and Louis also appears on Mickey's Royal Friendship Faire, a show on the Castle Forecourt Stage. She also participates in the daily Festival of Fantasy Parade in the Magic Kingdom with Prince Naveen and in the Magic Kingdom Welcome Show, Let the Magic Begin, which occurs daily at the park opening.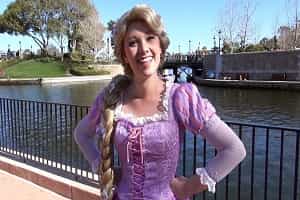 Rapunzel
Rapunzel's story is a well-known folk tale, originally published by the Brothers Grimm in the early 1800's. Basically, in the Grimm's version, a witch takes a couple's daughter to raise her as her own when she catches the father stealing her Rapunzel (which is a salad green) from her garden. When the child is older the witch locks her in a tower with no stairs and no door, only a window, and the only way up is by climbing her long golden locks. One day a prince sees the witch and her tactics and does the same thing and gains access to Rapunzel's prison.
They eventually fall in love and devise a plan to get her out of there, but she ends up ruining the plan by accidentally mentioning the prince to the witch. The witch ends up cutting her hair off, and when the prince returns to save Rapunzel he is hoisted up by the severed locks and comes face-to-face with the witch. She tells him that he will never see Rapunzel again and he leaps out the window. Instead of plummeting to his death he lands on a rose bush, which breaks his fall and scratches his eyes and makes him blind.
Eventually, when he's wandering through the country he hears Rapunzel singing and finds her. When they're reunited he learns that she's given birth to his twins, a girl and a boy. When they unite and fall into each other's arms, his sight is magically restored.
Rapunzel Disney Movie (AKA: Tangled)
Obviously the Disney version of Rapunzel was not nearly as sad or tragic. The movie, Tangles, was loosely inspired by Rapunzel, and was released in 2010. In Tangled, Rapunzel was kidnapped by a wicked witch because her hair holds magic to make things forever young. Rapunzel is held captive in a tower, and as she nears 18, she convinces a thief that broke into the castle while the witch was gone to take her to the kingdom.
She is unaware that this is where she was originally kidnapped from. Along the way the witch finds a way to get Rapunzel back, and imprisons her and the thief. When the thief, Flynn Rider, escapes and comes to rescue Rapunzel the witch stabs him and, desperate to save him, Rapunzel agrees to do whatever the witch wants.
Before she can save him, however, he cuts off her long, blonde hair, and when he does this it turns brown and the witch perishes. Then he dies, too, in her arms. Her tears bring him back to life. By the end of the film, Rapunzel is reunited with her real parents and it's revealed that Flynn has proposed to Rapunzel.
The movie was followed by two sequels. The first is just a 6-minute short titled Tangled Ever After in 2012 and features Flynn and Rapunzel's wedding and then there's Tangled: Before Ever After in 2017 which is a side adventure that includes the proposal (which she initially rejects as she is unsure of Flynn's true intentions) and a journey into a magical garden. When she touches one of the rocks in the garden all of her hair grows back and it gives her new magical powers.
Meet Rapunzel in Walt Disney World Orlando
Rapunzel takes time with each guest at Magic Kingdom – Rapunzel Meet-and-Greet at Princess Fairytale Hall in the Fantasyland area. You can have your photo taken with Rapunzel along with her autograph. PhotoPass photographers are on hand to take photos either with your camera or as part of the Memory Maker service. Since Rapunzel spends time with each guest the stand-by line experience can be long, so plan to do this either at the first hour when the park opens or later in the evening before they close.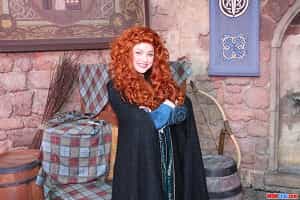 Merida
Princess Merida is the eldest daughter of King and Queen of Dunbruch in Scotland. She also has three younger siblings that are triplets. At the age of 6 she's is given the gift of a bow and arrow by her father and becomes a proficient sharpshooter. As she gets older she defies an age-old custom tradition of arranged marriages, even if it hurts her kingdom, and doesn't want to be married off to a person whom she doesn't love.
Merida decides on an archery competition to all those who wish to marry her to compete for her hand and then twists the rules a bit to allow her to take her own hand. She easily beats all other rivals. Chaos ensues in the kingdom as the other Kings are shocked by Merida's tricks. This also causes Merida and her mother to argue and then Merida runs into a forest.
She sees lights and follows them into a hut of an old witch. This is where Merida makes a deal with the witch to change her fate and is given a cake that holds the magical powers of the spell inside it. She ends up giving the cake to her mother, Queen Elinor, who is the transformed into a bear.
Merida and Elinor return to the witch's hut, only to find it abandoned with a message that says she must "mend the bond torn by pride" within 2 days' time, or the spell will stick.
Merida, thinking that the bond torn by pride has something to do with her not wanting to marry, decides she's ready give in and pick a suitor, but her mother then tells her that they should be able to marry whomever and whenever they choose. In the end they are saved when Merida breaks the curse by sewing their family tapestry that was torn earlier and the King and Queen accept the Merida's request to be a princess and herself.
Merida Movie (AKA: Brave)
The title of Princess Merida's movie is Brave which was released in June of 2012. The movie was released in over 4,000 theaters, which is a record-high for Pixar. It grossed almost $550 million dollars worldwide. So far there has been no sequel, although there is speculation that there may be one in the future, as they're not completely counting it out.
Meet Merida in Walt Disney World Orlando
You can meet and greet Merida for photos and autographs in the Fairy Tale Garden in Fantasyland inside the Magic Kingdom park of Walt Disney World. She shows up daily, but at different times of the day, so you will need to check the Magic Kingdom guide for exact times/locations. You may also be able to catch her, and some of the other cast of Brave, in their own float in the Festival of Fantasy parade days in Magic Kingdom.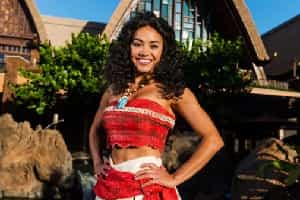 Moana Story
Born in the island of Motunui, Moana is a sea-loving and strong-willed girl. However, her father, the tribe's chief, forbids her of going to sea. One day a blight strikes the island – the coconuts all go spoiled and the fish disappear. Moana's grandmother, who was considered as crazy by the village people, is the only one who believes that in order to save the island the heart of Te Fiti must be returned.
It had been stolen by Maui and so he should be the one to return it. Her father disagrees and told her that it is not true, but Moana was determined and so she sets sail to find Maui. They overcome the obstacles that they encounter along the way and defeat Te Ka, a volcanic demon, who actually ends up being Te Fiti. They successfully return her heart and life on the island is restored. Maona returns home and becomes the new chief and wayfinder. She leads her people as they start rebuilding their island again.
Moana Movie
Moana was directed by the same duo as The Princess and the Frog, John Musker and Ron Clements. They conducted research by reading up on Polynesian mythology and visiting different islands, like Figi, Tahiti, and Samoa. The movie took over 5 years to develop and produce, but the final film ended up being totally worth it. The film was released in November of 2016 and grossed almost $650 million worldwide. There was also a sing-along version that was released to over 2,000 theaters in the United States in late January of 2017, complete with lyrics on the screen.
Meet Moana in Walt Disney World Orlando
Moana appears in Fantasmic at Hollywood Studios and sometimes during the Happily Ever After fireworks show. Also, you can meet and greet her at one of the separate ticketed events such as Mickey's Not So Scary Halloween Party and/or Mickey's Very Merry Christmas Party.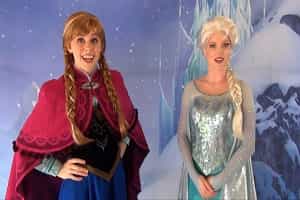 These two would have been crowned official Disney Princesses as they meet all the requirements, however, #5 (Be a box office hit) was over-achieved. They were actually too successful. Instead of becoming Disney Princesses, they will get their own franchise. This also occurred with Tinker Bell, who used to be an official Disney Princess, but then ended up with her own franchise for the Disney Fairies.
Honorable Mention: Anna and Elsa
Anna and Elsa's story is one of two sisters, one born with magic which is Elsa while Anna is just a normal human. When they were little they were very close to each other. But one night while Elsa and Anna was playing in the empty room with Elsa's snow magic, she accidentally strikes Anna's heart with her power. They brought Anna to the magic trolls for help.
Anna was saved, but they were warned about Elsa's magic. The mountain troll told them that her power would only grow stronger, so she has to keep it a secret to everyone, including Anna, who's memory has been modified to not remember that Elsa has powers to begin with. She locks herself in her room and stops playing with Anna, which causes a huge rift between the two of them.
One day her parents decided to go on a journey and it was the last time they ever saw their parents. Elsa was crowned as a queen giving her and Anna a chance to be close to each other again. During the ball at the coronation Anna met a prince and asks Elsa for her blessing for their marriage, however Elsa wouldn't agree and thought that it was a bad idea.
Anna then provokes Elsa into an argument making her lose control and shoot ice. After this is seen by other she panics and flees into the mountains. Anna follows her and along the way she meets an ice harvester and his reindeer and they all join together in search of Elsa. They stumble upon an ice castle which Elsa created.
Anna tries to convince Elsa to come home with her, but again Elsa loses control and strikes Anna in her heart with her ice power. Anna slowly becomes ice and the mountain trolls said that only an act of true love can save her. Elsa was captured by Anna's fiancée and ends up getting locked in a cell. She escapes and is almost killed by Anna's fiancée, but Anna rescues her before she completely turns to ice breaking the curse. She becomes human again and the kingdom is saved.
Anna and Elsa Movie (AKA: Frozen)
Frozen was released in November of 2013, which also feature a brand new short film featuring Mickey Mouse called Get a Horse! Frozen also created a huge following for their songs, like "Let it Go" and "In Summer" and even prompted in a sing-along version of the movie, released to over 2,000 theaters in 2014, in the US It's estimated that Frozen brought in $1.2 Billion worldwide. It was followed by it's sequel, Frozen II, which was released November of 2019. This one grossed even more, coming in at almost $1.5 Billion (with a B).
Meet Anna and Elsa in Walt Disney Orlando
You can find these princesses in many areas and different activities in Walt Disney World. You can see Anna and Elsa in the Magic Kingdom's Festival of Fantasy Parade, which is offered most days at 3:00PM. They are also in Mickey's Royal Friendship Faire, which is a cute new show offered daily at the Castle Forecourt Stage.
This new show includes Olaf, Anna & Elsa and, yes, Elsa does sing "Let It Go", so get your video camera ready. For photos with the princesses, and autograph, Anna and Elsa can be seen at Royal Sommerhus in the Norway Pavilion at Epcot. You will need to check the times and locations for the exact hours.