You may well be having a debate in your family and wondering whether Xcaret Vs Xel Ha is the better choice for you and yours to pay a visit to. It would be fair to say that both of these destinations are very popular parks to go to while staying along the Riviera Maya, but it might be a bit of an ask to go to both of them while you're there.
Drawing on the experiences of people who have visited many times to both Xel Ha and Xcaret, we are able to highlight some of the differences between the two and shed light on what sets them apart from one another. Hopefully, once you've had a chance to review all the important details about each of the parks, you'll be in a much better position to make your mind up about which one to visit while vacationing in Mexico and the Riviera Maya.
Here are the advantages and pros in choosing Xel Ha over its rival: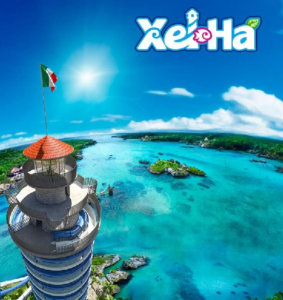 Swimming
The main activity in this park is swimming and so for families with little mermaids and cannonball experts, this could be the right place for you. Snorkeling is also a popular activity here, which is something that can't be said for the park it is going head to head with in terms of attracting visitors.
Food & Drink
All of your meals and even your alcoholic drinks are included in the entrance price at Xel Ha, which is pretty impressive, especially if you've got a big appetite or like a drink or two on your vacation. This means that in most cases, the only money you'll spend is on the entrance fee. If you choose some additional activities which are advertised as optional extras, you would be charged for some of those as well. If you decide not to add anything extra, just the entrance fee will get you in and take care of meals and drinks.
Opening Times
At this park you can pretty much decide how much time you want to spend doing any particular activity. You can spend all day doing just one activity, or skip around and do everything. The opening hours are pretty extensive, spanning from 8:30 AM right through to a late 6:00 PM. This means that if you want to visit the park and still make plans for the rest of the day, you can do this with no real trouble at all.
Tropical Fish
As an added bonus for swimmers, swimming here will bring you into direct close contact with an incredible array of different species of tropical fish. These sites are marked clearly by fish flags so that anyone who wants to avoid swimming with the fishes can do so, whilst all those who can't wait to get up close and personal can head in the right direction.
Free Things
It's a rare thing to find free activities these days, especially in a park like this that seems so geared towards making as much money as possible. Xel Ha seems to buck that trend by offering things like free bike rides, free waterslides and even free access to some of the zip lines.
In terms of the other park, Xcaret, there are lots of reasons why you might be tempted to choose this one as well. These are the advantages that Xcaret has versus Xel Ha.
Full Day Of Activity
A day here is without question something to be allocated an entire day, such is the extent of the opportunities and activities available here. The park opens at 8:30 AM and closes at 9:30 PM after a grand show, so it's a great idea to make the most of these incredibly extensive opening hours.
Animals & Aquarium
In a game of "Top Trumps" between the two parks, if someone decided to pull the animal card, Xcaret would win every time, as it has far more animals to see than that of its rival. You can expect to enjoy the aquarium, as well as the butterfly pavilion, and you'll be amazed at how close you can come to animals like the jaguar, sea turtles, tapirs, and even monkeys. There is also a very impressive aviary that will capture your imagination and give you the most sensational feeling inside.
Underground Rivers
Despite the fact that Xcaret is all about the natural environment of the region and Mexican heritage and history, there are three secret, underground rivers that you and the rest of your party can swim in. You can choose to snorkel or swim, but it usually depends on the capabilities and the ages of those in your group.
Usually, there is only enough time for one of these rivers, but you can do all three if you choose to dedicate your day to this activity. Snorkels are available at an extra cost from the basic entrance ticket, but you can still swim here without paying anything extra, which is a nice touch.
Beach Areas
There are a number of relaxing beach areas at Xcaret that you can choose to take some time out in. You may not want to spend too much time in a hammock when there are so many other options of things to see, but it could be worth your while to stop for at least half an hour for a drink, a bite to eat and to recharge your batteries.
The sandy beaches at one of the inlets provide the best platform for a little bit of splashing and swimming, which is something that Xel Ha is simply not able to offer.
Shows
There are a number of shows which take place throughout the day at Xcaret. Ranging from grand ceremonies to traditional dances. It is recommended that you try and take in at least one of these shows during your day, even if shows aren't your thing, as you may just learn a thing or two about the culture and the history of the region you're in. Give it a try!
The Decision
Ultimately, when it comes to making a decision between the two parks, there are a lot of pros and cons to consider for both. While visiting Xel Ha might mean you miss out on some things, visiting Xcaret can cause you the same problems, since both offer unique experiences. If you're looking for the most bang for your buck, Xel Ha offers meals and drinks included with entry, but Xcaret is open longer.
Ultimately, it may just come down to how much time you want to invest into the activity and if you're there to eat and drink or just focus on the activities the park offers. It has to be a family decision and if you still can't choose, perhaps you ought to try and visit both!
Planning To Visit Cancun?
So, are you planning a vacation to Cancun? Want to visit these amazing parks and check out the gorgeous, white sandy beaches in Mexico? Well, if you're shopping around for deals on Luxury Resorts in Cancun, we here at Stay Promo have some great news for you. Most of the resorts in Cancun regularly offer discounted deals off of their hotel nights and all-inclusive programs that include meals and drinks for many reasons, like to fill up rooms certain times of the year, or to promote their property with good word of mouth advertising.
The best of these promotions (read: the ones that offer the biggest discounts) are not publicly disclosed (or easy to find) through direct bookings with the resort, so as not to visually devalue their property by offering too low of a price or to limit the amount of people that take advantage at a rate that the resort basically loses on to increase occupancy or bring in first-time visitors.
That's where we come in. StayPromo.com (the site that you're on Right Now) is the leading online booking site for promotional vacation packages and we partnered with these resorts to specialize in gathering all of the resort deals together here for you to shop, compare your favorite Cancun timeshare promotions, choose your favorite, and book online. All right here on this site.
And you can currently save up to 83% off hotels and luxury resorts with all-inclusive meals and drinks included or not. So before you book your hotel, click here to check out all the Stay Promos sorted by destination and make sure to send us a postcard to PO Box 161967 Altamonte Springs, FL 32716 while you're out there at Xcaret or Xel Ha and saving thousands off your stay.