Of the things to do and see in Florida that draw millions of travelers yearly, one of this state's biggest highlights is its many casinos. Are there casinos in Orlando, Florida? Technically no, but there are casinos very close by. While there aren't many true casinos in Orlando directly due to laws prohibiting them, there are a couple of great options just a short drive away.
If you're looking for a chance to try your luck at striking it rich, you can head east or west of Orlando and find a place that'll allow it. Whether you're looking for original card games, like blackjack and Texas Hold 'Em, you're not too far away to find and enjoy whatever style of gaming you want. There's also roulette, slots, and many other games to enjoy.
There may be a lot of casinos to choose from, some big and some small, but the Hard Rock Casino in Tampa and the unique Victory Casino Cruise that leaves out of Cape Canaveral are definitely ones that you shouldn't miss out on!
Table Of Contents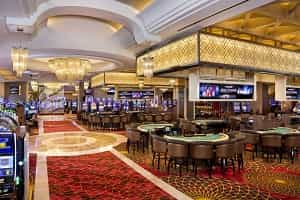 The Hard Rock Casino – Tampa, FL
Known as The Seminole Hard Rock Hotel and Casino Tampa, this huge casino originally opened in 2004. The casino is over 190,000 square foot and currently holds the rank at the sixth-largest Hard Rock in the world.
What's nice, especially if you're hitting it big and wanting to keep the party going, is that this is not just a casino, but also a luxury hotel that has a 12-story tower, fitness center, pool, and multiple parking garages. Water and soda are free while gambling; however alcoholic beverages tend to be a bit expensive on the casino floor.
There are also multiple bars located around the casino floor, including the Center Bar, L Bar and others. They do allow smoking in certain areas, but if you prefer to keep away from it, there is also a non-smoking game room and a high-rollers club room. In true Hard Rock fashion, you can see lots of musical memorabilia exhibits throughout the venue. Although the casino does stay busy, there are over 5,000 Vegas-style slot machines and over 110 card tables, so you're almost always guaranteed to find a seat.
This casino has it all. Whether you're a seasoned pro or an amateur that's just wanting to test your luck, you have a huge electrifying gaming space to spice up your fun. There are literally options for everyone no matter what level you choose to play.
There are over 170 table games featuring blackjack and other popular card games. Then you also have more than 5,000 slots, baccarat, roulette, and more to play. There is also live action poker room with over 45 poker tables. No matter what your game of choice is, you will be reinvigorated with high energy as soon as you step foot inside the Hard Rock Casino in Tampa.
Hard Rock VIP Slots
This is open to only the most exclusive members and entrance into the VIP Slots is by invitation only. The VIP slots area offers the highest level of service and privacy. It has 85 slot machines and plush chairs. The private gaming area basically has a living room style seating and a few dedicated attendants with complimentary beverage and cocktail service and an exclusive cashier and casino host service. There are also huge 75-inch televisions to provide the players continual entertainment.
Hard Rock Tampa Table Games
This casino has over 170 tables that offer a wide range of gaming. Whether you're looking for blackjack, baccarat, poker, and more, you can find it here. You can be a skilled player, or a complete noob, and still have a great time here.
For the high rollers there is also private and luxurious High Limit Table Games room. They offer blackjack, midi baccarat, and other favorites, too. There are many other amenities to enjoy like a personal cashier, a bar, and complimentary beverage service.
Hard Rock Casino Promotions
There are a lot of promotions that the casino offers and change throughout the year. The best one, by far, is the Seminole Wild Card. Anybody over 21 can sign up for a Seminole Wild Card at the Player's Club for free. You will be able to insert your new card into your favorite slot machine and start playing. A new member can spin and have a chance to win up to $5,000. You can use your Seminole Wild Card to earn rewards, comp dollars, and other benefits. This Wild Card is also usable at all Seminole casinos throughout the state of Florida.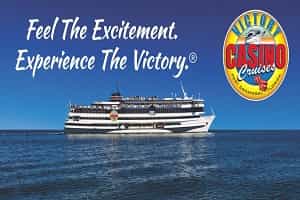 The Victory Casino Cruise – Cape Canaveral, FL
The Victory Casino Cruise is a six-hour cruise that takes you out into the international waters and allows you go gamble. It departs from Port Canaveral, Florida a couple of times every day. It features more than 600 slot machines and has the best selection of many other casino games, including Florida's only "LIVE" roulette and "LIVE" craps tables. They also feature sports betting with TVs to watch many of the sporting events live.
What Is The Victory Card And How To Use It
As with most casinos, the Victory Casino Cruise offers its own loyalty card called the Victory Card. You can just sign up for the Victory Card for free, insert it into any electronic game you play and earn points while you play. You can even use it at the table games by presenting it to a supervisor before you begin to play. The points you earn can be redeemed for food, drinks, and even future boarding passes. Plus, you can earn free match play!
You can get your card at one of two places. There's a Players Club desk on Deck 2 or Deck 3. Just make sure you provide your email address if you would like to receive regular special offers and amazing discounts. Make sure when you sign up for your Victory Card that you provide a valid email address so you can receive frequent updates and special offers.
Gaming On Board The Victory
There are many different games available on board. Bingo, Mississippi Stud, Let It Ride, Craps, Roulette, and more. Below is a little information on a few of the most popular games.
SLOTS – You can try an old-fashioned pull lever slot or a push button one. Either way, play and watch for your payout. The Victory Casino Cruise is known for having more than 600 "loose" slots on board. This is great news for slot players since it means high (and frequent) payouts! Slots are ridiculously addictive and, best of all, requires no skill at all!

ULTIMATE TEXAS HOLD'EM – This is an ultimate poker game! The dealer will deal out 2 cards face-down to ever player at the table and then proceed to lay out five "community cards" face-up. The player with the best hand wins!
3 CARD POKER – 3 Card Poker is a very popular poker and one of the classic favorites aboard the Victory. It's fun and fast paced, but you have to know what you're doing. The payout for this one can go as high as 1000 to 1.
1 Last Recommendation For The Victory
As mentioned before, the cruise lasts about 6 hours. If you get tired of gambling or want to take a break, you can head out onto the deck of the boat and enjoy some fresh air. Alternatively, if you start to get hungry, there are a couple of places to get some food on the ship, too.
If you're not a big gambler, and just want to go to see what it's all about, we definitely recommend the day trip so you will be able to see the water while you're out at sea. As far as the promos we offer, we recommend you stay at the Holiday Inn Oceanfront Resort in Daytona Beach if you're planning to visit the Victory Casino Cruise while you're here.
Oh, one last thing…and this is HUGE. Just get a load of this, I just found this below. Just watch and soak all the Florida-ness in. If this twangy wonder doesn't convince you to hop aboard with your vacation savings while you sail the high seas, absolutely nothing will. Yes, it's really like this in Florida. All the time. Vic-Vic-Victory Casino Party!