The exploration of this particular cenote and that of the network which it finds itself in is relatively new. Exploration began back in 1987, making this cenote quite young in terms of its use as a swimming hole and tourist destination hotspot. There are plenty of things about Cenote Dos Ojos which make it especially favorable for tourists to visit on excursions, with some of those reasons expanded upon here.
As with any excursion on a vacation or tour, there are likely to be downsides or the occasional account of a poor experience, but it has to be said, that anything like this is few and far between when it comes to Cenote Dos Ojos.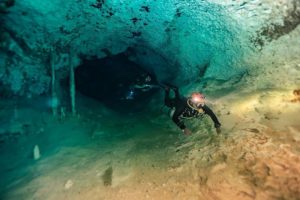 Scuba Diving
For scuba diving and snorkeling alone, there can surely be no better cenote in the whole of Mexico than Dos Ojos. The crystal clear waters are so see through that one can see right to the bottom of the pool from the surface. It really is a sight to behold from above the water line, but in order to experience this cenote and all it has to offer to the fullest extent, one has to bring some snorkeling or scuba gear and head on down below for a closer look.
The abundance and diversity of marine life there is spectacular, and it really would be no surprise to anyone if it turned out to be heaven sent. The creatures that make Dos Ojos their home almost appear to be elitist in terms of only sharing their underwater cave with the most strikingly beautiful of fish and other marine animals. Renting the snorkeling equipment can be expensive, but you're not going to be back here any time soon and so digging those hands into your pockets or going through a fully all-inclusive deal from your Mexico resort is well advised instead of bringing your own and having to lug it back and forth with you wherever you go.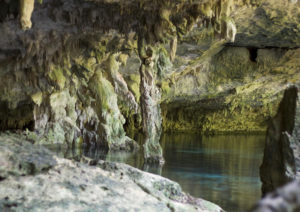 Worth The Ride
It has to be said that the journey to Dos Ojos is a bit of a bumpy one, to say the least. The bumpy road has become notorious in recent years due to the fact that it actually seemed to induce labor in one particular tourist. So moved was she, literally and metaphorically, by her experience on the road to and from Dos Ojos that she actually named her son Ojo in tribute to the place she had visited on the day of his birth.
For a lot of people, the road could be a little too bumpy, causing them to become nauseous almost, but for the people who manage to get to the end and to sample the cenote for themselves, there can be no doubt that the ends justify the means.
Refreshing & Rejuvenating
The serene beauty of this cenote has been commented on by virtually every traveler and tourist who has taken to the internet to leave their recommendations and reviews for fellow and future visitors. The sheer beauty is breathtaking, from the moment you arrive in the car, to the walk down to the cenote, right through to the last dip in the water you take on your visit.
So enchanted are the people who visit Dos Ojos that it seems to imprint a stamp on their hearts and we are yet to hear of anyone who has visited Dos Ojos, that ranks another cenote as being more beautiful than this one.
The word 'refreshing' is used a lot when talking about Dos Ojos, and the reason for this seems to lie with the cenote's incredible ability to rejuvenate the people who visit and swim here. Much more than a one-day thing, the benefits of swimming in Dos Ojos have lingered much longer for many people, who claim to have been refreshed and reinvigorated by a visit and a swim in its crystal clear waters. Beautiful in the sense that it is pleasing on the eyes and the other senses, but refreshing in the sense that it helps people get back to their true selves.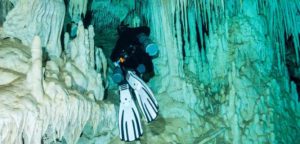 Cost
If there was a downside to visiting Cenote Dos Ojos, it might not surprise too many people to discover that the main downside is to do with the price. There are many cenotes in different parts of Mexico that are free or very affordable, but this one is toward the higher end of the price bracket. It isn't so expensive that it is only affordable to the mega rich, but it would certainly make most people consider whether or not they can afford to spend so lavishly on an excursion that doesn't even last a full day.
On top of the price for the excursion itself, there are plenty of add-ons to consider and knowing about them now might set future visitors up in the best way to be able to navigate and even alleviate some of these extra costs. The transfer along the bumpy road that is mentioned above, that costs extra, as does the rental of snorkeling gear and storage facilities.
It may not sound like much on the face of it, but for a large family or a group of friends, costs can soon begin to add up. Bringing your own scuba or snorkeling gear is a good way to circumvent the rising costs, but be warned, doing so might not make you the most popular member or members of the tour group that day. Remember, the Mexican cenotes like this offer employment for many local people and their livelihoods are dependent on the success of attractions like this.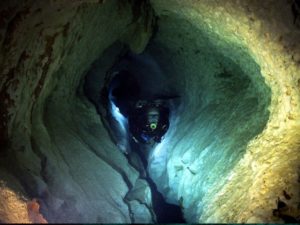 Hidden Cavern
Should you decide that this is the cenote you for sure want to see for yourself, there is an extra special treat for all those people who visit Dos Ojos that is hidden from view until you find yourself down there. Accessible by diving beneath the water and resurfacing on the other side, there is a hidden cavern that divers are able to take a look around in. The cavern feels as though it is out of a Hollywood movie.
It is as quiet as a church and as a beautiful as a cathedral, with water that somehow seems even clearer than in the rest of the cenote. The people who visit this part of the cenote claim to have never seen anything more beautiful in their entire lives, and it is unlikely that anything they go on to see it will match it for sheer beauty and that certain 'wow' factor.
Cancun Is Waiting…
You will want a nice place to rest after your trip to Cenote Dos Ojos. Maybe a place with luxurious suites or perhaps you will be looking for a big meal and cold beverage after your long day out. Well, we've got a bunch of premium Resorts in Cancun at almost 80% off Right Now. It's over at Midnight or until rooms fill up, whichever comes first. Hope you get in on time and maybe we'll see you in Cancun.