Mexico is the closest neighbor of the United States. Located just south of the US, it is known for its tacos, burritos, tortillas, tequila, and chocolates. It is also famous for its historical sites like the Mayan Pyramids and refreshing cenotes. You may also know Mexico to host many fantastic celebrations and shows throughout the year, like the Day of the Dead Festival and Cinco de Mayo, not to mention the must-see mariachi bands. Every country has its own problems, but even with the various danger zones around the country, it is still deemed safe for tourists to visit in the areas that are designated tourist zones.
These areas are secured by the presence of the police force which patrols the area in order to maintain peace and order. This allows visitors to really enjoy the beautiful landscapes, beaches, and everything else that Mexico has to offer. These places are tourist-friendly and include the most famous cities, the most well-known being Cancun, Riviera Maya, Playa del Carmen, La Paz, Cozumel, Puerto Vallarta and many others.
Mexico has also been gifted very pristine and crystal clear waters which help to make the country a primary destination for snorkeling, scuba diving and other fun water activities. Apart from what was mentioned before, one of the best places to enjoy the great weather and the sea life is Akumal.
Here in this post we will give you an in-depth tour of this hidden gem and provide you some good-to-know info about the attractions and things to do in Akumal. This coastal city is known for many great things, like seeing and swimming with the Akumal Turtles. It's high time that we give you some insights on why you should pick Akumal as a must-visit destination next time you're heading to Mexico.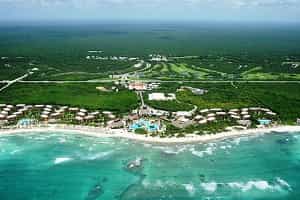 Where Is Akumal Located?
Akumal is located in the Riviera Maya in the Yucatan Peninsula of Mexico. It can be found 16 miles (or 12 kilometers) from Tulum and 24 miles (or 39 kilometers) away from Playa del Carmen. This makes it less than an hour's drive away from the most popular places where a vast majority of tourists are checked in. If you have rented a vehicle for your trip you can simply set your GPS to the location or find it through Google Maps, or if not, you can take a taxi or bus there.
How Do I Get To Akumal?
There are few ways to get to Akumal. You may add it to your tour which is offered by many touring companies in Mexico. Generally you can inquire at the front desk for a variety of options and packages available. You may want to book an Akumal Turtle tour and then getting there won't be a problem as that would usually include the ride there and back.
If you're more of an independent travel that likes their freedom to go and see what you like, then you can find yourself a cab that will take you to Akumal and drop you off. The drive is only about 30 minutes. If you decide to go this route here's Pro Tip One: negotiate the price before taking the cab to avoid trouble and going over your finances.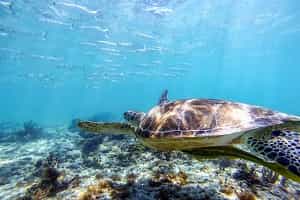 Lastly, if you are on a tight budget, the cheapest way to get there is through the colectivos. You can easily find your way to the colectivo station at Playa del Carmen which is located at Calle 2 Norte. Calle 2 Norte is between Avenida 15 and 20. Pro Tip Two: you will know you're there already if you'll hear a man yelling "Tulum". The colectivo from Playa del Carmen to Tulum will cost you just below 40 pesos (about $2 USD) per person and will only take around 25-30 minutes.
Once you reach the drop off, you will only need to walk about half a mile or so. You'll be at Akumal Bay in no time. On your way back, you can wait for the colectivo on the opposite side of the road where you are dropped off. You can ask the locals or people at the bay for the time slots of the colectivo for you to get a good idea on what time to be there for your commute back.
Important Information About Akumal Beach
Before you go to the beach of Akumal, you'll need to know these things. First off, the beach is closed every Monday and also during the months of February and September. You can only swim at the beach from 9am to 5pm. There are specific designated areas for people to swim and you'll know where it is as it's clearly marked by buoys and ropes. If you want to get a good look at the native Akumal Turtles and plan to do any snorkeling or scuba diving snorkeling, it is strictly prohibited to touch, feed, or disturb the wildlife in any way. Also, don't forget to pack the biodegradable sunscreen and this must be used to protect the water, environment, and wildlife.
What To Bring When Visiting Akumal
Snorkeling is the best thing to do in Akumal Bay, so if you want to get the best views imaginable while you're there, you should definitely pack your snorkeling equipment or scuba gear to bring. Biodegradable sunscreens is also a must like what was mentioned above. Other things to bring with you are dry bags, a waterproof case for your phone and a swim suit, which is a no-brainer.
You should also have a towel handy to set your stuff down on and dry yourself off after the swim. Since you will be swimming with the unique sea life on your adventure, you should also have an underwater action camera like Go Pro to snap great images of the turtles and other sea creatures. Pro Tip Three: make sure it has a red filter or else all pictures captured will come out super blue. Trust us on this one.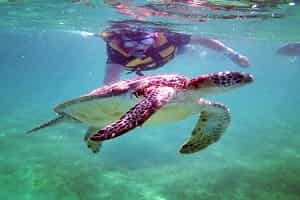 Swimming With The Akumal Turtles
Ask anyone who has visited Akumal and they will tell you that swimming with the Akumal sea turtles is the best thing to do there. Can anyone swim with the turtles? The answer is yes but due to conservation efforts, it is now limited to 300 people per day, so make sure to get there early. Way back in the past, no restrictions were in place so anyone could jump in and enjoy the company of the sea turtles. After it started to attract more and more visitors, gaining more attention on Instagram feeds and other social media outlets, huge crowds started coming in to the bay and the turtles were overwhelmed and started disappearing to other areas. They were basically forced out of their natural habitat.
Visitors would sometimes feed them and pick them up for pictures, which is not healthy for them. Irresponsible tourist would also leave their trash and plastic waste out on the beach, which is also very harmful to the sea and all the living things in it. The government took notice and intervened with the operations of the bay. Along with limiting the number of people entering the beach, they also limit the number of touring agencies offering services in the area.
It is not necessary to book a tour to enjoy snorkeling with the turtles, but there are some disadvantages if you don't. One major one is that you will only have a slim chance of spotting a turtle and swimming with them. Also, with a tour booking you will be provided with snorkeling gear along with food and drinks. If you are not on a tour, and don't have any equipment with you, you can rent the gears on the beach which will cost you around $20.
While it is not compulsory, going on a snorkeling tour with the authorized tour companies in the area will give you a great value for your time and money. Apart from the main event, which is swimming with the Akumal turtles, you may also have the chance to enjoy a side trip to see the nearby cenotes, and other excursions before getting to Akumal. They will also pick you up in the morning so your transportation to the beach will be hassle-free.
The best thing about paying for a guided tour is that the guides are very engaged and will point out other cool creatures that may come along like squids, barracuda and other fishes of different colors and sizes which you may not notice if you go unguided. That is why we highly recommend investing in a reputable tour of Akumal Bay. It will surely be worth every penny.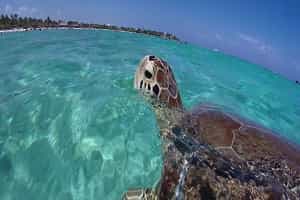 One thing to keep in mind is that all species of turtles you may come across in Akumal Bay are considered endangered, so you should expect strigent regulation while on the tour. Sometimes the beach will close for various reasons, so you should definitely check with your tour company beforehand so you know what to expect.
The Akumal turtles are very calm and tame and most are used to human interactions. You may even encounter one that has accidentally gotten itself caught in a fishing net or some other ailment. If you do see a turtle in distress for one reason or another make sure to tell your tour guide right away as they're trained to help the turtles in these types of incidents. Remember these turtles are few in numbers since only 1 out of 1000 hatchlings are estimated to survive until adulthood.
Akumal is best known for these animals so it is necessary for us to take every precaution necessary to protect them. They bring jobs and opportunities to the locals which helps the economy of Mexico in return. Seeing a turtle swimming with you, maybe even capturing a cool picture with one is another level of joy. These are pictures you can treasure for the rest of your life. Akumal is one of the few places where you can swim with turtles, so if you are on a vacation near the place, you should pay a visit and swim with them. You will not regret spending a few hours, or even an entire day, there.
Don't Forget
Mexico may be interpreted by some people as a dangerous country to be in, but that is usually not the case, especially if you stay in and around the tourist zones. There are a lot of good things in the country that will outweigh any bad parts about it. It has a great history, kind people, world-class beaches and resorts, amazing food, gorgeous views, cheap luxury hotels and much more to offer its visitors. It is literally a paradise like no other. When you go, especially if you take the trip to swim with the Akumal Turtles, you'll see that a trip to Mexico was totally worth it.