There has been a bit of upsetting news coming from the Dominican Republic recently regarding some mysterious instances of illness striking travelers visiting the country. The Dominican Republic's Minister of Tourism, Francisco Javier Garcia, has taken a stand to protect the integrity and security of the country, even pointing out that the United States has not raised the threat level for the Dominican Republic. The problem, mostly, seemed to stem from an issue with the alcohol, or fake bootleg alcohol to be more exact.
The government there in the Dominican Republic has already started taking extreme precautions to prevent any more issues regarding that. This includes a huge focus on food and beverage safety and double inspections for the resorts and other tourist areas.
Every popular travel destination has its fair share of bad news, especially if you go looking online for it, but the point here is to look at the big picture. While there may be a few stories out there, viral and what not, overall the vast majority of people that travel to these destinations go and don't have any problems at all. We just don't hear about those stories. Not many news outlets will waste front page space to let someone rave about the great vacation they just got back from. That wouldn't sell.
So, the question here is, "Is the Dominican Republic a safe place to vacation to with my family?" And the short answer is, Yes. Obviously, any time you travel anywhere, out of the country or not, you always have to take your own precautions and make sure to practice your own due diligence, but overall, if you're not trying to find trouble, it won't find you.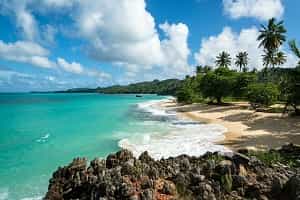 Here are some tips to stay safe in the Dominican Republic:
Don't Go Flashing Wads Of Cash:
That would be you looking for trouble. Most resorts in the Dominican Republic offer great all-inclusive deals and have more than enough on-site resort activities to partake in. The upside here is you don't have to carry loads of cash around with you since your wristband gives you access to all the food and drinks you want at the resort. You will want to keep a few dollars on you, for tips and whatnot, but you wouldn't even have to do that.
Do Consider Travel Insurance:
Travel insurance can help with a lot of things when vacationing. Different companies offer different coverage, but many can help with finding highly rated doctors in the area you're visiting should you encounter an unexpected illness or help return lost luggage and replace passports, prescriptions, and other necessary documentation. Some even allow for late cancellation with partial refunds. If you're nervous about traveling out of the country, it's definitely worth taking a look at.
Don't Get Too Smashed:
We understand, you're on vacation and want to imbibe a bit, but you never want to drink enough to where you find yourself put in a predicament where you can easily get taken advantage of. All-inclusive resorts offer all you can eat and drink, but you don't have to take it literally. Enjoy, unwind, but always stay alert and on guard and keep your wits about you. You'll have way more fun on your vacation, especially if you're not doctoring a hangover the next day or two.
Do Keep In Touch:
Whenever traveling out of the country, or far from home, it's usually a good idea to keep in touch with someone back home. You can think of it like the buddy system. It could be your mom, your sister, best friend, whoever. Leave them with information on exactly where you're staying and where you'll be and your travel plans, things like that.
If anything out of the ordinary should happen, at least someone back home will know. You can also keep your social media updated, most people do anyway. That's a good way to let people know you're okay and having a great time.
Don't Stray Too Far From The Hotel Zone And Tourist Areas:
The hotel zone and touristy areas are the safest place to be when you're traveling out of the country. These areas are protected heavily by the local law enforcement, although you may not notice their presence.
Straying deeper into the local's scene, you may just find yourself in a place with a higher crime rate. It's best to listen to the advice of the resort and tour operators, so if you are looking to get out of the actual resort, you may want to ask at the front desk what they would recommend. You'll probably find some hidden gems that only the locals know about, too.
Do Remember Most People Have A Great Time:
You shouldn't go to a place if you're just going to be paranoid the entire time, or worrying, looking around every corner. You're there to have a good time. You can look up any city in the entire world and find hundreds of results of things to discourage you from going.
The news thrives on the 3 D's – Disturbing, Disgusting, and Disastrous, but most people that travel to these beautiful, tropical, exotic locations go and end up having a fantastic time. The chances that you'll have your trip go without a hitch and have a good time are far greater.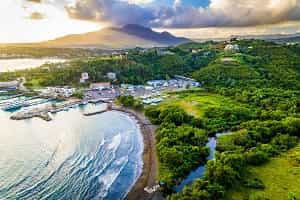 So Is It Safe?
The Dominican Republic is a great place to travel if you're looking for a romantic getaway. So, yes, as long as you plan your trip out and pay attention to your surroundings at all times, there is no reason why you wouldn't have a great time. Always make sure you do your homework whenever you take a vacation, especially an international one.
Research the destination, read about all the things you can do in the Dominican beforehand so you can have the activities planned by the time you show up, figure out the resort you'd like to stay at, look into some of the nearby attractions, and finalize the plans. Flights right now to the Dominican Republic are fairly cheap, too, so if it's a location you'd like to travel to, now would be as good a time as any to go.
Right now StayPromo is offering a 5-Star, Interval International Elite Resort promotion for the Ancora Punta Cana Resort. It's a completely All-Inclusive 5 day and 4 night stay and is currently 80% off. They've got 7 restaurants on-site serving up global-ranging fare and countless on-site and water activities included with the stay that will have you feeling like a kid in a candy shop for your whole vacation.