There's no doubt that Cancun is one of the most romantic places to travel to. The warm waters, the endless activities for couples, and the fine dining are all combined together in this tropical paradise to ensure you have the best time possible with your spouse. Below are a few recommendations of thing to do in Cancun for couples next time you're planning a romantic getaway for just you and your spouse.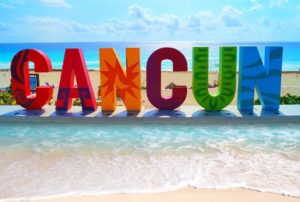 Visit the Best Selfie Spot
The undisputed best place to take a selfie in Cancun is at Kilometer 18, where you can sit on the lovely stone benches and stare longingly into the sea. Sharing something like this has to be something that a lot of couples will remember forever, and it might even provide the ideal spot for someone to pop the question. The world is alive with selfies these days and you simply have to let everyone and anyone know that you're taking a selfie at the number one spot to do so in Cancun.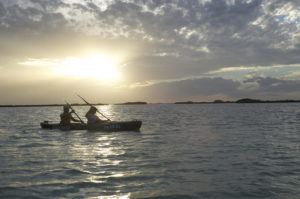 Sian Kaan
For couples who have a love of nature, you simply must plan a trip to the idyllic and pristinely preserved Sian Kaan Biosphere Reserve. The place is stunningly beautiful and should melt even the coldest of hearts with its views and its breathtaking vistas. Tours at this location guide you through the wetlands along the coasts, with occasional glimpses of deep blue lagoons.
The spectacular wildlife of this region will undoubtedly make an appearance or two as you weave your way through this delightful environment. You and your partner are sure to feel the romance bloom simply by sharing this experience with each other. There are also some glorious Mayan ruins to discover along the tour, making this a journey through history as well as geography.
If you so choose, you can take a boat ride on the mangrove-surrounded rivers that this place has to offer. While Sian Kaan is about 120 Miles from Cancun, the distance is more than worth the travel due to the breathtaking scenery you will find at the end of the road.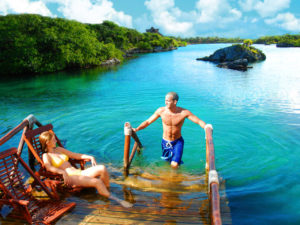 Xel-Ha Park
With over 50 activities and events for couples to try out, the Xel-Ha park can easily take up a full day or two of your holiday. While there though, you can also enjoy a buffet together as you feast on the food that is included in the ticket price.
At around 60 miles from Cancun's Hotel Zone, you'll be pleasantly surprised to know that the journey won't take you much longer than an hour or so and even though there is a bit of traveling to consider, this tropical paradise really isn't something you want to miss out on. Look out for money-saving ticket packages that usually include all transport and transfer costs.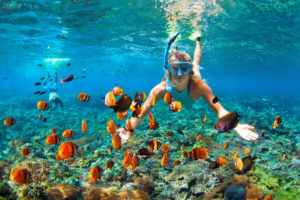 Mesoamerican Barrier Reef
The second largest coral reef in the world could be the ideal place to spend some quality time with your loved one. Alright, you might be under the water and in some pretty unflattering snorkeling or scuba diving gear, but at least you'll be able to treasure the memories together forever.
The incredibly beautiful and species-rich Mesoamerican Barrier Reef runs along to the Yucatan Peninsula and along the way, it kisses the shore at Puerto Morelos, which is only about 25 miles or so from Cancun. Booking tours is quite easy to do, too. You can sign up either online or from the city itself and before you know it you could be holding hands under water and finding out just what lies beneath the surface of Mexico's beautiful ocean.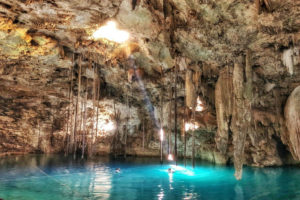 Cenotes
The surrounding area and general region around the city of Cancun (the Yucatan Peninsula) is the only place in the world where you can experience the wonder of cenotes. For a couple visiting Cancun, a trip to one of the many cenotes that this region has to offer is an absolute necessity.
Once you've chosen the cenote you'd like to visit, you can look forward to taking a dip in the romantic swimming hole. Equipment rental is available at many cenotes, too, if you like to snorkel or scuba dive. Don't worry if you or your partner are beginners. Everyone was a beginner once!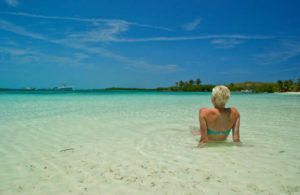 Isla Contoy
Visiting an uninhabited island such as Isla Contoy can be a memorable and enchanting experience for couples in love. Isla Contoy is a nature preserve as well. As soon as you arrive there you'll be able to see why, as it is like the garden of Eden. It features untouched beauty and amazing wildlife. Only a small island, measuring in at just 1.22 Square Miles in size, this is an excursion that can be covered in a single day trip.
To make this an even more inviting prospect, the island is situated approximately 25 miles from Cancun. Not far at all! Listen carefully to the information about all the flora and fauna or simply stare lovingly into your lover's eyes. Either way, only around 200 tourists are allowed entry on to this restricted island each day, so make sure you book well in advance to avoid disappointment.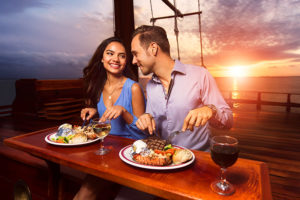 Lobster Dinner Cruise
When it comes to sweeping your partner off their feet, this 2.5 hour long Lobster Dinner Cruise is the only thing for it in Cancun. This has to be up there with one of the most romantic things that you can do for your partner and it is sure to earn you some serious points if you can pull it off successfully. Just think of the possibilities.
We're talking about a combination of fine dining, the beautiful moonlit sky, the ship's live saxophonist, as well as the stunning Spanish ship you happen to be aboard all working together to make this the most perfect night of your lives. It might even offer you the best backdrop for a proposal to remember!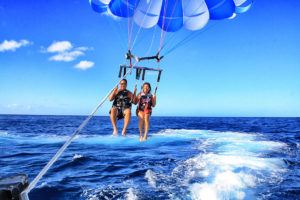 Go High on a Skyrider
For thrill-seeking couples, you can have a go at parasailing with your partner. Think of the views you'll experience together as you soar amongst the clouds and look down with a birds' eye view of the beach and the lapping tide beneath you. Skyrider at Aquaworld Cancun gives you the opportunity to experience activity and the precious moments it will provide a backdrop to.
If you're feeling really adventurous, you can even request that the boat driver ends the trip with a dunk into the waves below. Such an exhilarating experience simply has to be followed up with a romantic dinner for two, and then the rest is up to you and your imagination.
So What Are You Waiting For?
Start planning a romantic getaway to Cancun with your sweetheart today! Here at StayPromo you can save around 80% off a 5 day, 4 night All Inclusive stay for at least 2 people. For Cancun or any other destination, begin your search for amazing hotel deals here and choose the best deal for that'll work for you. The deals are out there and there's never been a better time to go to Mexico.