The Dominican Republic is an absolutely stunning country in the Caribbean that is well known for its lush greenery, fantastic beaches, and some of the most amazing all-inclusive resorts. The resorts located here are actually among of the biggest draws to this destination in fact, with this being the perfect spot to visit if you want a truly restful vacation of sun, sand, and incredible food and drink! Did we mention how affordable it is, too?
While the Dominican Republic does relaxation extremely well, that's far from its only trick! There are actually countless things to do there, and there's really something for everyone. Whether you're into extreme sports and adrenaline, or you're all about culture and history: you'll find something here that will be right up your alley.
It's worth it to go out there and explore so you can truly enjoy the island and not only your accommodation, but how do we know what's best to do and what we can safely pass on? Read on and we'll explore some of the most impressive sights, sounds, and attractions on this amazing Caribbean island.
Table Of Contents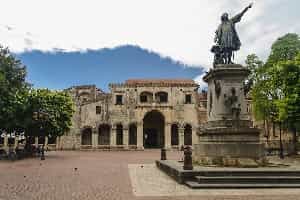 The Zona Colonial of Santo Domingo
Santo Domingo is the largest city in the entire Caribbean, boasting over 2 million residents! But what you might not realize, is that the town is also an absolute hot-spot if you love history and archaeology. The town is 500 years old, which is more than long enough for some amazing buildings and incredible stories.
If you really want a taste of the history and heritage of this great spot, then you should definitely visit the Ciudad Colonial – or Zona Colonial. This is a small area of beautifully cobbled streets filled with palaces and colonial structures. It's the oldest colonial city center in the New World in fact!
Some of the best things to see here include the First Cathedral of America, the Alcazar De Colon, and the Ozama Fort. Grab yourself a brochure, get your camera ready, and go and do some serious exploring!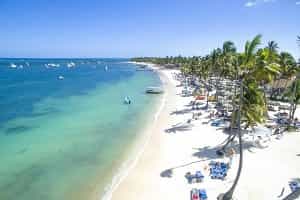 Visit Punta Cana
While Santo Domingo might be the bustling hub of the Dominican, the hot-spot for tourism is certainly Punta Cana. This is a peninsula that sticks out at the Eastern side of Hispaniola Island. You'll find rows and rows of beautiful five star hotels and resorts, incredible golf courses, and some truly stunning beaches.
This is not only one of the best places to stay on the island, but it's also arguably the area that is most focused on safety for tourists in the Dominican Republic and their overall enjoyment. Punta Cana is one of the best places to visit in the world if you want to swing by a luxury spa, play a round of golf, or just soak up some sun at the beach.
If you are planning a trip to Punta Cana and are looking for a deal on an all-inclusive resort as you should be, check out the deal for the 4-Diamond by AAA and 5-star rated Ancora Punta Cana Resort & Yacht Club Infinite Luxury Experience stay and play. This place is absolutely bonkers and we got it on flash sale at 80% off before midnight! It comes completely VIP all-inclusive and gives you unlimited access to everything.
The concierge staff will even load your bags onto the transport when you show up at the airport, picks you up, and drives you to the resort. All meals, drinks and activities are included and unlimited for the whole stay. Onsite they have 7 different themed restaurants, 4 huge pools, sprawling spacious suites with views of the water, and designer furnishings. Just letting you know. Besides, this way you'll be near this next top attraction.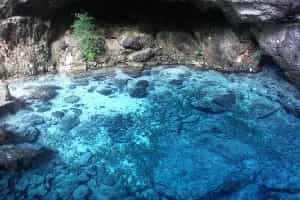 Go To Hoyo Azul
Hoyo Azul (or Blue Hole) is a spot in Punta Cana, a stunning lagoon that has an almost incandescent shimmer to it thanks to the sheer blue waters and the stunning aquamarine sky above. This lagoon is located at the bottom of a sink hole, with a looming 75 meter cliff over the top. The only way to get here is by taking a short hike through a forest, which will make it a truly amazing sight to behold at the end of the journey.
This is a fantastic spot for taking photos, it's a perfect place to relax in the clear waters, and it truly feels like something from a movie. It's definitely one of the biggest highlights on the island and is absolutely worth making the trip!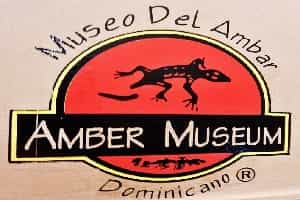 The Amber Museum – Puerto Plata
Nearly every popular vacation destination has some kind of bizarre museum that is specific to the area and that really doesn't get many people too excited. You might assume that an amber museum would fall somewhere in that category. However, you would be very much wrong: The Amber Museum in Puerto Plata is actually a very fascinating place to visit, and a wonderful place to grab yourself some stunning jewelry for a relatively low price.
Amber is mined in this region and is known to be especially high quality. What's particularly interesting is that much of it contains fossilized plants and even animal remains. Explore the exhibits, then stop by the store to take home some goodies!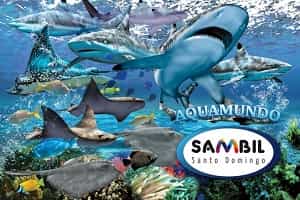 Aquamundo Sambil – Santo Domingo
Something else very much worth doing when you swing by Santo Domingo (which you should) is visiting the Aquamundo Sambil Aquarium. This is a truly amazing day out, especially if you're traveling to the Dominican with kids. It's one activity that truly portrays the incredible wildlife and sea life that Dominican Republic has to offer.
Like all the best aquariums, Aquamundo Sambil has its own shark tunnel. This is a particularly good one, filled with a huge range of different shark species. You'll also be able to witness feeding time if you plan your visit around 4pm.
Another amazing exhibit here is the Coral Garden, featuring a huge array of animals that live on the coral reefs. You'll also be able to take a walk through their insect and reptile exhibits. This is an amazing day out for kids and adults alike.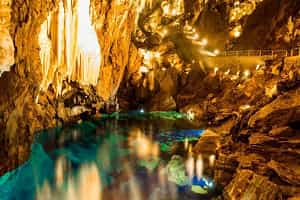 Cueva de las Maravillas
This hotspot is also referred to as the Cave of Miracles or Cave of Wonders National Park! The Cueva de las Maravillas is an amazing cave system located beneath Santo Domingo and La Romana. Although it was only recently discovered (in the 1920s) it's thought to be over 100,000 years old. It is about 100 feet underground and almost a half mile long. They keep a huge expanse open to explore by the public (and the rest is closed off to keep it safe for the local bat population).
Like any cave, this is a true wonder to explore. The stalactites look incredible (definitely Instagram worthy), and the evidence that Taino Indians once lived here is absolutely fascinating (including their pictographs and hieroglyphics that were written on the walls). What's best of all perhaps is the amazing lighting, which gives the entire area a magical aura and makes it ripe for some stunning photography.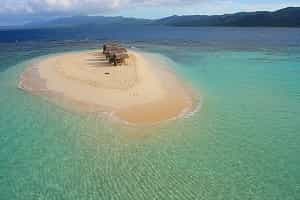 Paradise Island and the Mangroves (Cayo Arena)
If you need us to tell you why visiting somewhere called "Paradise Island" is a good idea, then you may be a lost cause!
This is an incredibly beautiful spot that actually lives up to the name. It's also commonly referred to as Cayo Arena Imagine a strip of beautiful, pristine sand that stands in brilliant contrast to the azure Caribbean waters surrounding it. It is surrounded by lush palm trees on one side and coral reefs on the other. Stretching nearly 3,000 square feet, there is lots to explore as far as sandbars go. You'll find that plenty of boat trips simply bring tourists out here to wonder at one of the most beautiful beaches in the world – and then to get their relaxation on! There are also huts built that offer delicious refreshments during your trip.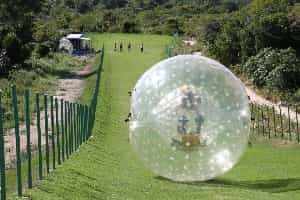 Bavaro Adventure Park In Punta Cana
Tired of all the beauty and relaxation? Looking for something a little more fast-paced? Then you might be interested in this 110 acre park. Bavaro Adventure Park is considered an absolute must-visit and can be found in Punta Cana. It's filled with incredible things to do that will give you plenty of stories to tell when you get back home from your vacation.
These activities range from the truly hair-raising to family friendly. You can enjoy rock climbing, flight simulators, biking, the famous Zip-Line Adventure, paintball, Segway tours, and even zorbing. Chilling in a warm climate with tropical beaches is one thing. Hurling yourself through them in a giant transparent ball is another thing entirely!
Want more? Then while you're there, make sure to add visiting the Canopy Adventure Zip Line Tours to your Punta Cana activity itinerary. This is a tour through the tree tops, affording you some incredible views and photo opportunities. Of course, it's also a great adventure that includes an Extreme Swing Adventure that is just as crazy as it sounds. You'll be flying horizontally through the air like Superman, then falling from a 100 foot high tower!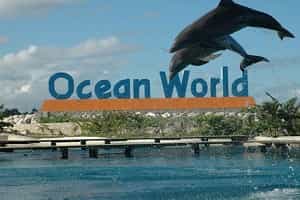 Ocean World Adventure Park, Marina, and Casino
One of the top things to do when visiting the Dominican Republic, by far, is to go whale watching. This is one of the places in the world that you are most likely to catch a glimpse and maybe even a photo – and you won't believe just how humbling it is to see one of those huge creatures move beneath your boat!
But seeing as this requires a little bit of luck, why not consider visiting Ocean World Adventure Park in Puerto Plata instead. This isn't just an aquarium (we've already featured a very good one of those earlier!). Rather, this is a park that will let you get truly up close and personal with the animals by interacting with them. One of the very best things you can do here is to swim with dolphins – a truly unforgettable experience. You'll also be able to see real live whales, making it one of the few places left in the world where you can do that.
There's a four story aquatic themed casino here too for those that are in the mood to try their luck!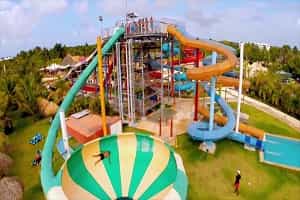 Sirenis Aquagames Punta Cana
And finally, one more for the thrill seekers. This is an incredible water park that spans a whopping 7 square miles. As you can imagine, that leaves plenty of room for some really fast and long rides that will leave you dizzy with excitement. This is also a great family day out with a Caribbean pirate theme, lots to eat, and even a nursery for those that are too small to ride!
As you can see then, there is a LOT to do in the Dominican, and you really shouldn't think of this as a place that is purely about staying in your hotel, even if there are countless things you can do right at your resort in the D.R.. However if you limit yourself to only resort activities, you'll miss the incredible cuisine, history, culture, nightlife, wildlife, and thrilling experiences it has to offer its visitors. This list has barely scratched the surface!