If you are one of those travelers who gets a thrill from exploring the world alone, then you definitely have to add Cancun, Mexico, to your vacation list! This Mexican resort town has so much excitement at every turn; you are going to question why you haven't visited sooner or more often.
In addition to the lively nightlife and social scene, there are tons of things to do that can keep you mingling with other tourists or take you off the beaten path. Traveling to Cancun by yourself has all the makings of an unforgettable trip.
Traveling alone to Cancun doesn't mean you have to feel lonely throughout your experience, quite the opposite actually. There is plenty to do here that allows you to cross paths with locals and visitors alike.
Table Of Contents:
Before you leave for this resort town, however, there are a few things you should do before boarding the plane to make your visit the best it can be. Preparation is essential and is the path to a memorable visit! This all applies to males and females alike who are traveling alone to this most Quintana Roo. Take these tips and pieces of advice with you when you go.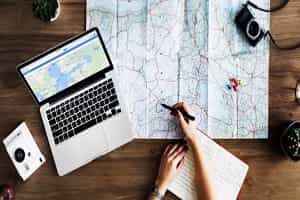 Plan Your Vacation Right
As with any vacation you go on, you should always plan ahead. You will definitely want to become familiar with the areas you want to stay in and what attractions you want to see while in Cancun. Also, keeping a budget in your mind that you want to stick to, is important, but you should also make sure to always keep a buffer for any unforeseen circumstances that may come up.
Keeping singles on you when you're out and about is helpful, too, so you can tip your servers a buck or two and get on their good side. You will want to prioritize what you want to see from the most interesting (the must-dos) to the least interesting. This way, you can cross each attraction off your list as you go and ensure you are experiencing the most that Cancun has to offer. You can also get help from the concierge or locals to plan hitting up multiple attractions all at once.
Choose The Best Cancun Accommodations
Are you planning on staying at an all-inclusive resort or hotel, Airbnb, or hostel? Generally, an all-inclusive resort or hotel is going to be your most expensive option, but it also puts you right in the middle of the hustle and bustle of Cancun, and will also include all the necessary luxuries you will want and need for the duration of your trip.
There are literally hundreds of hotels and resorts in Cancun to choose from, and most of them are either on the beach or have beach access nearby.
An Airbnb is a solid choice if you want to live among the locals. You can rent out a house, room, or a mix of the two before you leave for vacation. The rates vary according to what your preferences are, but this is an excellent way to visit Cancun while staying on budget.
Last, a hostel can also be an interesting choice when staying in Mexico. Make sure you do your due diligence and research before you book. You will definitely want find a facility with clean amenities and easy access in and out of the city.
A hostel also offers a great opportunity to meet fellow solo and group travelers who want to experience Cancun in the same way as you do. Hostels are going to be your cheapest option among the three, but you aren't going to have the privacy that the others have.
Do remember, anytime you're traveling solo whether you're a man or woman and wherever you decide to stay, always keep your wits about you and always err on the side of caution.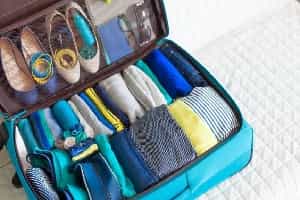 Pack Light
When you travel alone, you only have yourself to depend on. Visiting Cancun with one suitcase or a duffel bag is all you need to vacation successfully. One of the wonderful perks of Cancun is that it is pretty much warm year-round, so there is no need for bulky jackets.
It's best to pack light and breathable t-shirts and shorts for your trip. You can also include a light sweater or pullover for the occasional rainy day.
Walking shoes are a must to get you around comfortably, and if you want to pack sandals for the beach, include them in your luggage. We do recommend that you do bring one dressy outfit, in case you want to visit a fancy restaurant or nightclub with a dress code.
You will only want to bring the necessities with you when it comes to clothing. Plan out your stay, and take appropriate accessories that you know you are going to use. There is nothing worse than packing items that are never going to see the light of day in Cancun. Also, any spare room you may have in your duffel bag or suitcase can be used to bring back souvenirs.
Also, remember, you are probably going to be spending most of your day in the sun, so be sure to pack a tube or two of sunscreen. Sunglasses and a hat are also great to have for those long days on the beach or walking around the town. You should always pack for the weather. Confirm the temperature in Cancun at least a day or two before you leave to avoid any surprises.
Speaking of packing, we here at StayPromo are keeping a running list and the most comprehensive reference of all the items you absolutely must pack in your luggage before taking off for your flight to Cancun. Check out the complete Cancun packing checklist here and keep checking back because it gets regularly updated whenever we encounter another group of must-pack essentials.
It's constantly growing and there are also downloadable versions in Word and PDF formats for you to easily save and print out before you head out to the airport.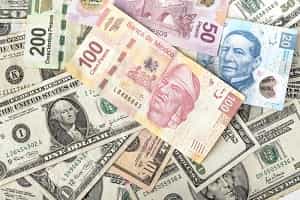 Money Matters
Although most places in Cancun do accept the American dollar, it is best to stick with the local money, pesos. To get the best exchange rate, you should go to your bank to get the cash you need before leaving. If you do need more while in Mexico, you should get your money through an ATM. If you exchange money at the airport or hotel, you are typically not going to get a fair exchange rate.
Also, if you are planning to use a credit card while there, you will want to call your credit card company before you go and make them aware that you're going to be in another country that way you won't run into them freezing your account if they suspect an odd-looking foreign transaction. You should always still carry cash in case of an emergency.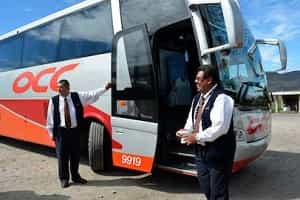 Public Transportation
When you arrive in Cancun, you are going to be met with a lot of transportation options. Know beforehand what you want to take as it can get overwhelming if you're not prepared. Taxis in Cancun aren't like the United States. They don't have a meter, but a set price determines the fee. Keep in mind that taxis are going to be your most expensive option.
Most visitors to Cancun choose to ride the local buses that are available day and night. The buses in Cancun run on a reliable schedule and are inexpensive. If you are staying in a hotel, contact them before you arrive to see if they offer shuttle transportation to and from the airport or what bus line they suggest you take. Uber is still relatively new there, so your options may not be much when it comes to ride sharing.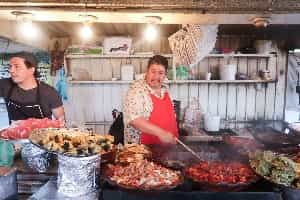 Eating and Drinking
Plan out what you want your food budget to be. Cancun has a lot of restaurants and eating establishments for every monetary level. You can eat like the locals do and visit smaller places that have meals like tacos, enchiladas, and local seafood on the menu. Some places even make your meal right in front of you for a full authentic feel and taste.
Cancun also has plenty of chain restaurants if you want to go the traditional route. Formal and informal establishments dot almost every street in the area, especially in the hotel zone of Cancun. There is no way you can go hungry here, no matter how much you are willing to spend! There are restaurants for seafood lovers, meat-eaters, vegetarians, and everything else in between. Cancun has got every type of eater covered.
If you want to visit the local bars and nightclubs in the area, take a look at what kind of food and drinks are served and the music offered. Cancun is known for its active nightlife that takes you into the wee hours of the morning. If you have the stamina for that, why not bar hop to get a sense of all that Cancun has to offer? This is another way to meet other travelers who have the same interests as you. Strike up a conversation at the bar, and you will be amazed at how many interesting stories you can hear.
If you want to take your Cancun vacation to the next level, stay All-Inclusive so you can literally eat and drink as much or as little as you want, all without having to leave the comfort of the resort. You can always sleep it off on the beach the next day! You only live once, right?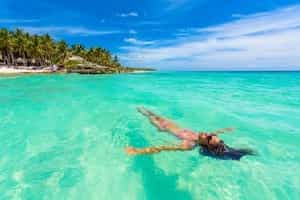 Have Fun!
Having fun while you're in Cancun is a must! If you are staying at a hotel or with the locals, ask those who live or work there what some of the best attractions to go to are. The Mayan ruins are going to be on top of the list, as is Isla Mujeres and some open area markets.
Have some flexibility in your schedule, and don't force yourself to see too many destinations if you are not up for it. Your Cancun vacation should leave you feeling relaxed and refreshed not frazzled and rushed.
If you are looking to travel more on the unbeaten path, ask the locals about some places to go. Not all attractions are going to be heavily advertised, so if you can find something by word of mouth, that may be your ticket to finding a real hidden gem in Cancun.
The region is full of history and tradition, why not go explore it? Some of the smaller tour groups may also be willing to show you other parts of Cancun for an additional price.
Remember to soak in the experience every day. Traveling to Cancun is a once in a lifetime experience for many people, so make sure to truly immerse yourself in everything that you do. Your surroundings are going to be like no other.
As with any trip, let your family and friends know when you are leaving and when you plan on returning home. Keep a journal or carry a camera with you to document your time in the beautiful Yucatan Peninsula.
Cancun and the surrounding region is a spectacular place to visit for a solo traveler like yourself. By following the tips outlined above, you are going to be well on your way to an experience of a lifetime. Have a great time, relax, and enjoy a fantastic trip!