Oaxaca is one of the most gorgeous cities in Mexico and one of the primary attractions for those wanting to try somewhere in Mexico that's not completely overrun by tourists.
It's just over 900 miles from Cancun, so a day's driving or a short flight from Cancun can get you over there. Internationally speaking, they offer the some of the best coastline, cultural heritage, and an amazing culinary scene. Oaxaca displays an attractive mixture of Spanish and Indian elements.
In Oaxaca, you could experience a lot of beautiful things like great sightseeing opportunities, a chance to explore their numerous attractions, and enjoy their preserved and unique character. Tourists are drawn to this area frequently due to its rich cultural calendar.
It would be lovely to experience the traditions of the city while you stay here. There are so many suggestions for you that you could do in the City of Oaxaca.
Table Of Contents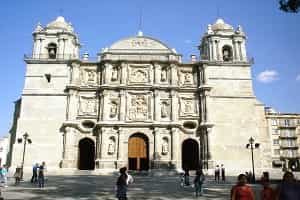 The Oaxaca Cathedral
The Oaxaca Cathedral is the first site you should visit when in Oaxaca. It is the Cathedral of Our Lady of the Assumption (or Catedral Metropolitana de Nuestra Señora de la Asunción, in Spanish).
The building originally started in the mid-16th century (1573) and construction was finally completed 1733, but it has required restoration and reconstruction quite a few times. The cathedral is notable for the sturdy style of its building having two low towers.
Most recently, the cathedral had to be rebuilt due to an earthquake that destroyed some parts in 1931. The earthquake is an uncommon occurrence to this region. When you arrive you will be able to see a huge clock fully made out of wood.
There are also many other attractive features that would catch your attention in this cathedral. The interior was inspired by Neoclassical influences and is a great stop for history buffs.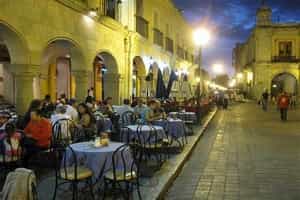 Zocalo Square / Plaza de Armas
Zocalo Square is also a place that you should spend a few days. It is also referred to as the Plaza de Armas. This can be found in the historic downtown core of the city. Lots of the most important events and festivals of the city are held there.
You can see so many beautiful old trees, attractive bandstands, shops, street performers, and countless cafes, bars, and restaurants in this area.
Fiesta de los Rabanos (Night of the Radishes) is an extremely colorful festival that Zocalo Square hosts annually. It's literally a celebration of radishes (yes, the vegetable). It is held on the 23rd of December every year. The festival includes radish sculptures, dances, parades, and fireworks.
Believe it or not, people come from all over the world for this festival, so if you would also like to attend, you should make your hotel reservations at least two months in advance, as rooms fill up quickly.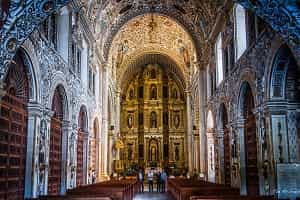 The Church of Santo Domingo De Guzman
The Church of Santo Domingo De Guzman is a splendid place to visit while in Oaxaca. It will be worth your time to explore the whole church. This Dominican church was founded last 1575. Its walls are built with a thickness of two meters to make it fully earthquake-proof.
Same as the cathedral mentioned earlier, this church also has a baroque façade. Because of the grandiose designs of the church, it looks more like a palace than a church.
This architectural beauty has served many different purposes throughout its tenure. It was used as a church and monastery between 1608 and 1857, but from 1866 to 1902 it was relinquished to the military to serve as barracks for the revolutionary wars.
It was opened as a history museum in 1972 and in 1999 it underwent a full restoration. The inside is full of history and the walls are literally covered in gold, more than 60,000 sheets of 23.5K gold leaf, to be more exact.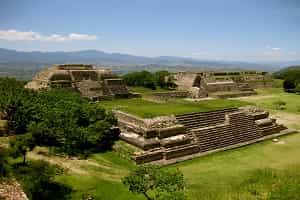 Monte Albán Oaxaca
While in Oaxaca, you will also want to visit Monte Albán, a place which you can find just about five miles west of the city of Oaxaca. This place is easily accessible by a short taxi or bus ride.
This has been an important place of worship for numerous people and groups for over 2,500 years. One of its highlights is the splendid Grand Square or the Gran Plaza, which is over 2 miles long. It forms the center of the archeological ruins together with the Ball Court, several big pyramids, and a palace that has an inner cruciform tomb and courtyard.
Aside from the ruins, you can also enjoy exploring the Monte Alban Ruins Museum. The museum displays a lot of ceramic figures, jewelry, sculptures and features shows that relate to the excavation of this site.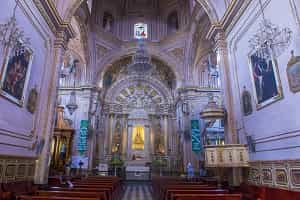 Basilica of Our Lady of Solitude
Another must-visit place in the city of Oaxaca is the Basilica of Our Lady of Solitude (or Basílica de la Virgin de la Soledad). The Basilica is dedicated to the city's patron saint and can be found right at the center of Oaxaca, only a few blocks from the Zocalo.
This monument took 7 years to complete (form 1682-1689) and was constructed using a green stone, called Canter, which is unique to this area.
The Basilica is considered by many to be one of the finest religious sites in the city. The figure of the Virgin de la Soledad, which has a black robe of velvet embroidery of gold and other precious stones, makes the Basilica notable. If you do visit this site, don't pass up on the nieves (Oaxacan Ice Cream). It's refreshing and delicious.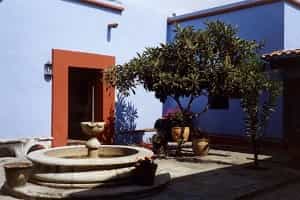 Other Museums To Enjoy In Oaxaca
If you are a fan of history and enjoy walking through museums, then The Rufino Tamayo Museum is a definitely a delight you'll want to enjoy in the city of Oaxaca. A famous Mexican artist named Tamayo presented this museum to the state and more than 1,000 historic artifacts have been collected by Tamayo in his lifetime are all still intact and safe in this museum.
Francisco Toledo is another Mexican artist who had also founded the Graphic Arts Institute of Oaxaca. You will find a lot of fine paintings that came from other Latin American countries or cultural centers in this museum.
Another museum you must visit is the Museo Casa Juarez. This was a home before, a place where President Benito Juarez stayed as a servant starting in the year 1818 up to the year 1828. It is now a museum with a plain exterior but a huge central courtyard. The museum holds many different artifacts and other related memorabilia.
It is fun to explore the inside of the museum where you can see the portrayals of the day to day life of the middle class and working class of the 19th century. Oaxaca also has a museum featuring collections of stamps and artworks from the local surrealist artists, called the Oaxaca Stamp Museum.
You will also want to make time to visit the Cultural Centre of Oaxaca. The center is also known as the Regional Museum of Oaxaca. This place is one of the most visited sites in the city. The center holds an excellent collection relating to the native culture of the area.
This site is appreciated for its secular and ecclesiastical exhibits coming from the colonial period. Masks, costumes, pottery, and jewelry are definitely the extreme ethnological collection in this site. There is a lot more to explore in this area, so make sure to set aside at least a day to explore it.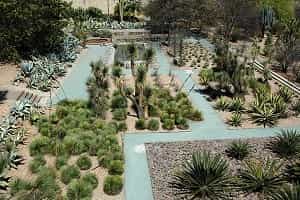 Don't Forget The Plants of Oaxaca
If you are planning to visit this city during the summer or spring season, you should definitely pay a visit to Oaxaca's Ethnobotanical Garden. It's an amazing sight to behold when you can see a fully bloomed, and well-tended, garden.
This site is located adjacent to the Church of Santo Domingo de Guzman, so maybe you can see both attractions while you're in the area. The garden was originally created to showcase the importance of relationships with regards to humans and plants. This place really best suits those people who love to connect with nature and the outdoors.
As you can see, although Oaxaca is not as popular or well-known as cities like Cancun or Cabo, there's definitely no shortage of things to do there. The offerings and tranquility will draw you in and really allow you a relaxing and memorable vacation. Visit Oaxaca and make the most of your vacation time time, it's totally worth it.