Everyone knows about Cancun and Cabo, but a few experienced travelers have discovered the wonders that the Tulum area has to offer as a low-key hotspot for a Mexico vacation.
There are so many things to do in Tulum that a vacation there will provide a variety of different experiences for any traveler to the area. No matter what you decide to do while you're there, rest assured that you will have a ton of fun if you take the time to visit every tourist spot in the area.
Listed below are just a few of the best activities and places to check out when you decide to visit Tulum. Whether you want to just lounge on the beach or maybe even enjoy something a little more adventurous, you'll be happy to know that Tulum has all that and everything in between. There's literally something here for everyone.
Table Of Contents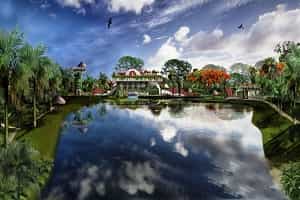 Holistika Tulum And The Art Walk
If you're looking for true relaxation, one of your first stops when you visit Tulum should be Holistika Tulum. This is a unique holistic center that is located in the nearby La Veleta area. With the energy reported here, some consider this place magical. It features a jungle landscape and offers serene areas with amazing architecture everywhere.
The peacefulness of this place will invite you to relax and give you a mindset that will help promote an overall healthier lifestyle and also educate you on better ways to take care of yourself, both physically and emotionally. There's also a spa where you can engage in a fun yoga session, enjoy a nice massage, or even just spend some time meditating. This is truly a great place to cleanse your mind, body, and soul and it can only be found in Tulum. Isn't that what a vacation is for?
Another site can be found here at Holistika Tulum right in the middle of the jungle. The Art Walk was born through the collaboration of Holistika and the Tulum Art Club. It is a project that is open for all artists of different nationalities to share their talents, magic, and visions.
This exhibition is designed to promote and generate awareness and understanding of the happenings in the surrounding areas of Tulum, all while engaging your many senses. It is not only a thought-provoking art gallery, but there is also a restaurant to relax in and enjoy a meal while being surrounded by some of the most beautiful nature in the world.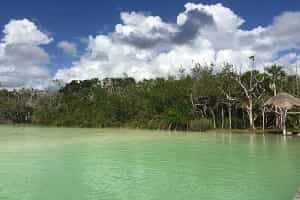 Kaan Luum Lagoon
If you're looking for something a bit more exciting you should consider a lagoon adventure. Kaan Luum Lagoon is located just south of the Tulum area and is considered somewhat of a hidden gem by the locals and the most experienced travelers. It's a bit off the beaten path and a little difficult to find, so it may be best to take a taxi driven by a local to get you there.
Kaan Luum mean "Yellow Sand", but what this spot is really known for is the clean, green-turquoise colored water it offers. This place is definitely one you shouldn't miss when visiting Tulum and the Mayan Riviera. If you're looking to avoid the crowds, you will want to head there early as the area does fill up pretty quickly.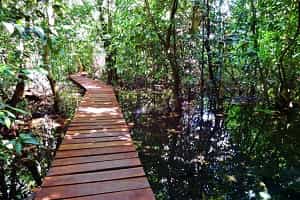 The Muyil Ruins
The Muyil Ruins are also a popular attraction. It's an archeological site which can be found about 15 miles south of the Tulum town. You will be able to see the Castillo, which is a castle that stands an impressive 17 meters tall, as well as a few other structures.
As this site is also part of the famous Sian Ka'an biosphere, for a small fee, you can also have the opportunity to enjoy a stroll through the jungle, down their boardwalk, and even explore their observation tower and have a look over their magnificent lagoon.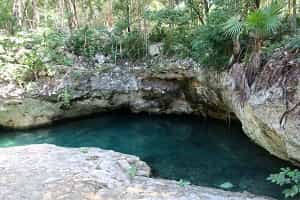 Casa Tortuga
If you're one to enjoy taking a dip in the beautiful waters of Mexico, you're in luck. About 15 minutes away from Tulum you will find Casa Tortuga. There you will find 4 wonderful cenotes, including Cenote Wisho and Cenote Campana, that range between 1 and 8 meters deep.
Each offers crystalline waters that range in colors, from jade green to aquamarine. You are able to see aquatic gardens and many species of fish here, too. It's not only underwater animals you will see, but a wide variety of birds and even iguanas. The place is really ideal for snorkeling, diving, swimming, or even if you are only going to cool down in the water.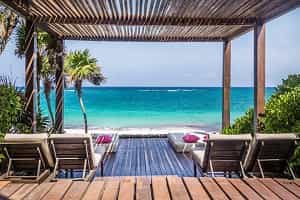 The Mezzanine Venue
To complete your day you will definitely want to experience a romantic sunset at the Mezzanine Venue. It is adults only, but this place offers a beautiful terrace located in Tulum and provides some of the best views you can find in Mexico. You will get to feel the Caribbean's soft, warm breeze on the terrace. It would be a luxurious experience to remember during your vacation in Tulum.
This place definitely combines the wonderful mix of simplicity and true luxury that is Tulum. You can also enjoy some of their delicious dishes and amazing signature cocktails while you're there or enjoy a beachside dinner at their Thai restaurant.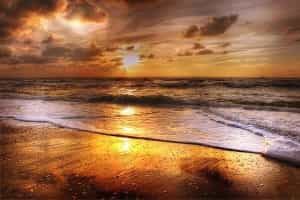 Isla Holbox
There's also Isla Holbox (or Holbox Island), which is a small island that can be found right at the northern tip on the Yucatan Peninsula. It's a spot that mixes the Caribbean Sea and the waters of the Gulf of Mexico, so you and image the amazing views it offers. You can take a bus or a ferry here, and it's definitely worth the trip.
You can find many hotels and restaurants on the island, too, so if you fall in the love with the place and want to spend more than just a couple of hours here there's an option for you to stay a bit longer. This beautiful, and largely undeveloped, island will offer many post-card worthy photo ops, too. You may even be able to spot some whale sharks if you visit between June and July.
Coqui Coqui Coba
One other site, which may be a great option for your last day in Tulum, can be found in the middle of the jungle. It is the Coqui Coqui Coba and it is one of the most gorgeous hiding places of the Mayan Riviera. It has a preserved rustic luxury and architectural design where all of its elements harmonize in the area's natural beauty.
There's also a restaurant that offers delightful regional cuisines using only their fresh ingredients from their own organic gardens. Spas are also available in this place. They use their traditional ancient techniques for their massage sessions. One unique feature to visit while at Coqui Coqui Coba is their onsite perfumeria.
It features many exquisite scents, ranging from tropical to floral essences, and can be used as a great reminder of your trip to Tulum once you get back home. There are over a dozen different fragrances available, so surely a fragrance for everyone.
Tulum Has So Many Things To Do
This is a list of all the great attractions that Tulum has to offer but the things you can do in the Tulum area are almost limitless. As you can see, Tulum truly is one of the best places to vacation to because it's unspoiled. Whether you're traveling for a romantic getaway to Mexico, or treating the whole family to a summer vacation, you'll enjoy the fact that it's not as crowded or overrun by tourists, like Cancun or Cabo.
It is amazing how this city is able to maintain a low-key profile and still offer some of the most glorious sites and experiences. Honestly you can find all the same things you'd expect from even the most popular cities in Mexico, you just have to know where to look. All it takes is one visit here and you be able will see exactly what makes Tulum one of the best locations for a relaxing getaway.