Many all inclusive resorts in the Cancun area are currently offering discount deals off of accommodations packages and here we list the top 5 best promotions out there.
Cancun is pretty much the definition of paradise. It features everything you could need and want for a vacation. There's plenty of nightlife, amazing food, gorgeous beaches, and resorts that can provide you with all the luxury you can ask for. If you're looking for an exotic trip and a cheap country to visit, Mexico may be just the destination for you.
When planning a vacation to this tropical destination you should first check into the prices of airfare. You should pick dates where the airfare will easily fit into your budget. You don't want to spend half of your vacation fund on flying there.
There are plenty of services and apps that you can download and sign up for that can alert you when a good deal on tickets to any certain destination comes up. After checking out the rates then comes the fun of finding a great place to stay.
Now, anytime you go on a vacation to an international location, you will always want to find a place to stay that includes the most possible and that will fit your needs. Lots of resorts, especially ones in Cancun, offer some sort of meal plan or all-inclusive deal.
Some of these offerings include meals, drinks, resort entertainment, taxes, gratuities, and even transportation. It's important that you know what exactly is included, and more importantly, what's not.
A great way to get an even better deal on your stay in Cancun when you visit is to look for Cancun timeshare promotions. By taking advantage of a seminar deal, meaning you sit and listen for about 2 hours to the benefits of vacation ownership in exchange for a hefty discount off your stay, you can save as much as 80% off your accommodations.
Listed below are some of the best resort deals available online. Even if you're not in the market to join a vacation club at the moment doesn't mean you can't or shouldn't look. You might be surprised just how much you can save, especially when it comes to staying somewhere nice in the Hotel Zone of Cancun, Mexico.
Luxury Family Cancun Resort
This is honestly our best deal currently. It's so good that we're not even allowed to post the exact name of the property. If you want to find out more about this deal, call us at 1 (888) 407-3849 and we can tell you more about it personally.
We can however tell you that it is a beachfront All-Inclusive resort that is perfect for a family of four since it covers 2 adults and 2 kids (17 and under). It has so many kids activities onsite, like a water park, mini-golf, and arts & crafts.
For the adults you can test your luck in the casino or relax in a private cabana. The room is almost 600 square feet and features an amazing partial ocean view, 2 double beds, 24 hour room service, sofa bed, and private bathroom with a shower with a rainfall shower head. For ultimate relaxation, why not enjoy a beachside massage offered by the onsite spa?
There are over 8 onsite restaurants with various fare to offer included with the all-inclusive plan, from American to Italian to French and more, you will find many delicious treats during your stay here. We hear the coffee is very good, too. All meals, drinks, and airport pickup is included.
The resort literally has everything you will need for your vacation onsite, fun, food, and family activities, but if you are determined to leave the resort and want to see some other sights in Cancun there are a couple of things we'd recommend.
The El Rey Archaeological Zone, AKA El Rey Ruins, are a joy to visit. These ruins are a lot closer than the Chichen Itza Ruins and, are a better option if you have toddlers or younger children. They offer guided tours or you can walk around on your own. Kids 11 and under are free and it's only a few dollars each for anyone 12 and over.
The Aquafun Marina is also a good pick if you like water sports. You get to take a speedboat out and snorkel at local reefs with a tour guide. You get to spend about 3 hours out and lockers, snorkel gear, and life vests are included.
Luxury Family Cancun Resort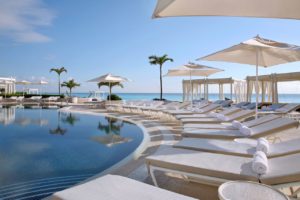 Sandos Cancun Lifestyle Luxury Resort
At the Sandos Cancun Resort you will find comfort at its best. In your 450 square foot room you will find that Slippers and Robes are included as well as a mini-bar and Nespresso coffee machine.
You will have amazing views of the water, too! The bathroom features marble counter tops and there's a seperate tub and shower. 24-Hour Room Service is included, too.
If you're in the mood for a massage or facial you can also take full advantage of the 15,000 square foot spa, Spa del Mar, that offers a wide range of services or get your hair and nails done at the Salon.
Soak up the sun at any of the 3 infinity pools onsite and enjoy a nice cold beverage or snack by the pool, too!
The All-Inclusive plan covers two people and includes 24 hour room service, 5 restaurants, 2 bars and even beachside waiter service. Airport pick up is included, too. You can also enjoy the rhythm experience with offers various music and dance activities.
Other points of interest in this area include Playa Ballenas which is a public beach that has lifeguards on duty or AquaWorld that offers a wide variety of nature tours and water activities like scuba diving, fishing and parasailing.
If you're looking for the ultimate nightlife in Cancun, you're only about 3 miles from the world-famous Coco Bongo Nightclub. You could also visit one of the famous local cenotes while in Mexico. A cenote is a natural sinkhole made of limestone and filled with water, so basically a natural pool.
A day trip out to Casa Cenote in Tulum would be worth it if you're into exploring and would like to take in some of the world's best natural sights.
Sandos Cancun Lifestyle Luxury Resort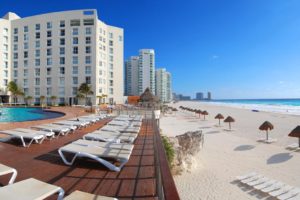 Sunset Royal Beach Resort
The Sunset Royal Beach Resort is on the beach and boasts 4 onsite restaurants and 4 bars/lounges around the property. There's a full service spa and fitness center, should you want to squeeze in a quick workout during your stay.
The room is almost 500 square feet with either 2 double beds or 1 king and 1 sofa bed, a kitchenette with a fridge, microwave, coffee maker, and free minibar, and a big private bathroom with slippers and robes included.
The All-Inclusive plan covers two adults and two kids (11 and under). It includes all meals, drinks, onsite restaurants and bars, and entertainment provided at the resort. Airport pick up is included, too.
If you're looking for a fun, unique activity to do while visiting Cancun and know your way around the kitchen, you should consider visiting the Culinary Center: Restaurant and Cooking School.
It's located inside the Ritz Carlton, they offer an interactive cooking class that takes about 2 hours. It's very hands on and will definitely have you learning some new culinary skills to bring back home.
If you're looking for something more adventurous, you could sign up for a Fly Tour and get a bird's eye view of Cancun. See the the Mayan Pyramids and all the rooftops of the hotels in the beautiful country of Mexico.
Sunset Royal Beach Resort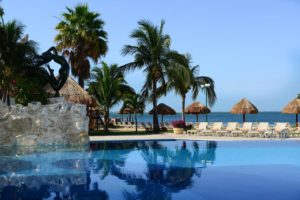 Sunset Marina Resort and Yacht Club
This is a Mediterranean-style resort property with an onsite marina. You can see the beautiful Caribbean Sea from the property and you're just a short walk to the beach.
Words that have been used by some that have stayed there are "Tranquil", "Calming", and "Amazing", so it's safe to say it's a great place to spend your vacation. You're surrounded by amazing beaches so it'd be easy to take a stroll to Tortuga Beach or Caracol Beach.
The room is over 800 square feet and features includes a kitchenette with a fridge and microwave, a free minibar, dining area, air-conditioning, private balcony or patio, living room, a huge, comfy bed and pull out sofa.
There are multiple bars around the property and even a poolside bar to enjoy your cocktails out in the sun. The all-inclusive plan, good for 2 adults and 2 kids (11 and under), includes the pick up from the airport, all meals including the buffets and 3 onsite restaurants, room service, all drinks, wi-fi, taxes, and resort entertainment (dance lessons, cooking lesson, movie night, etc.)
If you're looking for a day out on the water with a fun atmosphere you may want to consider taking a trip on the Dancer Cruise. Featuring a slide from the boat into the open ocean, snorkeling adventure, and all the snacks and drinks you can ask for.
If you are into snorkeling or scuba diving the Cancun Underwater Museum should definitely be on your list of things to do when you visit the country of Mexico. Make sure to bring an underwater camera so you can capture pictures of the glorious underwater statues and wildlife.
Sunset Marina Resort and Yacht Club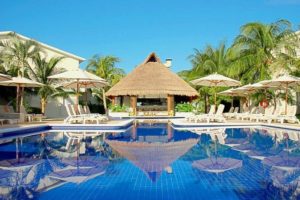 Laguna Suites Golf & Spa Resort
Laguna Suites is located in the hotel zone on the Lagoon side. It offers beautiful views of the onsite Pok Ta Pok golf course or of the gorgeous Nichupte Lagoon. The staff are all courteous and helpful and the resort offers free shuttles to the beach and back. You can also check out the nearby Mayan ruins, like Tulum and Coba.
The room at Laguna Suites is over 450 square feet and includes a free minibar and 2 double beds. There's a private bathroom that comes with free toiletries, too.
The all-inclusive plan, good for 2 adults and 2 kids (11 and under), includes the pick up from the airport, all meals including the buffets and onsite restaurant, all drinks, taxes, and resort entertainment (dance lessons, cooking lesson, movie night, etc.).
There are plenty of other things to do if you'd like to venture out and enjoy some of the other great attractions Cancun has to offer. If you're in the mood for a romantic night out you can check out the Columbus Lobster Dinner Cruise. It includes amazing ambiance, 3-course dinner, and romantic live music.
If you're more into nightlife you're only about 1 mile from Coco Bongos, which is a favorite hot spot for locals and visitors alike. Chichen Itza Mayan Ruin is only a couple of hours away, too.
Besides the amazing historical sights you can also visit the amazing cenotes in the area. Cenote Ik Kil is about 85 feet below ground level and has a set of stairs to take you down into it so you can dive in and have a swim.
Laguna Suites Golf & Spa Resort
Mexico in general, is a fairly cheap country to visit. Cancun especially has so many things to offer for everyone. Whether you're trying to find a romantic getaway for two for you and spouse to unwind or if you're looking for a fun, family adventure, there's literally something here that will keep a smile on everyone's face.
If you want to be out and about enjoying the night life or simply stay at the resort and do nothing but eat and drink and watch the waves, that's your choice. Isn't that really what a vacation is all about anyway?
As you can see there are plenty of cheap options when it comes to the Riviera Maya and Cancun. There are lots of vacation property options, and if you're looking for something in Quintana Roo or the Hotel Zone, we've got you covered here at StayPromo.
If you don't mind sitting through a short Cancun timeshare presentation deal, you can really save big. Literally Thousands of Dollars! With all the great resorts, family activities, and splendid attractions Mexico has to offer you'll never have a dull moment while on vacation.
Start your Cancun search here and bookmark the site as we're constantly adding new promos for Cancun and other cheap countries to visit.
If you're thinking about going to Cancun in the future and have not yet picked a date, check out our Buy Now, Plan Later Option, which will allow you to lock in the low price on any deal on the site and provides you with a full 12 months to use it later. It's definitely a popular option!