Traveling to Cancun can be an expensive trip to take part in if you've decided to throw caution to the wind and go all out. Fortunately, it really doesn't have to break the bank. With careful planning it's perfectly possible to go to Cancun on a budget; you just have to know where to look and what to buy.
Obviously the place you stay and the activities you plan to do while you're there play a huge role in the amount of money you will end up spending. It's important, if you are traveling to Cancun with a plan in mind to save where you can, that you pre-invest a little time to do some research about the area so you can prepare your trip accordingly.
Traveling to Cancun on a budget is possible and here is a list of some activities that you can do in Cancun that won't necessarily cost you an arm and a leg. So, it can be done! It just takes a little creativity and a bit of thinking outside the box.
Table Of Contents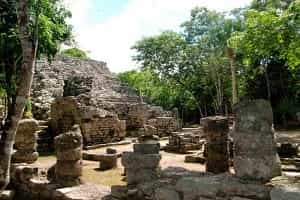 Mayan Ruins and Pyramids
Believe it or not, there are some Mayan ruins and Mayan pyramids that are not heavily commercialized and don't actually require an entrance fee and there are also some cheap Mayan Ruins, too. Some of these hidden gems are within easy access of Cancun, too. Let's face it, these ruins definitely won't be on the same level as the well-known ones that you'd be able to see if you're prepared to pay for the privilege, but they are still fantastic sights to go and see on the cheap.
If you're prepared to head off the beaten track and into the undergrowth, you may just stumble upon some small and understated ruins. There will be maps you can buy or download to direct you there or you could ask the locals for advice on what cheap or free ruins to go see.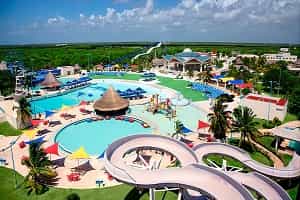 Ventura Park Cancun
You might be wondering how a real theme park has ended up on a list of ways to enjoy Cancun on a budget, but Cancun's Ventura Park is truly a theme park that breaks the mold. The admission price is very affordable, meaning that if thrill seeking and white knuckle rides are your things, these will be the most affordable thrills for you in Cancun.
The bulk of the money made by the park comes from snacks, refreshments and souvenir photographs, so as long as you keep your spending down inside the park, you should be good to make the most out of this trip.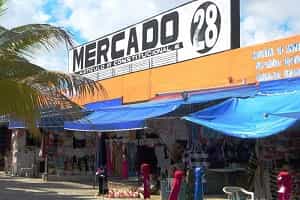 Browse Mercado 28
Not exactly window shopping, going for a browse in the Mercado can be a good way of killing a few hours without actually having to spend too much, or really even any money, at all. The air-conditioned aisles offer a brief sanctuary from the hot sun, and the items on display make for interesting browsing, even if browsing is all you can afford.
Why not buy the ingredients for a cheap and homemade picnic while you're there. At least then you won't be feeling too downhearted about all the cool stuff you definitely don't want to spend your money on. Although, if you're good at haggling you may be able to score some really good deals if you did set aside a little money for souvenirs. This place is like a flea market but ten times the size and ten times cheaper.
Either way, everyone loves looking at things they can't afford right? You could end up adding a lot of different items to your goals board if you have one. At the very least, this time-honored budget pastime will get you out of the punishing rays of the sun for a little while.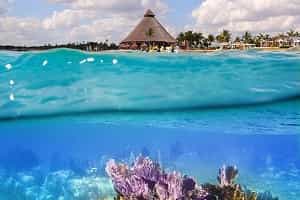 Snorkeling In Cancun
Snorkeling doesn't have to be an elitist and super expensive endeavor, and even those people traveling to Cancun on the tightest of budgets shouldn't rule out taking an experience like this in for a day or two. Typically, people will head out to the cenotes for a day's worth of snorkeling and scuba diving.
This can start to get expensive as soon as you factor in the travel costs and all the gear you need to buy or rent in order to at least look like you know what you're doing. If you're prepared to take public transport instead of a chartered ride or a cenote specific coach, you can cut down significantly on the cost of traveling to and from a range of different cenotes.
If you do choose to rent your equipment while you're there, then you have found yourself yet another way to cut costs and to save valuable money. You can also take a packed lunch with you to maximize your savings. Getting to experience the cenotes of this wonderful region is something that everyone should be able to experience, no matter the amount of money in their pocket or the size of their bank balance.
Ask the locals for tips if you're stuck. There will have been plenty of times when some of them couldn't afford to get to a cenote but still managed to find something amazingly fun to do on a day off with friends or family.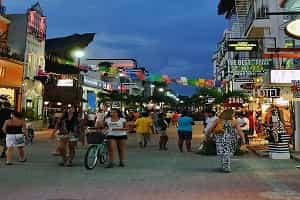 Stroll Along Avenida Tulum
The city of Tulum is surrounded by cenotes, or huge swimming holes, so much so in fact that a lot of visitors to this city fail to see the inner workings of the urban environment. They certainly don't discover it in as much detail as they explore the rural surroundings of the cenotes, that's for sure.
One great activity to do on a budget in and around Cancun is to stroll along the various avenues and look at the store fronts. You will be able to enjoy more window shopping and even take advantage of the amazing food the street vendors offer. You can even do a bit of people watching as you go.
The best part of all this is that taking a stroll along the Avenida Tulum will not only allow you to fit in a little exercise on your vacation, but it is of course absolutely free, you lucky cheapskate you.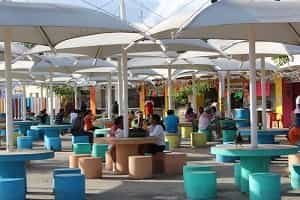 Hang Out @ Parque Las Palapas
Hanging out in this park is a favorite pastime of kids and teenagers all over the world, and why is that? Well, it could have a lot to do with the fact that hanging out in parks is pretty much free and includes various entertainment.
The same is true in Cancun. This isn't the only park where you can kill some time between your first activity and second activity of the day. This place makes a great spot for a picnic which you can put together for just a few dollars to make it a worthwhile meal. What is the same for everyone is the fact that the Cancun weather usually necessitates some downtime in a place like this, especially around the middle of the day.
Make the most of the people you are with when traveling on a budget, as in the absence of money and the activities and experiences that it can buy, your memories of this trip will be governed by your relationships with both familiar people and the locals, as well as by the way in which you communicate and interact with everyone around you.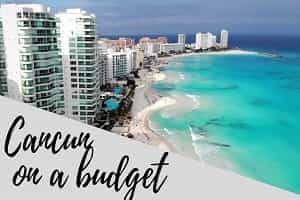 Cancun On The Cheap Is Doable
Don't let the thought that traveling to Cancun is only for the richest of the rich. As you can see it's definitely possible to plan a vacation to Cancun even if you're traveling on the strictest of budgets. With the right preparation and a little planning you can take full advantage of Cancun and a lot of the great activities that they offer.
If you're ready to start planning your Cancun vacation, and are looking for more ways to save money on your trip, you should definitely consider a cheap, all-inclusive Cancun vacation. Having meals, drinks, and some activities already included for one low rate is a great way to save a ton.