Visiting Playa Punta Cana in the Dominican Republic is one of the best trips for people who want to have a relaxing and indulgent getaway. The Dominican island is considered by many to offer some of the best experiences when it comes to beach vacations, thanks to its incredible weather, particularly glorious beaches, the overall atmosphere, and many different sites and attractions to enjoy and explore.
Punta Cana fits this description even more so. That's because it is the tourism hotspot of this beautiful Caribbean island, and it is absolutely filled with amazing all-inclusive hotels, spa resorts, and stunning golf courses, among other things.
While this is certainly an amazing place for a beach getaway, that is far from all it is. In fact, this reputation may even be something of a negative in some ways – as it means a lot of people don't go the extra mile to see what else this country has to offer. The relaxing and indulgent reputation of Punta Cana means that a lot of people may not even consider travelling here if that's not the kind of trip they are looking to take.
But here's the thing: Playa Punta Cana, and the Dominican Republic at large, are actually great places to visit no matter if you're looking for an outdoor adventure or pure relaxation. There are some truly amazing and unique experiences to have there , whether you're someone who loves discovering historical landmarks hidden among lush forest, or whether seeing rare and elusive wild animals is more your style.
You will want to start by picking a stunning and relaxing all-inclusive Punta Cana resort as your base, and then try these incredible days out while you're visiting the island. Here we're going to look at a combination of incredible adventures you can only have in the Dominican Republic. Do all of these on your next vacation for bonus cool points by me. You might be able to find some of these things in other parts of the world, but not all, much less in one spot! Think I'm crazy (Get in line!)? Check it out and let us know in the comments below!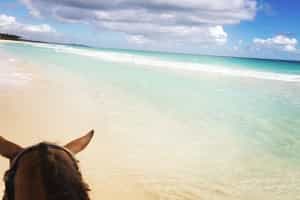 1.) Horseback Riding
One of the best things you can do if you want a memorable experience, some incredible Instagram photos of your resort activities in DR, and a true sense of adventure, is to take a horse ride along the beach. The best place to do this is on Bavaro Beach. This is one of the best known beaches in the area and is very popular, even with the locals. Why? Because it's considered the most beautiful beach in the world by many!
But why simply see the beach or sit on it, when you could gallop on a horse through the shallow waters? The horses can even swim, which can make for a true adrenaline rush and something extremely unique that is not easy to do anywhere else!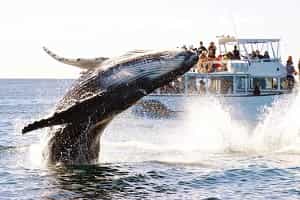 2.) Get Up Close With A Whale
There are tons of whale spotting boat trips to be enjoyed on your vacation to this incredible Caribbean island, many of which will travel from Playa Punta Cana.
The boat trips themselves are worth visiting: you'll be given the opportunity to relax in the sun while eating from a delicious buffet and drinking unlimited alcohol. Then you'll probably have the chance to jump in and go for a swim and maybe even stop at one of the incredible islands (like Paradise Island which is just as appealing as the name makes it sound).
But of course the highlight comes if and when you see the whales. These are truly magnificent creatures and the sheer scale is something that will shock and astound most people. There's nothing quite as humbling as realizing the creature that just swam under your boat considers you the same way you think about an insect! This is truly a memorable moment for anyone…just make sure you have your camera ready!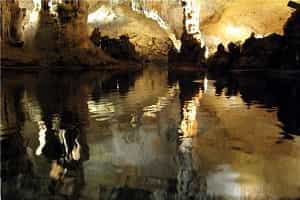 3.) Explore Underground Caves
It's amazing how many incredible attractions are unknown to the vast majority of vacationers. Take for example the Cueva de las Maravillas. This is a cave system located beneath Santo Domingo (about a two and a half hour drive from Punta Cana), that is thought to be over 100,000 years old and is filled with bats!
You'll be able to explore this labyrinthine natural formation, and even see some of the original hieroglyphics on the walls that were drawn and left here by what are presumed to be Taino Indians. Discovering the remnants of a prehistoric culture? Check!
What will also catch your eye down here is the incredible lighting. It has all been lit for additional dramatic effect, which creates a supernatural glow and makes you feel as though you're exploring the set of a fantasy movie. It's truly awe-inspiring. While you're there, you can even take a peek into the area of the cave that have been sectioned off for the bats.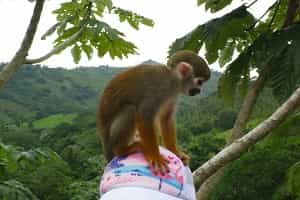 4.) Hang With Monkeys!
If you liked the idea of riding horses and watching for whales, then you might also be interested in stopping to check out some monkeys. One of the best tours you can take is the Monkeyland and Plantation Safari Tour which leaves right from Punta Cana.
You'll be taken through thick jungle, which is an adventure in itself, before getting the chance to take photos with the wild monkeys and you can even feed them out of your hands! There's much more to see here too, including the plantation and a vast amount of other wildlife. You'll want to keep your eyes peeled on this trip! The kids especially love this one.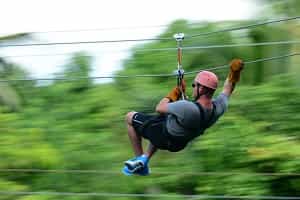 5.) Go Zip-Lining
There are actually two main places you can go zip lining while in the Punta Cana area of the Dominican. One option is to try the famous Zip Line Adventure at Bavaro Beach, and the other is to try the Canopy Adventure Zip Line Tours in Punta Cana itself.
These zip lines allow you to swiftly glide through the trees among the many floating paths and bridges between the tree tops. The result is a stunning and incredible experience that offers spectacular views of the Dominican Republic, as well as an amazing adrenaline rush as you hurl yourself through the jungle trees.
The best part of the Canopy Adventure Zip Line Tour is surely when you take the Extreme Swing Adventure, which will swing you horizontally through the air like Superman. That said, the ending which involves falling from a 100-foot high tower is also rather exhilarating!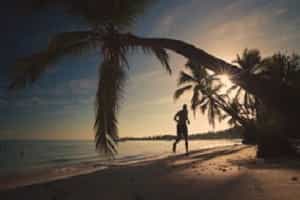 6.) Run A Beach & Forest Trail
The thing that a lot of people forget is that they don't need a specific attraction in order to have an adventure. If you want to enjoy an action packed and exciting experience in Punta Cana, just strap on some shoes and go for a run.
You can take a jog through the forests, along the beach, right outside your hotel, or after being dropped off at a particular interest point. Either way, we recommend investing in some minimal shoes that will be well suited to helping you balance on uneven ground, and ideally something waterproof. From there, you can then start jogging off the beaten track, seeing incredible sights, and for a more intense run, try varying the challenge by running through shallow sea, puddles, sand, and more.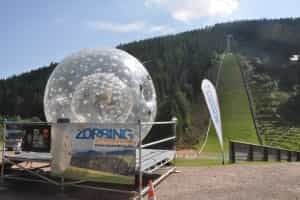 7.) Go Zorbing! Wait, What?
Feel you haven't had enough of an adventure yet? Then how about putting yourself inside a transparent bubble ball and then hurling yourself down a steep hill? This is what zorbing is, and it's just one of the awesome and action packed things you can try at Bavaro Adventure Park.
This is a 110 acre park that is filled to the brim with incredibly exciting adventures. What else can you do? Well how about riding a Segway or even doing a bit of rock climbing? It's one thing just looking at the amazing cliff faces and jungles, it's quite another hanging onto one of those cliff faces while you enjoy the combination of awe and adrenaline washing over you!
8.) Sirenis Aquagames Punta Cana
If it's more organized fun you're looking for, then you should check out Sirenis Aquagames Punta Cana. This park is huge and great for the kids. There are numerous slides and rides, including a great number of them that are NOT for the faint of heart. There's stuff for even the littlest of kids and toddlers here though too, and with the Caribbean theme and the great restaurants, you may well decide to make a full day of it!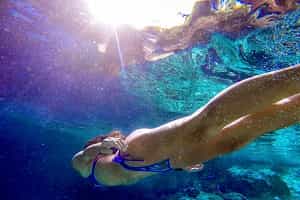 9.) Go Dive In A Blue Hole (Hoyo Azul)
Hoyo Azul will give you an opportunity to channel your inner-Indiana Jones. You'll start by hiking through thick, tropical forests, before eventually opening up and finding yourself looking down at the stunning Hoyo Azul – an incredible lagoon situated at the bottom of a deep sink hole.
This is one of the best things to see in Punta Cana and really one of the best activities in all of Dominican Republic, and the fact that you can swim in it and explore around it makes it all the better. There are also rickety bridges and ladders to traverse, not to mention lots of amazing walks all around the area. It's a really stunning and amazing thing to discover for yourself, so make sure, if you're going to do anything on this list, it's this!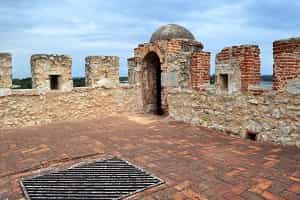 10.) Explore Colonial Architecture
For a more urban adventure, we recommend making the 2.5 hours trip to Santo Domingo to see the Zona Colonial. This is where you'll find the history and heritage of the country come to life, with the 500-year old buildings and the beautiful cobbled streets. There's a lot to see and do here, including exploring the Ozama Fort and the First Cathedral of America!
As you can see then, there are tons of amazing things to do here. If you're interested in action, adventure, and exploration Punta Cana has it all. We haven't even mentioned swimming with dolphins, playing golf with amazing surroundings, scuba diving, surfing, or hiking yet! If you decide to visit, make sure to bring your camera, your sense of adventure, and a strong stomach!