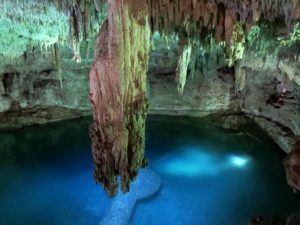 The Yucatan Peninsula is famed for having the largest congregation of underwater sinkholes, also known as cenotes, anywhere in the world. In ancient times, this place was revered as sacred by the Mayans, whereas nowadays these cenotes pull travelers and tourists from every corner of the world. Cenotes are formed over time, as a result of the gradual erosion of the limestone they lie beneath.
The town of Tulum has become something of a honey trap in recent years for tourists on the lookout for the best cenotes Tulum has to offer. Those that visit can swim, scuba dive and snorkel in the crystal clear water. Some of the more beautiful cenotes that are definitely worth a visit next time you're in the Tulum area are detailed and described here.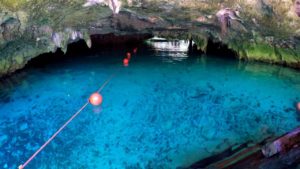 Gran Cenote
Within spitting distance of Tulum's center lays Gran Cenote, a cenote which is extremely popular with families, given that it caters to participants of all ages. The partially submerged tunnels here all join up with the open air sections, making this cenote resemble some kind of playboy mansion swimming pool, exciting water park, or something that lies somewhere between the two.
Incredibly popular with divers, this cenote provides access to the world's second-biggest cave system, meaning that this cenote could be a mere gateway to even further discovery and adventure. For the less adventurous, there are sunbathing decks and sun loungers, allowing revelers to top up their tans between taking a dip. It is also possible to see bats flying through the system, as well as the occasional toucan, making this cenote well worth the trip out from Tulum.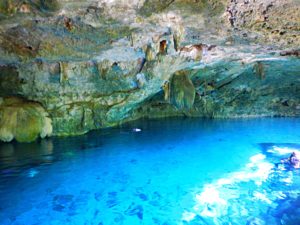 Cenote Dos Ojos
Arguably Mexico's best-known cenote, Dos Ojos is the number one spot for cenote seeking tourists to visit. The name given to this cenote translates to 'two eyes', which is an incredibly apt name given the cenote is split into halves. The first half is crystal clear and very shallow, making it suitable for families with young children and those looking to do some snorkeling. The second half is much deeper, making it ideal for those who may be feeling a little more adventurous or those who wish to take part in some real scuba diving.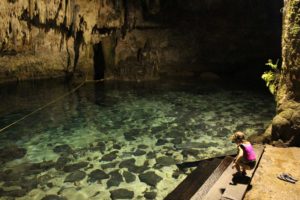 Cenote Choo-Ha
By venturing a little further away from the town of Tulum, it's possible to reach this impressive cenote that is hidden from view underground. Access can be a little difficult for this one, maybe ruling it out for people with accessibility issues, but it is definitely worth the visit if you think you can cope with the difficult terrain and access issues. Only accessible through a low narrow opening in the ground, this cenote features wooden staircases which lead down into a cathedral-like round cavern. Stalactites and stalagmites are noticeable virtually everywhere you look, and this cenote will linger long in the memory of anyone who chooses to visit.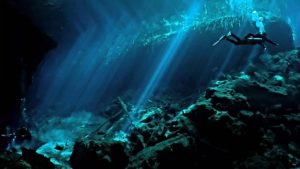 Cenote Ponderosa
An incredibly stunning and beautiful location to visit, this cenote is ideal for swimmers. To say the water is crystal clear would be a complete understatement and for many people, they say that it is simply the clearest water they've ever come across. An abundance of wildlife calls this place home, including turtles and freshwater eels. For people seeking a little more of a thrill and adventure, there's always the opportunity to take a running jump off the cliff edge of the cenote into the beautiful water.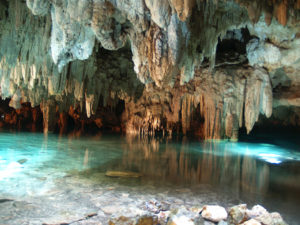 Cenote Labnaha
Only 15 minutes from the town center of Tulum is a cenote that is regarded as one of the best cenotes or sinkholes along the whole of the River Maya. Interestingly for this cenote, and unlike many of the others, Cenote Labnaha has a strict restriction on the number of daily visitors. The result of this is that less damage is caused to the local environment and that the experience for tourists is an all-around more pleasant, and less congested one. Locals are utilized for their knowledge and expertise on this cenote, meaning that employment opportunities are created in a sustainable way.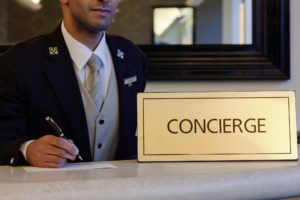 Getting There
This is where your vacation planning will really start to come in handy. If you planned well ahead of time, you should find that your car rental is ready to go, or that your bus tickets are pre-printed. If going to see a cenote turns out to be a spur of the moment, last minute thing, it is possible to arrange transport but always a good idea to go with a larger taxi firm or perhaps ask the concierge desk at the hotel can help arrange something for you. Some of the cenotes are within walking distance of Tulum but make the trip nice and early to avoid the trekking in the hot sun.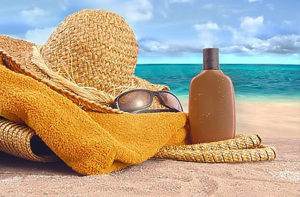 Staying Safe and What To Pack
Most cenotes have lifeguards on hand, just as you would see at the beach or in the swimming pool, but just like at those two places, there can be no substitute for common sense. Always know the limits of everyone in the whole party and remember, if you struggle with swimming in a regular pool, you're more than likely going to struggle in a cenote. Anyone who suffers from claustrophobia would be well advised to visit a cenote with a larger opening, as some of the smaller cenotes can feel quite enclosed.
Pack as lightly or as thoroughly as you like, remembering that most of the things you'll need, are similar to the things you'd likely take with you for a day at the beach. Swimsuits are obviously a must unless you're planning on getting arrested, as are things like towels, sunscreen and a change of clothes for after you get out of the water. While some cenotes have good storage facilities or lockers available, it is true that some don't, and so only bring the money that you'll need to pay your way in and for any refreshments. Don't bring valuables with you as this is probably asking for trouble. If you want to go snorkeling and scuba diving you can either bring your own gear for this or rent the gear once you're at the cenote, which saves you the hassle of packing and lugging around heavy gear.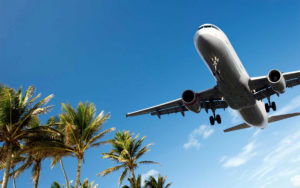 What Are You Waiting For?
With the travel season just around the corner, the time is now to start planning your trip to Mexico. We have lots of Cancun resort promotions of up to 80% off your stay and all-inclusive plan for at least 2 people. You can literally save hundreds of dollars and visit these beautiful cenotes for yourself. You can also take a look at all of our best resort vacation packages and choose by destination and property. Start your search now and start saving big on your next vacation to Cancun.