Do you remember your very first trip to Disney World? It is literally an experience that will stick with you for a lifetime and has the potential to be the best vacation ever. This is a journey into a magical world where anything is possible – where the cartoons and movies you loved as a child come to life before your eyes, and where you can explore mythical and impossible worlds.
It's great for everyone, whether you're 1 or 100, you will be able to see and enjoy all that they offer at the parks. From the amazing zoos and Disney wildlife, to the waterparks, and wide variety of rides, and the shows, Disney World has it all.
But in order to truly get the very most out of your trip to Disney, you need to make sure to plan ahead. In this post, we'll explore the basic things you need to bring when you visit Disney World Orlando, as well as any other preparations you should make in order to ensure that you and your family have the best experience possible.
This is a once-in-a-lifetime opportunity for many people… so you should try to get it perfectly right, or as close as possible!
Table Of Contents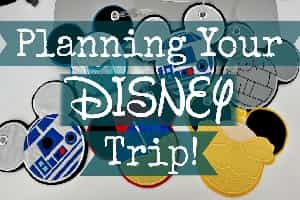 Planning Your Disney Trip Well
The first thing you should do before you just set off is to plan your trip. How many days are you going to to be able to spend in Orlando area and how many of those days do you want to commit to visiting the Happiest Place on Earth?
Our advice is to set aside and spend at least a day at each of the four main parks, and then to think about whether you'd like to visit the water parks and other attractions that Disney has to offer as well. You will want to make sure to save the final day to actually rest and relax before heading home. You literally cannot get around all of Disney World in one day, so you will need to think about how you're going to divide your time!
Knowing Which Rides Are A Must
Likewise, you need to think carefully about the rides that you are most excited to try. There are lots of absolute classics, like Space Mountain, Splash Mountain, Big Thunder Mountain (there are lots of mountains), Rock N Roller Coaster (aka the Aerosmith Roller Coaster), Terror Tower… and the list goes on!
The problem is that you will spend a lot of time in the lines for these rides as they are some of the most popular ones in the park. Don't worry: the lines themselves have been made a lot of fun with all sorts of entertainment and distractions laid on by the friendly Disney staff. The point is that you may not get around to everything you want to see and do, and so it is a good idea to prioritize the parts of the park that you're most excited for.
We also highly recommend thinking about the best order to visit the different parts of each park, so that you can hit the biggest and best rides first and reduce any chances of missing them. You should download the maps of the parks and become familiar with the layout and where your rides are. That way you're not jumping from one side of the park to the other and back again. All that walking can waste a lot of valuable ride time.
Choosing Where You Stay Wisely
There is no shortage of different hotels and resorts to stay when it comes to Disney World. As you may already have noticed, Orlando is very much built around tourism and has a huge amount of options when it comes to accommodations.
One of the very best, but also very expensive, options will always be to stay at one of the Disney World Resorts! Not only are these themed with lots of cool surprises for the kids, but they are also extremely close to the park and some even come with transportation to each of the main locations via the monorail. You might even be able to eat breakfast with some of your favorite characters, too!
If you're coming to Disney World for a romantic couple's trip, you'll be happy to know that not all of the resorts are kid-focused and themed either. If you'd rather stay at a plush spa-and-hotel, then Disney has options for that too!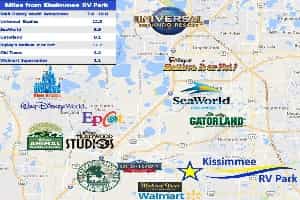 If you don't mind staying off property and waiting in a little traffic to get into the parks in the morning, a better and more affordable option may be to stay in the surrounding areas of Disney, like Lake Buena Vista or Kissimmee. You'll find that there are lots of options for hotels and resorts literally just outside of Disney and some of those even include awesome amenities like Free Breakfast and Free Shuttles to Disney and many of the other theme parks and attractions in the area. You can also browse our Orlando vacation packages to see some of the current deals we're running on properties by Disney and the attractions.
Becoming Familiar With The Orlando Area
We mentioned this earlier, but it's important, so we thought it should have its own dedicated section. Disney World might sound like the least stressful place in the world – and in many ways it is. But when you have a screaming kid who absolutely must see rides X and Y or a strict time limit, and you have no idea how to even find the way in… it can get a little challenging.
This is exactly why it's important to not only find a map early on, but to download, print, and study that map and have a clear game plan. Don't be afraid to mark it up with pen or highlighter and notes, either. Don' worry about looking out of place, even the locals do this.
It might all sound a little regimented, but if you have a good game plan going in, you'll find that it's much easier to get to the things you want to see, and therefore to have the very best time. Being lost and stuck in queues is not conducive to having the most memorable trip possible!
Mixing Up Activities In Orlando
Disney World is a truly unique experience, and it's something that never gets old, but it can get to be…a lot. If you have a week and a half to two weeks here in Orlando and you spend every single day at Disney, then you will start to get a little burned out. Not only that, but you'd be missing out on many of the other amazing things there are to do here.
Other great attractions that are fun for all ages include the likes of Gatorland, SeaWorld, Universal, attractions on International Drive and you can't forget the beautiful Florida beaches. That's why it's a great idea to leave some days free in your trip to explore other places and to schedule a little bit of rest. Don't try and see everything at once and burn yourself out!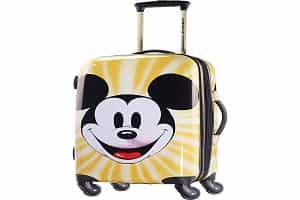 Items You Should Bring To Disney
There are plenty of guides online that'll go into a lot more detail of all the things you should pack and bring for your Disney vacation before you take off. The list below covers a few basics that'll help enhance your Orlando vacation.
Weather-Proof Clothing and Proper Footwear
Disney World being located in Orlando, Florida and this is actually one of its biggest selling points, seeing as there is just so much to do here, and it has such an idyllic climate year-round.
While this weather is usually a bonus, it can also be a downside when you're standing in long lines and pushing your way past other tourists. In short: it gets hot and sweaty, and it doesn't help that this is also one of the most humid parts of the country. Then you also have the occasional thunderstorms, which don't occur that frequently, but are extremely dramatic when they do happen.
So, you will want to bring clothing that is breathable, while at the same time making sure that you are protected from the sun. It's also a good idea is to bring a spare shirt. That way, you won't be too upset if your clothes get soaked on Splash Mountain!
Likewise, the right footwear can make a big difference! Open toed sandals are not actually the best idea…unless you want to go home with tan toes. Remember, you're going to be doing a lot of walking as you explore the parks and this can lead to blisters and other issues if you aren't careful. Not only that, but the right footwear should also keep your toes dry and cool.
Sunscreen is also a definite must and should go without saying! An umbrella (and/or a poncho) is a good idea due to those aforementioned storms. Finally, you will want to research the weather before heading to the park!
A Waterproof Bag & Pockets With Zippers
While Disney World isn't really known for extremely fast or vomit-inducing rides, it does have a fair few rides that involve getting splashed, going pretty fast, and turning upside down. If you have a mobile phone and a wallet dropped into a large, loose pocket, then this is going to cause a bit of unnecessary stress as you cling to your items for dear life while doing a loop-de-loop!
If you have a waterproof bag, you can loop it over one foot and stow it in the space by your feet. Alternatively, if you can just zip up a pocket then you can keep your items safe that way. You'll definitely want to find a way to free up your hands so you can have the best time possible.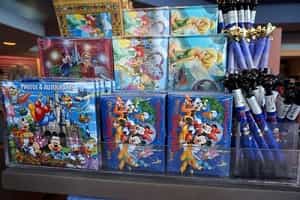 A Good Book, Pen, and Autograph Book
This might not be the obvious suggestion to bring on a Disney vacation… but hear us out!
Thing is, you do end up spending quite a lot of time in lines, there's no way to completely avoid them. These aren't as bad as they sound – actually many of them have a ton of exciting things to look at and watch! Sometimes they are almost as fun as the ride.
But you should consider bringing a book just in case there's a ride you want to go on and the line stretches on and on. It's not so bad if you can lose yourself in a good story.
Here's the other reason to bring a book…you can use it to get autographs! That's right: you'll find that you can get lots of autographs from the likes of Pluto, Goofy, Mickey, and the whole gang. Bring an autograph book and a pen because you never know what characters you'll get a chance to meet. This is one of the best activities for young kids at Disney World, too!
A Camera With Spare SD Cards
You're going to want to take a LOT of photographs as you explore Disney. Nearly every sight and every angle is a photo opportunity, and you'll want plenty of photos with the characters, too.
We recommend that you bring a proper small pocket camera (to keep in your zipper pocket, of course). While this is something extra to carry around (which is why we're not suggesting a huge DSLR!), it's still small enough to fit in a bag. Moreover, it's going to result in some far more impressive photos than your phone and you will be able to look back on them and remember for years to come. Just make sure you have LOTS of space for the sheer volume of photos you're going to want to take. We also recommend that you bring spare SD cards, just to ensure that you don't miss a single moment.
Hopefully you're all planned up for your upcoming Disney stay. Orlando is a place everyone should visit a few times and we hope to make every visit better and more prepared than the last. Enjoy the magic, sun, and fun of this area and take lots of pictures and videos.