Walt Disney World has been launching and opening new attractions here and there recently. Disney's management has decided to try some new and innovative ideas for its offerings to the paying public and some have been big hits. However, even with all these, Hollywood Studios still remains to be a fan favorite classic over the years.
This iconic Walt Disney World theme park continues to serve its guests with thrills, chills, and excitement all year round. Whether you're visiting for the new attractions or to enjoy some of the classics, you're not to be disappointed at Hollywood Studios. Smiles, laughter, and shrieks of joy can be heard and seen all around this section of the park.
Now we have come up with a list of the top things to do and see inside Walt Disney World's Hollywood Studios in Orlando. This will serve as your guide on one of the best ways to spend a day or two one of the world's top rated premier theme parks. If you're planning a trip to Walt Disney World, Hollywood Studios should be put at the top of your to-do list.
Table Of Contents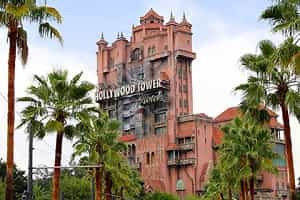 Tower of Terror
This is the best attraction in Hollywood Studios by far. If we were to rate it 1-10, 10 being the highest, this is undoubtedly a perfect 10 for any thrillseeker. If you've never experienced this ride before you may be asking yourself why that's the case? Well, from its great storyline to sudden drops and falling into total darkness, let's start off by saying this is not for everyone and it's definitely not for the faint of heart.
If you enjoy being frightened, however, this Twilight Zone attraction is best for adrenaline junkies. Due to its blockbuster demand and popularity, you may be waiting around 30-60 minutes in the line, but it all worth the wait, trust me. Don't let the screams you'll hear when approaching the attraction turn you away. This is definitely one that you have to experience for yourself to get a true understanding of just how fun it is.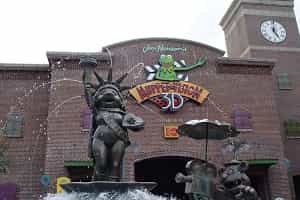 MuppetVision 3D
This is a show that features the ensemble cast of puppet characters, the Muppets. This experience is for those who have a good sense of humor and for those with kids looking for a reprieve from the hot Florida sun.
This 3D attraction starts with a pre-show that showcases what MuppetVision is all about. The main show is theatrically shown using the well-known characters of Muppets like Gonzo, Kermit the Frog, Miss Piggy and others. This show is fun for all ages, not just for kids, but also for the kids at heart.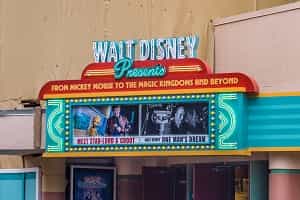 Walt Disney Presents Hollywood Studios
This is a show that highlights the life and works of the man and legend, Walt Disney. If it's raining or you are sick of the scorching being out in the humid weather, this is another reason for you to get indoors, relish the air-conditioning and immerse yourself in a story about the man who started it all.
This helps people understand how Disney was created, what happened in the past that has helped to create the Disney World we are seeing right now and how Disney continues to make fantasy just one small grasp away from reality.
It's a very interesting and educational attraction and we're sure you will find yourself in awe of things you may not have thought about when it comes to the history of Disney. You'll be able to spend 10-15 minutes here or more and, once you've finished, you'll see why we recommend this one.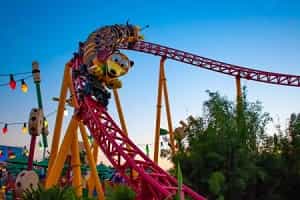 Slinky Dog Dash Disney Hollywood Studios
This is one of the newer offerings that we were talking about in the beginning. It's a headliner, for sure, in Hollywood Studios and it's situated in the Toy Story Land area. This roller coaster provides excitement using unique track lines and unexpected drops and turns. Ever want to star in Toy Story and have an adventure with Woody and his pals? Well, here's your chance.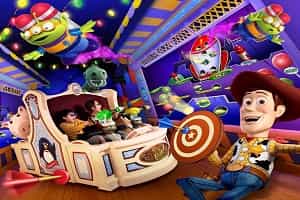 Toy Story Mania
While you're in the area you should also check out Toy Story Mania. This is a 3D shooting game which features a few of the popular Toy Story characters we have all come to know and love. Being one of the newest attractions in the park, it has become one of the most-hyped sections inside Hollywood Studios and you can never go wrong with that. You will have to wait in line for a while for this one, but thanks to the great minds who created this entertaining game, you'll see that it's worth it.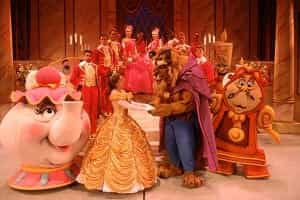 Beauty and the Beast Live Hollywood Studios
This is a theatrical show that showcases one of Disney most classic films, Beauty and The Beast. You will be glad to see that they did not just make a condensed version of the movie, but rather put together a whole show that was carefully choreographed by the great minds in Disney. This show remains to be one of the highlights of Disney due to its dramatically meticulous attention to detail and Broadway-style theatrics. If you're a fan of the movie, this is a not to be missed part of your Disney trip.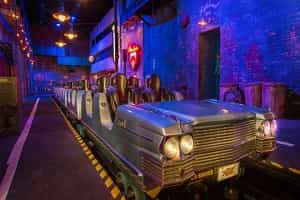 Rock 'n Roller Coaster
This roller coaster experience features the infamous rock band, Aerosmith. This is pretty intense for a ride accompanied by a side of electrifying music. This ride is nothing but fast thrills and, like the Tower of Terror, should not be missed when visiting Hollywood Studios. If you want to experience G-forces and a breathtaking show, this one's for you. It's time to rock, rattle and roll.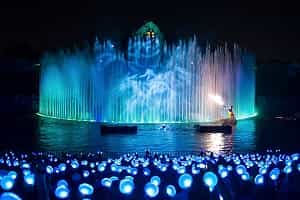 Fantasmic Walt Disney World Hollywood Studios
Enter the world of Mickey Mouse here at Fantasmic. We left in oohs and aahs on this fabulous show that uses fireworks, outstanding projections, stage characters, boats, and more. This show is incomparable to any other Disney really. You are most likely to be blown away by the show and the carefully placed props and characters. Even the locals that live here in Orlando rate this one high up on the list, so that has to tell you something.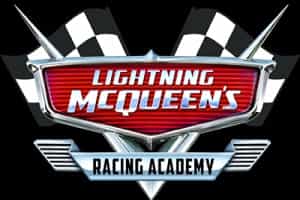 Lightning McQueen Racing Academy Hollywood Studios
For anyone that enjoyed the movie Cars, this is another fan favorite. It's a 10-minute show that features some clips of the hit film and features Lightning McQueen. Kids and adults alike will love the racing simulator. It's an interactive show that allows the audience to interact with characters on screen. It focuses on teamwork shown by the characters, friendship, and of course, a sense of humor.
Star Wars: A Galactic Spectacular Hollywood Studios
This fireworks show uses on point projections and well-picked background music along with state-of-the-art pyrotechnics. You'll be able to enjoy some of the most iconic and original sound tracks that have been accurately timed for the show to make it more immersive and engaging. If you are a Star Wars fanatic, this is one of the things you cannot miss while visiting this park and is a fantastic way to end a night at Hollywood Studios.
These recommendations are based on personal experiences and preferences, so we leave others for you to see. Planning for a Disney World trip is not a walk in the park. It takes time and careful planning, but hopefully this article helped you decide what attractions to visit and other things to do to make the most of your time inside Walt Disney World Orlando. Have a safe trip and let us know what you think.