We all know that family vacation planning can be quite stressful – from making sure tickets are booked to making sure hotel reservations have been confirmed…plus, not to mention checking to see that everyone is packed and no necessities get left behind. Planning a trip and traveling with family can be a bit overwhelming, but with proper planning it doesn't have to be.
One of the most popular family destinations anywhere in the world is Orlando, Florida, or more specifically, Disney World. While it may be referred to as "the Happiest Place on Earth", there is a lot of planning that has to happen before the real fun can begin.
In this post, we share the top tips and tricks on how to plan for a smooth and stress-free family vacation to Walt Disney World…once you are done reading this, you will be ready to start planning your vacation and you'll be fully prepared on what to expect when you enter into the Magic Kingdom and beyond.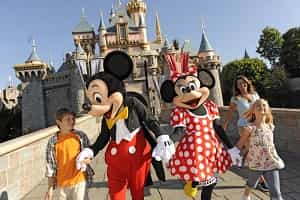 Preparing For Your Family Vacation to Disney World
Planning for a family trip to Walt Disney World is not quite as difficult as it once used to be. Thanks to advancement in technology, and of course the world wide web, families and travel agents have access to more resources and tools to help those preparing for a fun-filled family vacation. Though spontaneity can be fun and useful, sometimes just buying park tickets and showing up at the gate isn't the best way to maximize your time at Disney. Here are some tips on preparation:
1.) Research Discounts and Deals
Before you buy airline tickets to Florida, do your research. Consider checking out deals with airline agencies and also certain stores such as Costco, which offer family packages at significant discounted rates.
Depending on how many there are going to be traveling on the vacation and to Disney, it can be an expensive trip, so finding deals and discounts is always appreciated, especially when you can take your savings and put it towards something else, such as visiting other attractions besides Disney and maybe even some souvenirs.
The best kind of research to do is not just online, but with friends and family who have recently gone to Orlando and/or Disney World. They can share their experience, of course, but they can also share how much they paid and where they found some good deals. Don't be afraid to ask questions, especially if it can save you an extra couple hundred dollars.
2.) Check for Crowds
If you are not a fan of crowds (and who is?), you can actually visit Disney's website and see what their peak park times are. This is one way of helping determine when it is a good time for you and your family to go.
For example, if you are planning on visiting Disney World during December, March, or July, these may be considered peak months due to the major school breaks, so this where other families like yourself may choose to go visit the parks.
It's beneficial, if you have the flexibility, to go during the low season. This is highly recommended because you will not only benefit from shorter lines, but you can also usually score cheaper flights and hotels.
3.) Create a Checklist Before Departure Day
Once you have researched discounts and deals for your trip – having a checklist of things to do before departure can help things go smoothly. Why have a list? Chances are with all the excitement and people to prepare for, something is bound to be forgotten (and it's usually something very important).
When you have a proper packing list you can refer to, it does lessen your chances of forgetting something. The last thing you want is to arrive at the airport, or worse, your destination, and realize you have forgotten something you need! Other things that you can add to your checklist are some "to-do's" including things like making sure you have a house-sitter, pet-sitter, or plant-sitter.
The checklist should really focused on things that you want to make sure you have covered before you go on vacation. From preparing for the trip to being on it – you want to have the peace of mind knowing that everything is taken care of. Do you have all your medications? Is your emergency contact information up to date? Whatever it may be, be proactive and be prepared. This is a good Disney planning packing list to start off with, and of course you can add your own personal necessities if we forgot anything.
4.) Don't Over-Do It
When you go to Disney World, you may feel as though you have to do EVERYTHING available in the park. This is not true – you don't have to do everything – and chances are you won't have the time or stamina for it anyway.
Don't let the FOMO (Fear Of Missing Out) bug bite you because then you won't be truly enjoying your trip, but rather, you are going to focus on making sure you do everything. Disney parks are meant to be enjoyed to the fullest of one's abilities. After all, the parks aren't going anywhere, so worst case, you'll have to come back some other time.
Depending on the age of your children, going with three- or five-day passes is an excellent in-between rather than a seven-day pass or more. Even with five days, that can be a lot when you have younger children. Do what you can at your family's pace and make sure to take a break when you (or someone in the party) need it.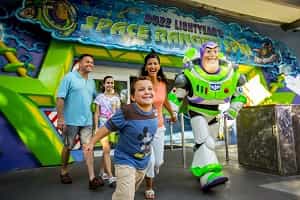 What to Expect from Walt Disney World
Congratulations! You've arrived in sunshiny Orlando, Florida. Annnnd you even remembered to pack the sunblock! So, what's to be expected after you slather some of that on? Well, we're glad you asked. Here are a few things to expect once you arrive at Disney World.
5.) Walking and Lots of It
While there are loads of rides – from the tram to shuttle busses, even with all these methods of traveling, there is going to be ample walking. Whether you are going from ride to ride or park to park, be prepared to walk and to do a lot of walking. If you wear a FitBit or use a pedometer, there is a good chance you are going to meet and exceed your goal by lunchtime!
Pro Tip: For a family vacation like this, where there will be ample walking taking place, make sure you invest in proper walking shoes. Not just for yourself but for everyone else, too. The last thing you want is to have kids complaining about blisters or being uncomfortable. Not only is having the right walking shoes going to help with all the walking, but just in general, you want to make sure you pack the proper footwear for the trip.
6.) Spoil Yourself
Chances are if you booked your family Orlando Disney World trip with a travel agent and are staying on-site, they offer shuttle busses to and from the airport and the major parks. If you prefer to not be on a crowded shuttle bus with others, why not spoil you and your family by using Uber or Lyft or rent a luxury limo for one of your nights out? Family vacations are a chance to spoil, not just your family, but yourself as well; you deserve it!
Spoiling yourself also means indulging in things you normally wouldn't. For example, if you are at a restaurant, and there is an opportunity to have a surf and turf or a beef wellington – don't hold back on a once-in-a-lifetime chance, do it. Order that surf and turf or buy that somewhat tacky matching t-shirt for everyone in the family – you are on vacation and deserve to let loose.
7.) Don't Set Your Budget In Stone
No matter where your travels take you, having a budget can be beneficial so that you don't go into debt; however, when you plan a trip to Disney World, let go of your anticipated budget. This is not to say that you should go and max out every credit card you have, but be prepared to spend a little (or a lot) more than anticipated.
This is not to say that you can't find good deals or bargains for your Orlando vacation or that's it's impossible to save money on a Disney vacation. There are several ways you can save and travel on a budget to Orlando and Disney year round. Just using common sense and a few tricks is can end up saving you a ton on your trip.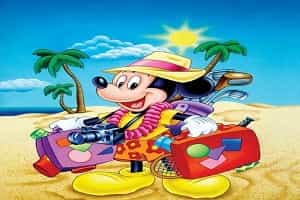 Making the Most of Your Trip
Two days in and already you are tired, but there are still three more parks to walk around and plenty of rides still left to go on – what to do, what to do?
8.) Don't Feel Stressed If You Don't Get to Experience Everything at Disney World
If you need a break from the rides and waiting, take a break. Don't feel pressured into feeling as though you have to do all the rides, shows, and experiences. A vacation, after all, should include a bit of relaxation. This should be one where you can put up your feet and enjoy yourself.
Disney is a chance for you to take in what you can at your pace because whatever you don't see this time around, you can plan another family vacation. Feeling stressed about not going on every ride or seeing every show is just going to bring down the mood.
If there is one thing to always keep in mind is that Disney is meant to be enjoyed at your own pace. There is no right or wrong way to do the Disney parks, so if you don't get to visit everything, remember, it's okay. It's not like they're going anywhere, so there's always next time.
9.) Hang Out, Look About
Though the Magic Kingdom is great, there is also a lot to do at the resorts and the surrounding area without entering the park at all! While there is plenty to see at Disney World, there is even more outside and around the park in the Orlando area.
Some attractions only happen for a certain period of time, so it's beneficial to do a search for other Orlando attractions and find a few other ones to enjoy while you're visiting and take advantage of these exclusive opportunities.
While you may have planned for Disney World, there are so many other amazing parks but, as mentioned, if you are staying at their resort, you are definitely going to want to enjoy all the fun perks there too. From the family pool, to the activities and just relaxing, a vacation is meant to be enjoyed, so why not?
Whether you are 2 or 99 years old, really no matter your age, Disney truly is one of the happiest places in the world, and it's meant to be explored and enjoyed. Have fun, cherish those moments waiting in the long lines, reconnect with your friends and family, and take as many photos as possible so you can look back at these moments for a lifetime.