A Disney World vacation is a must-do at some point for every family. It's a dream come true for the little ones, and an experience that the parents can cherish for a lifetime. There is just something special about this major Orlando theme park that Mickey Mouse and friends call home.
When you are there, you want to experience it all – the sights, the sounds, the smells, the food, the rides, the shows – it is truly a magical time. If you have planned and saved to have the best Disney family vacation you could imagine, there are some beneficial tips to make your time inside the park even better.
Table Of Contents
The following list outlines a few bits and pieces of advice to follow to have the most fun possible at Disney, all while keeping within a certain budget. You are going to be surprised at how easy it is!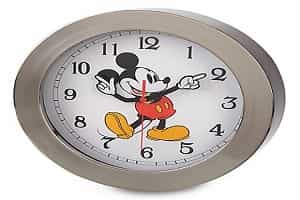 Timing Is Everything
When starting to plan your Disney World vacation, you need to know the best times to go as far as costs go. Just like any other highly popular destination, Disney has its peak and non-peak seasons. To keep costs low, take a look at the offseason prices. Not only are park tickets lower, but flights and hotels are, too.
The non-peak season typically runs from the second week of January through late February (before spring break) and then early September to mid-November. These are slower times where flights and hotels are usually cheaper and the parks are a little more empty (shorter lines, yay!) Pretty much any time right before a major holiday and the big school breaks or any time after is good.
If keeping within a budget for your Orlando Disney vacation is important to you, you will want to avoid any major holidays like Memorial Day, 4th of July, Thanksgiving, and Christmas. Not only are prices higher, but the park is going to be more crowded. When you schedule your vacation for the early part of the year, you get to experience much shorter lines and cooler Florida weather. What's not to love about that?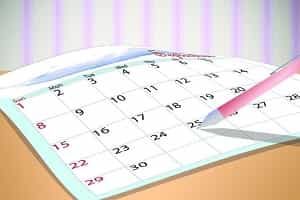 Consider The Length Of Stay For Your Vacation
The length of your vacation is also a huge factor when it comes to the cost of your trip. You should never pack your Disney vacation into just a day or two. We've found that, on average, four to six days should be the minimum time spent there to fully experience all the park has to offer without feeling rushed or missing out on an attraction.
So, if you decide to stick to around that many days, make sure you are visiting one park a day. Going to multiple parks within a few hours is going to be exhausting, not to mention frustrating, no matter how excited you may be to do so. Choose the top parks within Disney World that you want to see and go from there. That way, if anything unexpected comes up, you still can see the best parts of the park according to your preferences.
Sticking to a long weekend or one week of vacation time in Orlando can help to cut the costs down. Just remember to plan the trip accordingly when you do. Leave time for park hopping, but also pencil in time for rest and seeing some of Orlando's other special attractions. Your family—and your feet—are going to thank you for it!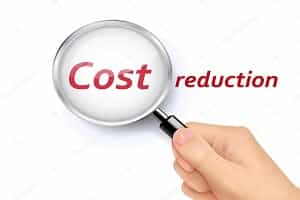 Keep Disney Ticket Prices Low
There are ways to keep Disney World ticket prices down if you know what to look for. If you belong to a membership club such as AAA or even Costco, you may receive a discount for admission to Disney World. Go online or call to ask if there are any offers available.
Sometimes, when you belong to an organization or union, it can offer price cuts on tickets. Of course, active and retired military members also receive discounts for their families and friends. Living in Florida also has its perks when trying to keep your Disney budget manageable.
Several stores, and even some parks, offer discounts throughout the year to Florida residents. Just make sure to also check their site directly to see what kind of specials they're running during your time here. And remember kids 2 and under always get in FREE.
In all these cases, you just need to know where to look. It does take some trial and error when finding various discounts as they do change throughout the year. However, it is worth it when you see the fruits of your labor and efforts translate into lower ticket prices.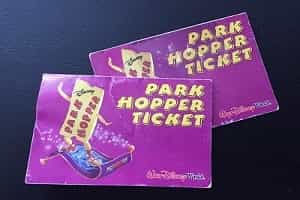 Park Hoppers Are NOT Necessary
The Park Hopper Pass allows you to visit more than one park in a day. For many families this option is unnecessary. As stated previously, going to more than one park in a day can be overwhelming. This is especially true when you have little ones in tow. Not only that, but the Park Hopper Pass is an additional expense that is added to the cost of your ticket.
There are plenty of other options to take if you finish your day early at one of Disney World's parks. You can go back to your resort to enjoy the amenities there. Use the pool, take a walk, or just relax in your room for a few hours.
You can ask your hotel if it offers activities for the whole family. There are also plenty of places that have outdoor movies and games and even fireworks every evening and Disney Springs is an awesome marketplace that offers fantastic restaurants and shops, not to mention great photo opportunities. It's free to enter, too, which helps you save money.
If you plan to visit Disney Springs while you're visiting you will want to read this post about the best things to do at Disney Springs as it will go over lots of information about some of the stores, rides, activities, and restaurants you can check out while you're there.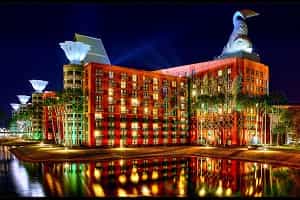 Choose the Right Orlando Resort
There is a long list of Disney resorts, and other hotels and resorts just outside of Disney in Kissimmee and Lake Buena Vista, that you can choose from when you are planning your trip to Orlando. However, each hotel comes at a different price and offer different amenities. Make the right choice when it comes to your family's needs. Take into consideration the cost of the stay and what the resort has to offer.
Also, you need to take into account how close you want the resort to be in relation to the park. Most Disney hotels offer free shuttle service and some are directly on the monorail station line for more express service. It is not necessary to stay at a Disney hotel when you are looking to stay within a certain budget as it is sometimes cheaper to find a hotel or resort that's nearby and still offers amazing perks.
However, there are other perks when it comes to staying in a Disney World hotel, including:
You can receive access for admission to Extra Magic Hours, which gives you the opportunity to enter parks earlier and stay later than other guests. This pass can work out well for newer attractions that have long lines during regular business hours.
Your access to booking your FastPasses happens at 60 days rather than 30 days for those who choose not to stay at a Disney Hotel. FastPasses are a hot commodity as it allows you to skip the lines on rides during your visit. You get to have them in your hands a lot sooner, which gives you peace of mind.
Magic Bands are available which allow you to charge all your Disney World purchases to your room automatically. With this feature there is no need to carry your purse or wallet in the parks anymore. It is convenient and easy.
You can always ask a Disney travel agent to help you find the right hotel for you and your family. Since they have multiple hotels and resorts available in Disney, and right outside, you can easily stick to your budget and you are guaranteed to have a wonderful stay.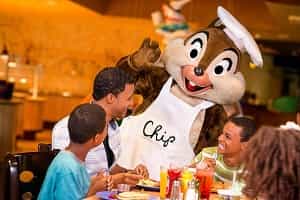 Eating on a Budget & Character Dining
One of the best things about Disney World is its food! Just because you are on a budget doesn't mean you can't partake in some of the delicious and fun fares the park has to offer. Disney offers an array of quick-service restaurants that are designed to get you in and out fast. Not only that, but you can also find lower prices here.
There are so many different foods you can get this way, depending on which Disney World park you are at. Burgers, fish and chips, pretzels, and everything in between are all part of the menu. Once you have your food, you can take it to go, or find a seat in one of its many pavilions. Just make sure to set aside at least $10, so you can enjoy one of their infamous Giant Turkey Legs.
Even eating with Disney characters is an exciting and entertaining experience. Who can say no to dining with Cinderella or Mickey Mouse? If this is something on your family's list of things to do while visiting Disney World, there are ways to keep you within your budget. For example, when choosing a character meal, you should pick the breakfast option. In most cases, the first meal of the day is usually less expensive than lunch or dinner.
You are still getting the full experience of meeting your favorite Disney characters without missing out in any way. A lot of the character experiences also offer breakfast buffets, so you can really get your money's worth with a couple of plates of food. This meal can even last you through lunch, which is another way it will end up saving you some extra money. After breakfast you will have the rest of the day to take in the sights and ride your favorite attractions.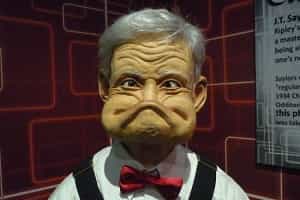 Cheap Souvenirs & Other Attractions
Before you leave Disney World for home, you have to purchase some souvenirs to remember your stay. It would be a travesty if you didn't. There are plenty of options to choose from when you are keeping your budget a top priority. Some items to consider include magnets, key chains, shirts, towels and even Disney mugs.
You can get all of these for a nominal cost and the items can last you a long time. Other fun things include Disney Christmas ornaments and pressed pennies. There is something for everyone! Take some time out to browse all of your options in the various Disney stores that the park has within its gates. You aren't going to be disappointed with everything Disney has available.
You can also pop in to any number of tourist shops along International Drive and find discounted Disney gear. An advantage to this, besides saving some cash, is that you may even come across another attraction you will want to check out. Maybe one of the ICON Park attractions or a new escape room would be a cheaper attraction that's fun for the whole family. For you super thrifty vacationers, you can even get an extra discount for Ripley's Believe It or Not here if you're planning to check out one of Orlando's most unique and exciting highlights while you're here.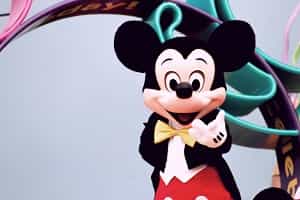 An Orlando Disney World vacation doesn't have to break the bank if you don't want it to, so don't let that thought stop you from coming down and enjoying all that we have to offer. When you plan your trip accordingly, you are going to find that it is possible to have fun without being overly spendy.
Don't rush into making your reservations. You want to start planning in advance so you can be sure you explored all options before clicking that purchase button. Going to Disney is no longer just a wistful dream! There are plenty of ways that you can enjoy the parks on your terms and budget.