Walt Disney World's Animal Kingdom is one of the largest animal-centric theme parks in the world. It's one of Disney World's main four theme parks and requires its own separate admission.
Currently it is inhabited by more than 2000 animals with 300 species. It was opened over 20 years ago on April 22, 1998 and continues to be one of the most popular parks in the world.
If you're planning a trip to visit Animal Kingdom, here are some of the top things you can do in while there. We'd recommend printing this out to bring along with you on your trip so you can check them off as you do each one.
Table Of Contents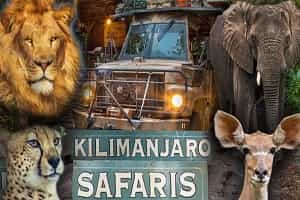 Kilimanjaro Safaris
This is a guided tour where you get to take a ride on an open-air vehicle through a 110-acre area that is home to over 30 wildlife species. The vehicle is a safari truck that can accommodate up to 35 guests. You get to go through different landscapes and terrains while the safari guide gives you information about the animals that may show up.
You'll be able to see hippos, giraffes, gazelles, cheetahs, elephants, antelope, crocodiles, lions, rhinos and more! There is no certain height or age requirement for this ride, so it's fun for the whole family.
Avatar Flight of Passage
This is an exhilarating ride that will give you a breathtaking 3D view of Pandora from the back of a mountain banshee! It uses a giant screen with simulated images as you're flying over the beautiful landscape. The ride even uses other effects including water and scents. You must be at least 44 inches (112 cm) to experience this.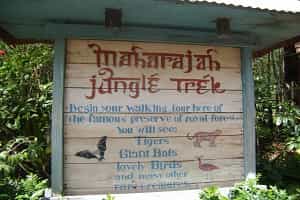 Maharajah Jungle Trek
A perfect way for you to unwind is by taking a self-guided tour on this attraction. You'll be delighted with the Asian setting and plenty of shaded areas. The tour will take about 20-25 minutes. Throughout the walk you may encounter a many different animals including tapirs, different kinds of birds, and komodo dragons. You can also see a Malayan Flying Fox, which is a unique species of bats.

There is no glass between you and the fruit bats because bats have no interest in interacting with humans, so they pose no danger to visitors. There will be Disney cast members available to answer any questions you (or your kids) may have and they can even help to point out some animals that you may have missed.
One of the highlights of the tour would be the Asian tigers, so make sure to stop by that exhibit and take some amazing pictures while you're there. These will be behind glass, for your protection.
The Boneyard At Animal Kingdom
This is an open-air dig site for kids of all ages! It has a lot of dinosaur skeletons, slides, climbing areas, swings, caves and a ropes course that the can run around and play in. Kids can look for fossils and bones in the sand pit called the "Dig Site".

Parents are advised to keep their kids well hydrated since The Boneyard does get really hot in the Florida sun. There are some shady spots to relax in, but this attraction is huge (it has multiple stories and is about half an acre in size), so make sure to keep a good eye on them here. There is only one exit and one entrance to this attraction, so that should make it easier to keep them in the area.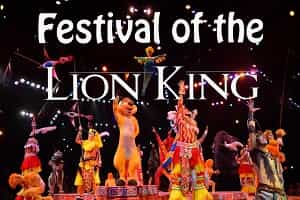 Festival Of The Lion King
Here you will have the unique opportunity to witness the inhabitants of the Pride Land in a fantastic theatrical show. You'll feel like you're on Broadway with this performance! This is located behind and to the left of the Tusker House Restaurant. You can relive classic songs from the movie "The Lion King" such as "Can You Feel the Love Tonight?", "Hakuna Matata" and "The Circle of Life".

Seats are divided into different sets of bleachers that surround the stage and are called to participate in the show by making various animal noises. Make sure to check the My Disney Experience app or the Entertainment Schedule for showtimes and schedule. You can also opt to take advantage of one of the dining packages that include VIP seating and more.
DINOSAUR
This is a ride that should not be missed ride inside Animal Kingdom! You would need to be at least 40 inches tall, but even if you're traveling with a young one that doesn't quite meet the height restriction, you'll be happy to know that this ride does offer the Rider Switch feature, and you should definitely take full advantage of that.

On this ride you will get to travel back in time with a mission to bring back a dinosaur before it goes extinct. You will get to witness the prehistoric event when the giant meteor is coming towards the earth and try to beat it before it wipes out the entire dinosaur population. This ride includes loud sound effects that may make it a bit scary for younger kids, so you will want to use your best judgement before getting on the ride.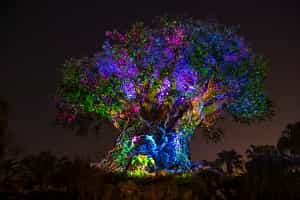 The Tree Of Life
This iconic feature of Animal Kingdom was designed to honor all animals and the circle of life. It stands at 145 feet tall and literally towers over the park. By looking closely at its trunk and branches you can see that there are more than 300 different animals carved into the surface, including elephants, bighorn sheep, bison, seahorse, tiger, giraffes, moose, deer and many more!
If you are looking forward to seeing this attraction we recommend bringing a pair of binoculars so you can easily spot the various animals in the branches, the trunk, and even the roots. With a sharp enough eye you can even find a hidden mickey in the tree.

It's around 50 feet wide and contains more than 8,000 branches and about 102,000 man-made leaves made of kynar. Its leaves are so realistic that they move with the wind just they would on a real tree. If you're looking for the ultimate photo opp, try visiting the tree at night during the Tree of Life Awakenings Show.

Fun Fact: It took over 18 months, 10 artists and 3 imagineers to create the lifelike tree.
The Conservation Station
This attraction is located inside Rafiki's Planet Watch. You can experience "furrific" activities in the four unique sections including the Science Center, Nutrition Center, Veterinary Treatment Room, and the Amphibian, Reptile and Invertebrate Windows.

Each section offers something different. You can witness the actual animal care room where they treat resident animals and enjoy the public viewing of how they treat wounds and the routine check-ups. You can watch the cast members prepare the meals for the animals, and see some of the other projects the caretakers are working on.

There's even a new addition – a drawing class – The Animation Experience! Here you will even have the chance to see Disney characters such as Ed the Hyena, Simba and Rafiki. Drawing classes are offered multiple times a day and instructions are displayed on the projector. Each participant will be given a clipboard lap desk to use and the Disney characters lead the class. You can bring your artwork home and you can even purchase a frame for $39.99.
Wildlife Express Train Animal Kingdom
Everyone in the family will get to enjoy this one. It's a seven-minute peaceful journey through "Africa" that allows for a look "behind the scenes" at the most popular animals in the park. The kids will get to learn some new, and valuable, information about the conservation and preservation of the Earth's animals.
This is also the only way for you to get to Rafiki's Planet Watch, where you can find a petting zoo, the aforementioned Conservation Station, and the animal care facility. The train ride is just over a mile in length.
Primeval Whirl
This one is open seasonally, and operates only during the busiest times of the year. It's located in the DinoLand USA sections. This is a small coaster with lots of short drops and curves.
It runs through the bones of the dinosaurs and has cars that will literally spin you out of control. It suddenly stops and turns and sometimes makes one or two complete turns. It also occasionally makes screeching stops and half spins.
You'll never experience the same ride twice! The minimum height requirement for this one is 48 inches and it does offer a rider swap option.
There are dozens of rides, attractions, shows, restaurants, and exhibits to enjoy at Animal Kingdom. It's one of the best parks in Orlando for families and animal lovers alike. Make sure if you're planning a trip to Orlando that you set aside a day to enjoy this amazing Disney theme park. You and your family won't regret it and don't forget to bring the camera!