There's no question about it, a trip to Walt Disney World in Orlando is worth every single cent but, Wow is it costly! And since the prices for an Orlando vacation only get higher year after year, we could all do with some Disney World money-saving tips to make it easier on the purse strings.
Now, while it might be one of the more expensive places to visit with your family, you will undoubtedly build memories here that are sure to last for a lifetime. There is really nowhere else like it on Earth, and just seeing the sheer scale of the accomplishment here is worth the price of admission alone.
With that being said, it's still going to sting for a lot of people when they initially commit to the expense of visiting the park. Not only that, but many people simply won't be able to visit Disney World at all, due to the exorbitant costs.
But any part of a trip to Central Florida you can save money on will help reduce the overall expense and help make sure a visit to the Walt Disney World parks becomes affordable. So how do you reduce the overall cost of a trip to Disney World? Read on for some of our best tips and tricks!
Table Of Contents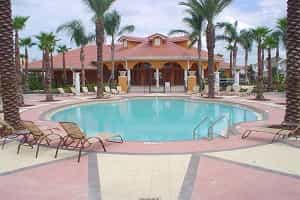 Stay In A Villa Or Condominium
For many people, staying at a resort inside Disney World is the best part of the experience. It's certainly true that this can make it easier to visit the parks, while also providing you with a unique experience thanks to the many themed hotels and the characters coming to dine with you at breakfast.
BUT these resorts can also be very expensive. Not only that, but they make it harder to visit other parts of Orlando, and you'll pretty much be forced to eat out every day, which can add a hefty amount to your bill.
Instead then, why not consider renting a villa or buying a vacation package? This has a number of advantages. Firstly, you won't be paying for accommodations per person. That means that you can easily split the costs between all travelers coming along, which will work especially well if you also book your trip with other friends and family!
Another advantage of staying in a villa (or an AirBnB for that matter) is that you can now be self-catered. Instead of relying on the overly expensive food provided from the hotels, you can instead head to the nearby grocery store and stock up. You can buy yourself whatever you'd like to make and then cook in your unit. This is much more affordable, not to mention healthier! It also gives you an idea of what it's like to live in Orlando – a far more authentic experience for those that love to travel and see the world.
Finally, if you decide to stay in a villa, then you will want to rent a car and use that to visit other parts of Orlando. There are a ton of things to do throughout the area, including many more amazing parks and attractions. So this is a great idea!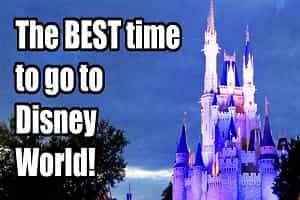 Choose The Right Time To Travel To Disney World
This is an obvious one, but it would be remiss of us not to mention it here. If you're going to make the most of a trip to Orlando without breaking the bank, then you need to choose the right time for traveling.
This essentially means that you should avoid booking during the peak seasons whenever possible. Of course, most parents are going to want to book a Disney vacation during the kids' school breaks. Just remember this is when Disney and most other attractions in Orlando are absolutely filled to the brim with tourists. If there is any way you can avoid traveling during those times, then you should consider doing that, as this alone can literally save you hundreds of dollars and lots of stress.
One useful tip is to consider traveling in winter. Most people like to do their "big" vacation during the summer, which means you'll be able to get cheaper rates on attractions passes and your flights, too. However, the weather will still be nice, and there are actually a number of really great festivals and displays at Disney during the winter, making your trip all the more worthwhile.
Book Early To Find Disney Deals
You should start thinking about your trip to Walt Disney World as soon as possible. Often, this will mean actually booking the trip very early whenever that is an option.
Generally, flights are much cheaper if you are booking way in advance. And if you are going to be booking accommodations through AirBnB or at a villa, then that will be much cheaper too. Meanwhile, as soon as you have your dates locked in, you can start cruising for deals. There are actually a lot of different sites that sell discounted Disney World tickets, and Disney itself will also provide discounts at times.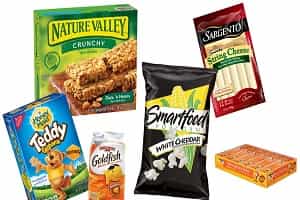 Bring Your Own Snacks and Reusable Water Bottles
Like many attractions and theme parks, Disney actually makes a lot of its money by selling snacks and drinks throughout the park. With this being such a tiring day out, and with the sun blazing down hard, you will find that you probably want to stop to refuel and hydrate often – and it's important you do!
That racks up quickly though. That's why it's a very good idea to bring some snacks of your own. You can enjoy these while waiting in the longer lines, or just when taking a quick time out in order to regroup and get your energy back.
Reusable water bottles are also a particularly good idea. These will allow you to keep hydrated without having to continuously buy new bottles of water every time you feel a bit thirsty. This can not only save you a lot of money, but also a lot of time and a lot of trekking – so it's a great idea! Also keep in mind that you can get free cold water inside any eatery inside Disney. All you have to do is ask.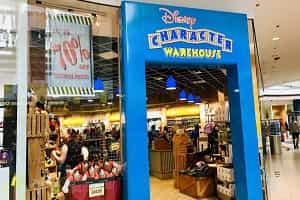 Go To The Disney Character Warehouses
If you are going to visit Disney – especially if you're going with kids – then chances are that you'll want to pick up some of the many souvenirs that are available there. You'll want to grab your Mickey ears, and the kids will want to get a host of different plush toys too, no doubt. There is no shortage of stuff for sale here!
Problem is that this costs a lot of money, especially as those items are at something of a premium at the park itself.
Instead then, why not make a small detour to the Disney Character Warehouses. There are two of these located in Orlando, and both of them offer a host of Disney merchandise for very reasonable prices. If you know you're going to have to make some purchases, then this is a much better way to do it!
Disney World money-saving tip for parents: get your Mickey ears before you arrive at the park. You can even do this on Amazon before you leave!
Disney Park Hopper Passes vs. Base Tickets
There are many different types of tickets you can get for your Disney experience, and it can all be a little confusing for first time visitors. One of the main decisions you'll need to make, is whether to get base tickets, or park hopper tickets.
Base tickets mean that you just visit one Disney Park, while the park hopper option means you can travel between parks. If you intend on visiting each park multiple times over a set period of time, then getting the park hopper tickets can make the most sense.
BUT if you're only here for a short time, and you intend on only visiting one of the parks, then you might opt for the base tickets instead. This option will definitely cost you less, and you will find that you might do better to spend some of your other time doing other things in Orlando ! There's a LOT to see and do at Orlando, including Universal, Busch Gardens, the new ICON Park, and more.
Want to save even more money? Another new option is to use the Mid Day tickets. These are tickets that you can only use after mid-day. This of course makes them much cheaper, and it's ideal if there's a park you want to visit but don't necessarily feel the need to do everything at.
Of course, the morning is when the park is quietest and when it's easiest to get on the rides – and when it's not too hot – so you are going to miss out on some of the best rides using this method. Still though, it's a great way to save money.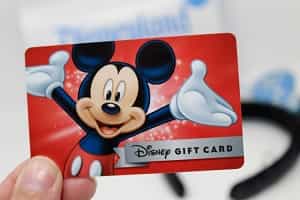 Use Disney Gift Cards
You can spend Disney gift cards at Disney World, which makes them a great way to save some of your real money. (Unfortunately, most stores outside of Disney won't accept them as legal tender…)
The good news is that if you keep your eyes peeled, you can get money off of Disney gift cards, making this a very smart way to get more out of your trip for less. What's more, is that you could always ask friends and relatives to gift you these cards for Christmas and birthdays. This forces you to save for the trip, and it works especially well if they give those cards to your kids – as they would otherwise spend the money long before heading out! Just make sure, if you're collecting Disney gift cards for a Disney vacation you're taking, that you keep them in a safe place.
Good Disney Deals Vs. Bad Deals
Like anywhere in the world, Disney World offers some great deals and then there are some that aren't quite as good.
So for instance, a great deal is the bottomless popcorn. Yep, you read that right! You can get refillable popcorn that costs $10 initially but then only costs $2 per refill. Turns out that popcorn is great when you want a snack and it's not all that unhealthy! Likewise, the Magical Express is a great transportation service that you can use to save some money and time.
Less good is the Disney Dining Plan, which is NOT as money saving as self-catering. Likewise, you might want to take your own photos rather than use the Memory Maker – which is another additional expense.
As you can see there are many different factors to consider whenever planning a Disney vacation. First and foremost you should set a realistic budget and go from there. Lists will become your best friend anytime you're planning a family vacation, so make sure to keep that in mind.