Disney World is a captivating place, but have you ever experienced its magic during the holidays, especially Christmas? Christmas at the parks is on another level altogether when it comes to Walt Disney World!
The Florida weather is borderline chilly, there's holiday music in the air, and the sights and sounds of Christmas follow your every move. It really is something to see! November and December are truly a time of enchantment and holiday spirit.
If you are planning a trip to Disney World this year, book your tickets for the holiday season! When you do, follow this list of tips and advice that can get you through the most joyful time of the year with ease.
Table Of Contents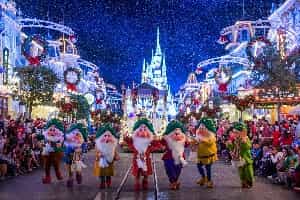 Book Reservations Early & Arrive Early
Of course, this should definitely go without saying. Booking your reservations early, say in June or July will help to ensure you are going to get the accommodations you want and the park tickets you desire. Not to mention, booking that far in advance should help your score decent rates on the airfare.
Disney World is a popular place no matter what time of year it is, but Christmas time is especially in demand, so you don't want to dilly-dally if you're sure you want to experience a Disney World Christmas.
Make sure you do your research before choosing a resort and dining plan. Every family has different wants and needs, and there are a plethora of options to choose from in both cases. You can even hire a Disney World travel agent to help you build the perfect vacation plan.
Also, sometimes if you go through the proper channels and you happen to see a Disney discount after you book your reservations, it may still be able to apply it to your booking. There is no downside to booking early!
Arriving early to the parks is the best way to experience everything (well a vast majority of things) Disney World has to offer. You should come at least one hour before the park opens to avoid the crowds for the first few hours of the day. You'll be able to see all the amazing holiday decorations and take some pictures without having too many people in your way.
In the early morning, you can experience the attractions and rides when the lines are at their shortest and leave during lunchtime to take a break. The park's population is usually at its peak during the early afternoon. You can then jump back into the fun around early evening to catch all the nighttime parades and finish getting on the rides you missed earlier that day. The park is less crowded and you will be recharged to finish the rest of the day inside Disney.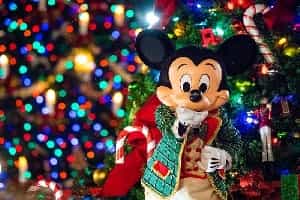 Be Particular About The Perks You Pick
When you are deciding on a hotel, pick one that has some of the extra perks that will help make it more convenient for you and even save you money. For example, a free shuttle to and from the parks will help save you the frustration of having to pay for parking and then wait in line for a parking spot at the major Disney parks.
Finding parking at Disney World can be overwhelming during Christmastime, so take some stress off of you, and let your resort do the driving. There is a long list of accommodations on the Disney World monorail route, too, that offer free round-trip service to the different parks in Disney.
You can also find hotels and resorts in the area that include free breakfast to help ease your expenditures while you're out and about. You will want to call the hotel or resort directly to confirm what specific amenities they offer.
If you decide that you'd rather drive, make sure you remember where you are when you are ready to leave. Jot down a note or take a picture of the parking lot sign where you're located to remind you of your location.
Get Your FastPass+ Immediately
You can now get your FastPass+ reservations before you arrive at the park. This way, you avoid the lines when you have to get your tickets and bookings. This will save you time when you come in the morning and it will allow you and your family to focus on just having fun once you finally pass through Disney's main gates.
When you can set your FastPass+ reservations depends on which hotel you choose. If you pick an official Disney World hotel or trusted hotel, you can book up to two months in advance. If you decide to stay off property, you can claim your FastPass+ reservations a month before you arrive. Make sure you plan accordingly.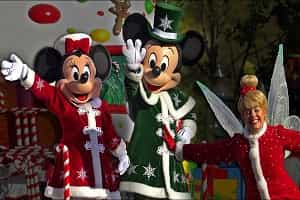 Enjoy A Holiday Breakfast At Disney World
If you can't do it every day you are there, you should at least have breakfast once in Disney World, even before the park officially opens. Certain restaurants open an hour before the parks do. While it sounds early, it only makes sense.
Make reservations before you set out for the day to ensure you get a table in time to make it to Disney's official opening for the day. After you're done eating, you are already inside the gates, so it makes it easy to just hop over to your favorite ride or attraction before the majority of people get there. A lot of people don't know about this option, so take advantage of it when you can.
Spend Christmas with Mickey Mouse
Once you are inside the park, there is so much to do. One of the more popular family-friendly attractions is Mickey's Very Merry Christmas Party. This event is an incredible celebration that happens in Magic Kingdom after hours. While this event does require a separate ticket and only occurs during specific days in November and December, it's totally worth it to plan around it to ensure you get to enjoy it.
When you stay for the party you get to meet characters like Mickey, Winnie the Pooh, and Jasmine. There are so many rarely seen Disney personas to run into that your head is going to spin! You will want to pick your top three characters to meet because lines do tend to get long quickly.
You can also meet all of the Disney princesses and princes together. Just ask a Disney employee to direct you to your favorite duo. A lot of times, the park goers don't know about these encounters, so there may not even be much of a line when you do see them. There is also music, a grand parade, and fireworks to keep the celebration going during this Christmastime event. You and your kids are going to love it!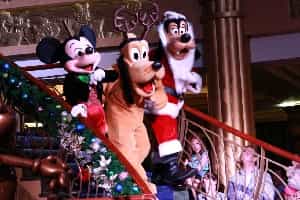 Finding Santa Claus At Disney World
Of course, if you're going to go to Disney for a Christmas event, you have to take a photo with Santa while you are there! Keep your eyes peeled for the jolly man when you arrive. He is usually there in December and stays until New Year's Day. Some of the locations you may find Santa include Epcot and Disney Springs.
Santa can also be seen during Mickey's Very Merry Christmas Party. He gets around! If you can't find him one day, don't worry, there are plenty of chances to locate him and Mrs. Claus before you leave. Goofy also dresses up as Santa at Disney World, so you may even get to catch Santa's stand-in while you are visiting as well!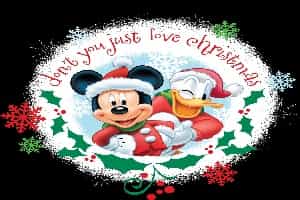 Check Out Holidays at Epcot
The Epcot Center has an international festival that helps you learn how different countries and cultures around the world celebrate the holidays. It is a great way to find out about the world while still staying in the confines of the park.
The festival begins around Thanksgiving and ends in late December. The park has different storytellers and musicians to explain how each country enjoys the season. You can "country hop" and spend some time in Europe, Africa, and places in between. Don't miss this event. It is exceptional.
For those who love food there are so many places inside Epcot to visit and sample a cultural treat or two. The portions range from snack-size to full entrees and every bite is delicious. Epcot has stations around the park called kitchens where holiday fare is offered.
Tickets for food and drink are a separate purchase, but so worth it. The treats being offered do change, so you will want to get yourself a menu to see what is plated for the particular day you are going to be visiting. These samplings are top class food that you can't get anywhere else.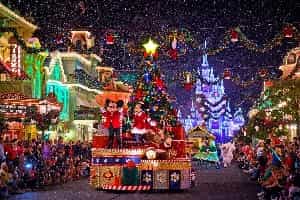 Disney Parade Locations & Routes
Disney World has a lot of parades during the holidays. These parades are in demand day after day, so you need to know which ones you want to watch and where to watch them from as it does tend to get crowded. Main Street in the Magic Kingdom park is the usual landmark for the best ones, including Mickey's Once Upon a Christmas parade.
You should know that you don't have to wrestle your way to Main Street for the best view. There are less crowded locations, where you can still see all the action. For example, if you stake your claim in Frontierland, the crowds are a lot thinner. This area is where the parade begins, so you can see every float and character as they start to make their way down the main thoroughfare.
When the parade leaves the area, you can go on the attractions that are there and then make your way back to the other parts of the park. This out of the box location is a hidden secret that you should try to use when you can as it will save you time and allow you less time standing in lines.
Christmas Is Everywhere Though
When you leave the park that doesn't mean the party has to stop. Certain resorts have fantastic views of Disney World where you can still hear the music and see a fireworks display. You can head up to your room and catch the Christmas spirit while staying in your pajamas! Or head to Disney Springs which is free to enter, and is open later than the parks, usually until 11PM or later.
Resorts like the Waldorf Astoria even take it up a notch with its entertainment. There are carolers who sing for the hotel's guests. The music echoes through the main areas of the lobby and sounds like a dream. For your kids, Mrs. Claus reads bedtime stories to them and prepares them for a good night's sleep. Contact your resort before you arrive to see what it offers in terms of on-site holiday activities.
Disney World is an amazing park with so many things to see and do. When you come during Christmastime, you are going to be taken aback at the lengths everyone goes to make sure every visitor feels the holiday spirit. When you make your plans you will want to make sure you take the time to do things right. Have fun with your family and remember to soak all the fantastic experiences in.