Disney World is the greatest place for a family vacation, but it can also be one of the best places to give your mom her special day. Here are some ideas for having the best day possible to celebrate your mom and have a fabulous Mother's Day at Walt Disney World Orlando.
For this special day a delicious meal is a must. There are over a hundred of restaurants on Disney World property to choose from, but it is best to know what your mom's tastes are and favorite dishes and surprise her with a reservation somewhere you know she will like.
You may even be able to find many restaurants that offer a Mother's Day meal special or dessert, if so make sure to make the most of the saving and take advantage of any specials you come across. Check out these restaurants for your best options as to where to treat your mom out to at Disney World and show her the best time possible on this special day:
Best Restaurants For Mom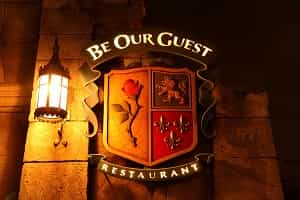 The Be Our Guest Restaurant – This is a Beauty and the Beast themed restaurant at Magic Kingdom. It'll provide the ultimate dining experience and make your mom feel like a princess.
Flame Tree Barbecue – This is an outdoor barbeque quick-serve stand located in Animal Kingdom with delicious chicken sandwiches and ribs. If your mom is more of a ride enthusiast and you're just looking for a quick bite this is a great option. There are also tables with a great view of Expedition Everest summit and a perfect photo op.
BaseLine Tap House – This restaurant can be found inside Disney World's Hollywood Studios (formerly known as MGM). It offers a wide variety of craft beers from California, like Stone, Golden Road, North Coast and Lagunitas. You will be able to pair your craft ale, lager, or cider with some amazing appetizers like cheeses, charcuterie board, spiced almonds, or even the classic fan-favorite, a Dijon-dipped soft pretzel.
Sci-Fi Dine-In Theater Restaurant – If your mom is a fan of the mysterious unknown or unexplainable science fiction, settle down in a classic '50s convertible and watch a black-and-white science fiction movie together while you enjoy a tasty meal at the Sci-Fi Dine-In Theater Restaurant inside Hollywood Studios. They serve old-fashioned, diner-style milkshakes and signature dishes including bun-bursting burgers and pasta. You can then finish it off with a themed cocktail or Florida craft beers.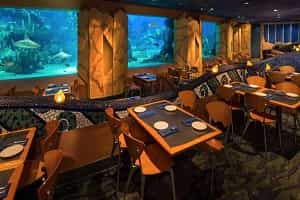 Coral Reef Restaurant – Any animal lover would appreciate this one. Eat with the fishes and take in the beautiful panoramic underwater views of a huge aquarium. This unique restaurant, located in Future World inside Epcot, will take your breath away and offer many amazing photo opportunities (just make sure your flash is off). They offer seasonal and fresh fish dishes year round and you can see over 4,000 fish, sharks, turtles, and other sea animals while enjoying a shrimp cocktail, lobster tail, crab cakes and more. For the experience and view you get, this is a very reasonably priced option and great way to celebrate any event or holiday.
Jungle Navigation Co. LTD Skipper Canteen – This one can be found in Magic Kingdom's Adventureland section. They offer you tropical cuisine from all over the world. Whether you guys are in the mood for African, Latin, or Asian food, you can find it here. If you or your mom are not fans of trying new things, you may want to consider a different restaurant. This is a dining adventure, so be ready for a new experience and new foods.
Chef Art Smith's Homecomin'– This can be found at Disney Springs, which is outside of the parks and has no entrance or parking fee. They serve amazing comfort food and pride themselves on being what they call a "farm-to-fork" restaurant. If you're lucky you may be able to enjoy sitting on their cozy screened in porch while enjoying the view of the springs, but no matter where you sit you know the food will be delicious. If you're in the mood, you and mom can order a signature moonshine cocktail to go with your dish. This restaurant is extremely popular and fills up quickly, so reservations are almost a must.
Wine Bar George – Also located inside Disney Springs is Wine Bar George.If you're looking for marvelous wine and dine experience featuring treats like Dole Whip Mimosas and Artisanal cheese boards and more, this place is for you. It's a bit pricey, but Mother's Day only comes once a year. You can save a lot, however, if you come in and eat between 10 AM and 2 PM (Sat/Sun). They offer a bunch of a la carte options, like a $6 cinnamon bun or chicken sausage. So they do have options that are fairly cheap if you come at the right time.
California Grill – This is inside Disney World's Contemporary Resort. It offers American and Japanese cuisine, with options ranging from wood-fired pepperoni pizza and wild boar ragu to a surf and turf sushi roll. This is going to run you about $40-$70 per person depending on your dish, so make sure to plan ahead for that bill if you want to check this one out. If you do have your heart set on this one, we recommend making it your dinner spot as it's also a great spot to watch the Magic Kingdom fireworks at the end of the night, so you can get a little more *Bang* for your buck! (Get it? See what we mean below.)
Choza de Margarita – Located in the World Showcase inside Epcot, and known for their hand-blended frozen margaritas, you will find Choza de Margarita. This is a must for any fan of Mexican food! Enjoy their tacos, crispy empanadas, nachos, and their unique guacamole (it's topped with pumpkin seeds and mango, which is surprisingly delicious). If you're not in the mood for one of their signature margaritas they do also have a non-alcoholic drink called the Conga, which is a fruit punch medley including lemon juice, orange juice and pineapple juice. Yum-Yum!
Biergarten Restaurant – This is also located in Epcot's World Showcase. It's a German-themed buffet restaurant that offers dishes such as schnitzel, bratwurst, kielbasa, rotisserie chicken, pork and many other options. Make sure to save some room for the delicious desserts which include cheesecake and apple struedle. If you decide to take on one of their infamous German beers, which are served in one liter steins, no one will blame you (or your mom) if you take to the dance floor to enjoy some Polka dancing. This is a buffet, so be prepared to spend about $60 per person and come ready to EAT.
Chefs de France – For a more sophisticated experience you can head to Chefs de France, inside the Epcot World Showcase. This is a café that will make you feel as if you've been transported straight to Paris. The café is gorgeous on the inside, but it's the food that really makes this one stand out. They offer seasonal delights, so you know the food is fresh. Just imagine how French you'll feel ordering a croissant and cappuccino.
There are a lot more options to choose from, but these were some of our favorites to recommend for a special outing with a loved one. Whether it's a treat for you mom for Mother's Day or her birthday, or even a friend or another family member, rest assured that all these restaurants are winners for an amazing time out.
Even More Things To Do At Disney World
Moving on from the various dining experiences you and your mom can enjoy, here are some other fun and unique things to do at Disney World that any mother would enjoy.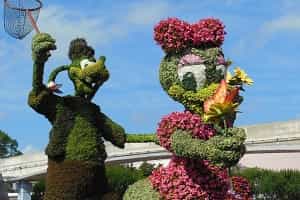 The Epcot Flower and Garden Festival, which usually runs from March to June is a ton of fun. There's always a lot of stunning flowers and plant sculptures, not to mention special food vendors and live concerts. There are so many great opportunities for taking some amazing photos and creating memories to cherish for the rest of your lives.
If your mom loves the great outdoors and nature itself then Disney's Fort Wilderness Resort is the best place for her. There are a lot of outdoor recreational activities in this area from canoeing, kayaking, archery, horse-drawn wagon rides or horseback riding, take your pick or do it all. Then sing and share stories while watching the stars around the campfire at night. Even just one night at this resort will give her enough relaxation to last her until next Mother's Day.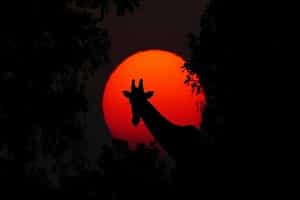 For moms that love animals head over to Animal Kingdom and take a tour of the sights and sounds of Africa. The tour starts with a Safari deep into the heart of Harambe Wildlife Reserve. The guide will amuse you with tales of the exceptional residents that inhabit the reserve while you indulge in a sampling of African-inspired cuisine paired with a range of regional beer and wine offerings. There will also be a commemorative keepsake surprise for your mom.
If you guys are in need of a cool down, consider letting your mom pick from a tropical paradise at Disney's Typhoon Lagoon or a mountain ski retreat at Disney's Blizzard Beach. These water parks give you the ultimate relaxation by the poolside or a ride down a lazy river. Of course, if you and your mom can handle thrilling adventure, the water parks do also have rides to increase her adrenaline, including the Summit Plummet and the Crush N' Gusher. If you aren't able to talk her into trying out a ride or two, just promise her that you'll rent her a private shaded area at the Polar Patio in Blizzard Beach or at Beachcomber Shack in Typhoon Lagoon afterwards. These shaded areas include towels, cushioned seating, a cooler with water and ice, refillable drink mugs and a locker good for up to six people.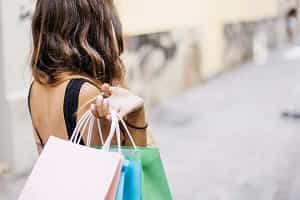 For mothers that enjoy the occasional shopping spree, head out to Disney Springs. We mentioned already that there are some great restaurants to enjoy there, and parking/entrance is free, so maybe just make it an all-day event. There are dozens of stores to check out, literally over a hundred, including well-known ones like Pandora, Coach, Anthropologie, Kate Spade, Levi's and more. Then there are ones that you know are unique to the Disney brand, like Bibbidi Bobbidi Boutique, Disney's Candy Cauldron, Disney's Days of Christmas, and so on. Needless to say you guys will find all sorts of great things here!
Give your mom a Character Couture Package which is offered at many of the salons at the various Disney resorts. This will provide a trained cosmetologist that will transform you and mother into your favorite Disney princess, villain, or character. Currently Queen Elsa is the most requested character makeover. The La Vida Salon at Disney World's Coronado Springs, The Salon at Disney's Grand Floridian & Spa, Ship Shape Salon at Disney's Yacht and Beach Club Resort and Salon by the Springs at Disney's Wilderness Lodge all offer this service. If you're staying at a Disney World Resort or hotel you can also request that one of the cosmetologists come to your room to provide the service. There is an extra fee for this, however.
If your mom's not in the mood to be transformed into a Disney character you could still pamper her with a spa experience at one of the Disney World Resort spas. They offer a wide variety of services including facials, massages, body wraps, aromatherapy and more. Don't forget a manicure and pedicure.
If you're making your trip to Disney World an all-day (and night) event, make sure to watch the marvelous Happily Ever After fireworks show. You will have a chance to see the remarkable view of the fireworks over Cinderella's Castle in this show that lasts almost 20 minutes.
Now's the time to go all out for your mom and show her how much she really means to you on this special day. Bring those dreams and make them come true at Disney World. Make her feel like a queen. No matter what, at the end of the day whatever you choose to do for the woman who loved and raised you, make sure not to forget to tell her how much you love and appreciate her.