A vacation to Walt Disney World is already a dream come true for most children. This is a chance for them to meet many of their heroes like Mickey Mouse, Donald Duck, and many of the well-known Disney Princesses, in person. They will get to explore the Magic Kingdom and they'll be able to ride amazing rides.
While children love any theme park, Disney World is a rung above the rest, thanks to its sheer size, scale, and numerous unique experiences offered. This is literally an entire or city of rides, shows, food, drink, magic, and music. It's truly dream-like.
While that's all true, that doesn't mean that we parents should just rest on our laurels and let the park do all the talking. You're first visit to Disney with your kids is literally a once-in-a-lifetime opportunity for you and your children, and it's a chance for you to create some memories that will last forever.
So why not take an amazing vacation (that is going to cost you a fair amount) and do everything you can to make it even more special? To, dare we say, make it the best vacation ever?
Here are some tips for helping you and your children to get the very most out of their trip to Walt Disney World.
Table Of Contents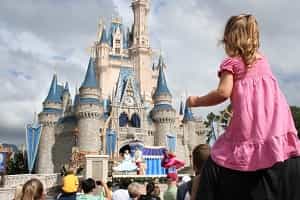 Choose The Right Disney World Age
Ensuring that you get the most out of your trip to Disney begins at the Booking and Planning phase. In other words: you need to choose when to go to Disney. I'm not talking about when as in what time of year, but rather which year.
Let's face it: a trip to Disney is not just for our little ones. We adults love the thought of exploring Disney World (not to mention sunny Florida in general) just as much as they do!
With that in mind, we might be tempted to try and visit the park as soon as we possibly can – the moment the baby turns 1. Is this a good idea?
If you can only afford one big trip to Disney, then it's probably not a great idea to go when your children are at an age where they (A.) Won't be able to go on most of the rides, (B.) Won't understand or appreciate precisely what's going on and (C.) Won't remember the experience.
So, it might be safe to say that the youngest age your child can really enjoy this experience is 4. But if you've just had a second child at that point… well then you might want to wait for the point where they can both enjoy the trip. For the average family with an age gap of about two years, the ages of 6 and 4 are about the youngest you should consider going to get the very most enjoyment out of your trip.
The good news? There is no upper limit to how old your children should be. While your 15 year old may pretend that they aren't excited about Minnie Mouse… we all know they're lying! Everyone loves Disney, there is something here for all ages, and again – Florida itself is so amazing that it doesn't matter!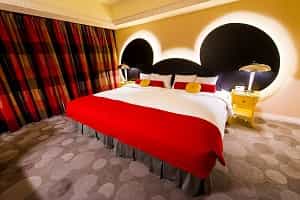 Choose The Best Orlando Hotels
Where you stay will also have a huge impact on just how much your child enjoys their trip to Disney. Of course, the best option for most kids is to stay right in Disney World, by booking accommodation at one of the many Disney World resorts. These offer a number of benefits too, including the chance to eat breakfast with your favorite characters, and to hop onto the Monorail and head straight for the park early in the morning (sometimes before they're even open to the public).
Kids will love this option, but there are a couple of downsides too. For one it makes it just a little harder to visit other parts of Orlando. Another issue is that a hotel room can be a little bit cramped. And finally, they're expensive!
For larger families, or those looking for a bit more space for their loved ones, a better option may be to book a villa or resort condo (or perhaps maybe even an AirBnB). This way, you'll be able to rent a car and park it right in your driveway or parking lot. Of course you can still easily get to Disney, but you can just as easily drive to any of the other attractions in the area. Might I take this opportunity to recommend Gatorland as a lesser-known (and less expensive) gem that kids will get a real thrill out of?
The best part about staying at a villa or resort condo in Orlando is that it costs a lot less, while also offering space for kids to run around. Some even come with a pool, which is great in this sunny weather! Now you can enjoy the days that you're not frolicking around Disney just as much as the park days!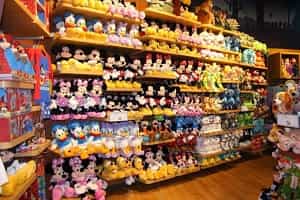 Disney World Merchandise and Souvenirs
No matter their age when you visit Disney, your kids are going to want to buy a LOT of merchandise, which is all part of the fun. You should certainly try and keep some money aside so that you don't find yourself saying "no" every two minutes. Sure, you don't want to give into their every whim, and no one wants to spoil their kids, but a trip to Disney World is probably not the time to start laying down the law!
If you want to know a little insider trick, instead of buying your souvenirs at Disney you should consider making a trip to one of the Disney Character Warehouses. These are two large stores based elsewhere in Orlando, which sell much of the same merchandise and branded items at a much lower price! You can appease your kids AND save money this way.
We recommend that you visit here before you head to the park. That way you already have your souvenirs taken care of and maybe even some cool gear to wear when you go the park. It may even be a good idea to order things like Mickey Ears for everyone in the family online, as that can save you even more cash.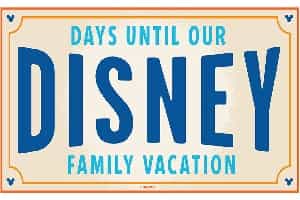 The Pre-Disney World Vacation Build-Up
If there's one thing that young kids do well, it's getting excited. Children are brimming with enthusiasm, and their imaginations are absolutely rich and colorful. If you want to help your children to get the most out of their Disney World trip then, you should consider helping them to build up anticipation for the special day.
This is a fond memory of mine growing up. My Dad was great at building anticipation for big events, and he put this skill to full use when we were headed to Disney for our first time. He bought us a calendar and had us countdown the days, one at a time, until we reached the day we were heading down to Disney.
He would also tell us stories about his previous visits and about the rides we were going to go on like Tower of Terror, Space Mountain, and all the other amazing things we'd see and do. We were bought books to read on the flight (though we weren't allowed to see them until the day), and clothes to wear in the sun. The whole thing had us bursting with excitement by the time the day finally came! These truly are memories I still look back on fondly, even at the ripe age of almost 40.
Make Sure To Stay Long Enough In Orlando
Another tip when visiting Disney World with children is to make sure that you are there long enough. We all know there is a LOT to do at Disney, and young children can tire out quickly. If you only spend a few days at the park, or try to do all the park attractions back-to-back, then you will run the risk of tiring out your little one and that isn't going to be fun for anyone, as this can quickly lead to tantrums and meltdowns in the middle of the park!
Instead you should just make sure to plan to go for long enough, usually at least a week, so that you can space out the days at the park to take a more leisurely approach and have a couple of lazy, non-park days. This will also be a good idea if there is a long flight involved for you, as it can take a few days for you and your young children to acclimatize to the time zone and recover from any jet lag.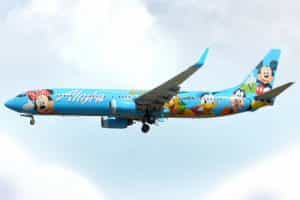 Shop Flights Comparison Sites Carefully
Speaking of long flights, this is something you need to think long and hard about. While you'll want to save money wherever possible, you also need to think about how long the flight is going to be (avoid stop-offs if possible) and how much leg room and entertainment there will be.
Remember, time moves more slowly for children! A long flight lasting several hours can seem like a lifetime for a four year old, especially when they've probably never been more excited. Getting good sleep is also very important, if they're actually going to enjoy their time there and not be a complete nightmare for you, which you are also relying on if you want to enjoy your time there.
So yes, of course you should try to save money and pick the best deal for your flights, but don't sacrifice too much of your comfort and time in order to do so. Sometimes it may be better to wait or even to try going at a different time of year!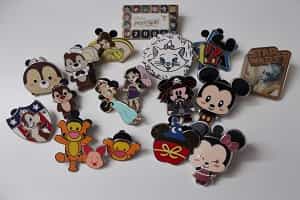 Do Disney Pin Trading
There is so much more to Disney than going on flashy rides. Case in point is the pin trading phenomenon: a hobby for Walt Disney World enthusiasts and guests that involves swapping souvenir pins (badges) in order to try and get complete sets or rare, unique ones.
You can actually buy a few before the journey for less than $1 each at the Disney Character Warehouse mentioned previously, and then swap them with other guests and Disney employees. (Insider Tip: The employees wear lanyards full of pins specifically for pin trading with guests AND they're not allowed to say no, so keep that in mind if you decide to get into that part of the experience.)
This is just one example of something else you can do to build anticipation and to get your children more involved in the whole experience!
Go Wild At Disney World!
Now is your chance to milk this amazing vacation for all it is worth. With these tips you can help your children feel just as excited as they rightfully should, and turn every aspect – even the flights – into something amazing that they will remember. If your trip is a success, this will absolutely be an experience that they will cherish forever.