Heading to Disney World? You're absolutely guaranteed to have a great time no matter what. Disney is a good choice for anyone whether you've been or not. With that being said, there is definitely a "right way" to Disney!
Disney World is such a huge and complex experience that it requires a certain amount of planning and strategy to get the most out of it. Therefore, it's pretty easy to mess up certain things and end up wishing you went about some parts differently. However, you live and learn and every time becomes better. Trust us, as residents here of Orlando, we know.
So in this edition, we're going to help you to Disney like a real pro, by sharing the top tips for extracting the most fun out of the experience as humanly possible.
Table Of Contents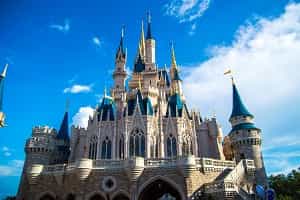 1.) Declare Yourself as Single At The Disney Rides' Lines
This is not an excuse to try and pick up strangers at Disney World (this really isn't the best place to find a date), but rather a way to get through long lines you will find at every ride or attraction faster. If you're a big family and you want to stick together like glue, then this tip isn't for you! But if you're a group that doesn't mind being separated, then declaring yourselves as single riders means that you'll be called up to fill in empty seats on rides. This can definitely help you to move through the lines MUCH more quickly, so it is absolutely a great strategy!
2.) Make Disney FastPass+ Selections
If you buy tickets early, then you can use FastPass+ and make your requests as soon as possible. For those that aren't familiar with the concept, FastPass+ is essentially a method for automatically jumping through the lines (like VIP). You can select specific rides, and by doing that, you'll then be given an exact time-slot to be at the attraction. As long as you arrive at the ride in a timely manner, you can then jump most of the line in order to head straight onto the ride. This is a fantastic way to spend less time standing and waiting in long lines, and that means getting more rides fit in and more time having fun!
3.) Look for an Authorized Disney Vacation Planner
This is the Disney Speak phrase for "travel agent". Essentially, this is someone who can give you lots of insider advice, help you select the best hotel for you and your family, score great deals on tickets, and much more. Using an official Disney travel agent can definitely save you money, not to mention a huge amount of hassle, so it's well worth getting in touch with one and at least see what they're able to do for you. The best part is that they are usually completely free to use, seeing as they get their commission from Disney and not from you, so it's a Win-Win!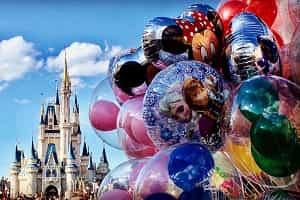 4.) Bring In The Snacks
Disney is wonderful fun, but it's also pretty hard work. You'll spend a LOT of time on your feet exploring, and you'll also be required to spend a lot of time standing in line. All these things can take their toll on your energy levels, which is why having intermittent pick-me-ups in the form of snacks can be such a great strategy. Individually wrapped snacks, like protein bars, are a good choice since they can fit in your pocket and will not require a locker rental. Likewise, bringing a water bottle is an absolute must. Can't say this enough. Nothing will ruin a trip to Disney World faster than having a fainting spell from dehydration while waiting in line.
5.) Bring Your Own Disney Autograph Book
As you head around the park, you're going to run into a bunch of costumed Disney characters, many of which you will remember from your childhood, although there are new ones, too. That means the likes of Mickey, Goofy, Donald, Minnie, Disney Princesses, Star Wars characters (who doesn't want an autograph from Chewbacca?), and many more like Jafar, Aladdin, Buzz Lightyear, Robin Hood…it'll seem like it's just about anyone who ever appeared in a Disney movie. We all have our favorites, and getting autographs is a fun way to interact with them!
What's more, is that kids love collecting autographs, and this is a great way to keep them happy as they go on a hunt to get as many as they can. At the end, it will make for an excellent keepsake.
6.) Bring Your Own Bag To Disney World
There are a few things that you should definitely bring with you on any trip to Disney World. We have already looked at and analyzed a few of these so we're always adding more to our complete list of items you should bring to Disney World here regularly if you need an ultimate (downloadable too!) list. Problem is, where are you going to put that water bottle and that autograph book?
The problem isn't so much carrying it around the park (although this can become annoying quickly), but rather what you do with those things once you hop on a ride. You're going to be turning upside down, descending extremely quickly, and possibly even getting splashed with copious amounts of water.
In other words, if you don't bring something to store your items in, they will very likely become wet or even fall out on the rollercoaster! This is an even bigger issue for young children. Get a small bag that is waterproof and that you can stow in a footwell around your ankle, or even a backpack that will hold a few small items, but won't be too big to just keep on during the rides. This is even more important if you have young children so that you can keep their items safely stowed in there too.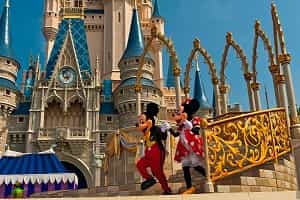 7.) Wear Proper Sensible Shoes To Disney (For Real This Time)
Maybe you've seen this everywhere, or maybe not, but it's because no Disney tips resource is complete without it. If one person has not seen this Golden piece of advice until now and avoids underestimating Disney World by not wearing proper footwear, it's SO worth it because this is HUGE. This is no baby theme park, it's the mammoth of all mammoths. It's Park-Nado. And in Florida. Wear the right footwear because you will have a MUCH better time.
But what counts as a proper sensible pair of shoes? It means a shoe that is comfortable and that will protect your feet when you've been walking around for a long time. It also means a shoe that is waterproof (very important when you are going on rides like Splash Mountain) and it means a shoe that won't get too hot! That's a tall order, but good quality breathable sneakers should tick most of these boxes for you.
8.) Have Disney "Explore Days" and "Mission Days"
There's a LOT to see and do at Disney, and if you turn up with absolutely no plan for how to get around the parks, then chances are you're going to miss out on some of the best experiences. Not only that, but you'll probably get rather flustered and frustrated too, especially when walking and standing in the hot Florida sun all day!
We recommend at least three days to do Disney. This is why it's a very good idea to start your Disney trip with a definite plan in mind. Know exactly what you want to see, and how you're going to go about seeing it. That way, you can jump the lines and you can avoid disappointment.
But if this is the ONLY way you experience Disney, then it can turn into something of a hollow experience where you don't fully enjoy and you're just rushing and sticking to a plan. You have to find a happy medium. Part of the magic of Disney World comes from looking around and exploring – never knowing quite what you're going to find. The atmosphere and the decorations are almost as amazing as the rides! Not to mention all the amazing photo ops you can find in the parks.
With that in mind, it can be a good idea to have a day to explore and scout right from the start. Grab the park maps with the show times and take it back to the hotel with you, then you can set stricter days where you search for specific rides and shows. This way you can make a plan and know exactly where you're going. Lastly, you will want to a have a final day to return to your favorite parts with a more leisurely pace.
9.) Use the Disney My Experience App
If you only take one tip away from this list, then it should be to use the Disney My Experience App. This app will do a number of smart things for you. For one, it will let you see how long the queues are for any given ride at any given time. A single ride can range from 80 minutes to 2 minutes depending on a myriad of factors, so this is invaluable advice. Now you know when to run for a ride that you really want to see and when to reconsider your current action plan.
Just as useful is the ability to order food to come to you! You can actually order the food from restaurants around the park with the app, then head to a specially marked window to pick up the grub as you go around the park. Now you don't need to waste a single minute of your trip standing in line for food… that's definitely a win!
10.) Go To the Disney Character Warehouses
Don't buy your souvenirs at the parks. The Disney Character Warehouses are large stores that sell a host of authentic Disney related merchandise and souvenirs. They're not located in Disney World itself but rather in two separate locations in Orlando. The reason you should definitely check them out, is that they provide a lot of the same souvenirs you can find at Disney World, but for a much lower price. If you're looking for things to bring home and you don't want to break the bank…now you know how to do that!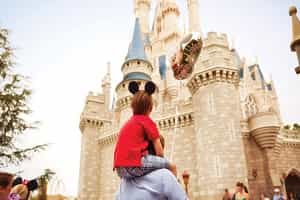 11.) Bring a Spare Shirt To Disney World
There's a good chance you'll get wet while you explore Disney World. There are three reasons for this. One is that you might get rained on, seeing as Orlando is prone to the occasional afternoon shower. Also here are things to do on a rainy day in Orlando if it's pouring too much to go at all. Another thing is that you might get splashed while you're on a ride like Splash Mountain. The third is that you might get extremely sweaty (it happens!) because Florida.
Having a spare shirt in that backpack is a great solution. Likewise, bringing a microfiber towel (a light towel that can be stowed easily in a bag and that dries in minutes) can also be useful for this scenario and a host of other situations.
12.) Bring a Power Brick To The Disney World Parks
Using your phone to take photos is one of the most battery-draining ways you can use it of all. Bringing a power brick means you can top up the juice no matter where you are to solve this problem! There may be other names for this device but that's what it says on mine. Maybe portable phone charger would be the proper term? Not sure, but basically…
It's one of those doohickeys that you charge up previously before you leave so it can store a charge and take it with you so you can plug it in to the phone to charge it on the go. This way you don't need an outlet and you're not stuck to a wall while you charge. I got one of these just recently and it's almost embarrassing how handy it's come in.
Alternatively, if you have a removable phone battery, you could also bring an extra battery. The point here is you really DON'T want to be caught out in a huge theme park with no way to contact your family or take pictures.
13.) Don't Forget the Other Orlando Attractions Besides Disney
Believe me, this is a Disney World tip and here's why: Disney World is incredible and you could literally spend weeks there without seeing everything it has to offer. BUT it's still only one small part of what Orlando has to offer and you're literally selling yourself and the family short by only considering Disney.
Other great attractions include SeaWorld, Universal Studios (which if you only do one other park, make sure it's this one – Harry Potter for the win!), Gatorland, Busch Gardens, and many others.
Make sure that you leave some time to see these places too, and this will also prevent you from experiencing any kind of "Disney fatigue" after 5 days straight of exploring the Magic Kingdom… it happens!