A trip to Disney World is more than just some outing you go on to have some fun. While it does provide you with that feeling of entertainment and satisfaction, it's a whole experience. While you're there, you get the feeling that everything is deliberate. The aesthetic, the characters, the fixture placements, and the sounds are just some of the things that create a unique aura around the Orlando-based wonder that is Disney World.
If you were to ask several people what the best thing about Disney World is, one could almost guarantee that everyone's answers would be different. That's the result of great variety and excellent offerings across the board.
One answer you'd certainly get is the food. People just can't resist good food, and why would they? Even former employees talk about the great food that is available at the attraction amid everything else that they say. Is it possible for so many people to be wrong?
If you think so, it's time to dispel that thought, as Disney World has some of the most amazing palette pleasers you can get your hands on. Assuming you're a normal human being, you can't eat it all in one or two visits. So, why not prioritize? Here is a list of the top 10 Disney World foods you must have.
Table Of Contents
10. Disney World Cinnamon Rolls
The first stop on the list is this simple pleasure. What could be so special about a cinnamon roll? Well, the flavors set off multiple taste buds simultaneously in an enjoyable fashion. Additionally, there are different textures that you experience when you hold and bite into one of these delicious pastries.
Imagine something that gives you a rich, sweet, and buttery taste at the same time. On top of that, it manages to be soft, gooey, and plump too. Of course, this is not the kind of meal you have as your breakfast or lunch, but it makes for a delicious snack.
You can find these wonderful bundles of joy at Gaston's Tavern, which is in the Magic Kingdom park.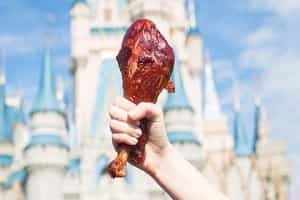 9. Giant Turkey Legs At Disney
Think of one of your favorite movies that featured the days of brave men battling with swords in an era that has long gone. King Arthur or The Scorpion King should do. As you know, huge feasts were prepared to celebrate victories or in preparation for war the following day. One thing that always stood out was the gigantic pieces of meat that one could only assume were turkey legs.
Have you ever imagined yourself biting into an oversized turkey leg? Well, now's your chance because you can't mention Disney World without talking about the giant turkey legs that you can find at any of the parks. They taste amazing, and they are bound to keep you full for a while. When you hold one, it instantly looks like you've taken a step back into prehistoric times, maybe even back to the caveman days.
8. Magic Kingdom Mini Corn Dogs (Corn Dog Nuggets)
If you've ever had corn dogs, you know how delicious they can be. If you know Disney World, you know that it finds ways to make almost everything extraordinary. What Disney World did with the traditional corn dog formula is nothing short of amazing. Some people call these mini corn dogs, while others call them corn dog nuggets.
Mini hot dogs are used for this recipe, and they're fried in cornmeal batter. They are then served with some savory fries. Don't let the small appearance fool you, as that doesn't stop this from being a filling meal.
This is yet another meal you can find in Magic Kingdom, as it's found at Casey's Corner. It's the cheapest thing on the menu, so it's great value for money too.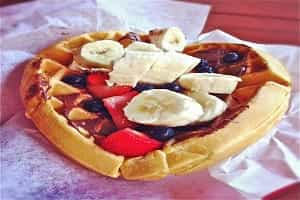 7. WDW Fresh Fruit Nutella Waffle Sandwich
No, you did not read that heading wrong. It seems like quite the combination, doesn't it? Don't be afraid to try it though, as you may find your favorite snack of all time in this tasty gem.
Many people who have had this sandwich before all agree that this is one of the best desserts in existence. Yes, there's a sandwich that's also a dessert!
Have you ever had fruits with Nutella? Have you ever had fruits with your waffles? Well, it's time to combine everything. This is a waffle folded in half to create the look and feel of a sandwich. Within it, there are bananas and various kinds of berries. Of course, there's a layer of Nutella that acts as a delicious border between the waffles and the fruits.
You can find these amazing sandwiches at Sleepy Hollow in the Magic Kingdom theme park.
6. Disney World Churros
Sometimes, the best thing you can do in life is to go the classic and simple route. The churro is the embodiment of classic as far as Disney World is concerned. If someone tells you about a visit to the attraction, it's likely that a couple of churros are featured somewhere in that story.
While you do have the classic version, sometimes the parks like to switch things up a bit as they offer special-edition churros. These editions usually revolve around flavors, holidays, or Disney productions. For example, there have been Christmas churros, and there have even been Star Wars churros.
Churros are made by frying dough, which is tossed with cinnamon sugar. That's every bit as delicious as it sounds. They are also convenient snacks, as they don't take ages to eat, and they're easy to carry. Churros can be found at just about all parks. It's the perfect food to get you through standing in those long lines.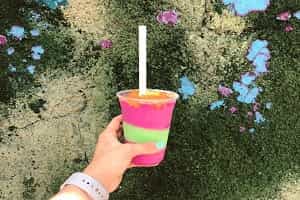 5. Disney's Avatar Night Blossom
The moment you lay your eyes on a Night Blossom, you know that there's something magical about it. This drink looks like something straight out of a mystical work of fiction, and there's a good reason for that.
Remember that wonderful movie "Avatar"? If not, you need to go watch it! If you do, however, this drink is built around the Avatar theme. Whether you have seen the movie or not though, that doesn't stop you from enjoying the simultaneous flavors of passion fruit, apple, and pear.
The drink has layers of neon pink and green colors, which indicate where each of the delicious flavors lies. You can grab one of these refreshing beverages at Pongu Pongu in the Animal Kingdom.
4. WDW Cream Cheese Pretzels
There are some snacks that just become staples in life and pretzels fall under that category. You can find them almost anywhere and they're quite tasty. Even movies and TV shows have characters that eat pretzels in various shows and movies, just to give an organic feel to the scene.
As you know, there are some creative spins put on pretzels. Of course, Disney World had to get in on the fun and create one of the tastiest variations that exists. As the name implies, this is a pretzel that is stuffed with cream cheese. Biting into one gives you a creamy and dough-like texture, wrapped in a slightly sweet, creamy, and cheesy taste.
It's as magical as it sounds, and you can find this snack at Launching Pad, which is yet another Magic Kingdom location.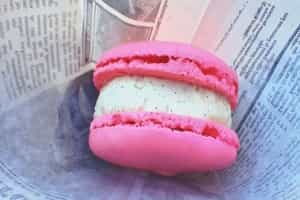 3. Epcot Macaron Ice Cream Sandwich
Here's something that causes salivating with its name alone. You can only ever find a few snacks to rival this one in your life, and don't be surprised if you find yourself wanting more than just one.
The assembly is just what the name implies, as it's two delicious macarons that enclose a serving of fresh ice-cream. You can usually get this snack in chocolate or with another ice-cream flavor. The second flavor depends on what season it is. For example, peppermint is winter's flavor. You can find this at L'Artisan des Glaces in Epcot.
2. Mickey Mouse Pretzels
So, here is yet another pretzel on the list. It's no surprise too, because Disney World seems to apply some form of magic in its pretzel preparation that makes them stand out. It's also a Mickey Mouse shaped snack, which is typically an indicator that it's a good one.
The snack is just as iconic as its mascot, as it has an amazing flavor. While you may be used to hard pretzels, these have a soft texture, and they are quite large. In fact, you can easily share this with someone and have more than enough left for yourself.
As you'd expect from such a tasty treat shaped like Mickey, you can grab one at pretty much any snack kiosk in any park.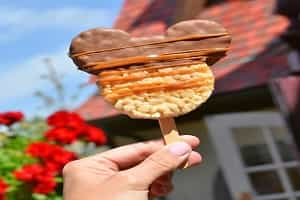 1. Caramel Mickey Mouse Krispy Treat
The final entry is yet another of Disney World's Mickey Mouse-shaped, iconic snacks. While there are many Mickey Krispy offerings around the venue, these caramel delights can only be found at Karamell-Küche in Epcot.
This crispy snack is dipped in chocolate and has a drizzle of Werther's caramel. It's on a stick for convenience, and the flavor combination is nothing short of divine. This is a snack you absolutely MUST have before you leave.
What Food To Eat At Disney First?
One of Disney World's signature trademarks is its amazing food that both staff and visitors find amazing. There are numerous tasty offerings available, which means that you need to prioritize. Why not start with the 10th food on this list, their Cinnamon Rolls? Yum-Yum!