We all know that Disney World is one of the biggest attractions in the entire world, and it draws an incredible 52 million visitors every single year! It's no surprise then, that the name "Orlando" has almost become synonymous with Disney World.
While that's true though, it would be a mistake to visit Florida and only go to Disney World during your trip. Disney World is actually only one many incredible attractions in the Central Florida area. In fact, if you were to lift even one of the smallest attractions from Orlando and drop it in any other region in the world, it would likely become one of its biggest selling points.
Disney World has not only attracted some of the biggest parks in the world, but it has also raised the bar to such an incredible level that they have had to compete with. That's before you consider the wonderful climate of Orlando itself and the beautiful scenery. With all that in mind, here are some of the best things to do while you're there.
Table Of Contents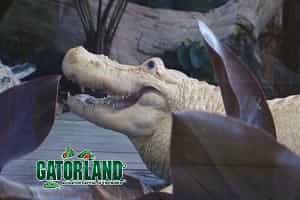 Gatorland & Airboat Rides
As you walk around Florida, you may notice alligators sitting on the side of the road by many of the lakes that spot the Central Florida region. This might be a little bit alarming or intimidating at first, but the good news is that they'll leave you alone as long as you keep your distance.
Want to get a closer look? Then how about taking a visit to Gator Land? It's not as well-known as some of the bigger parks in Orlando, but it's actually just as exciting in its own way. Gatorland is home to hundreds of alligators, crocodiles, and other reptiles and birds. You'll be able to get up close and personal, and even to hold a baby gator for a photo! Witness feeding time, and learn all about these amazing, ancient animals.
What's more, is that Gator Land also has a shop, cafes, amusement rides, like a ropes course and zip lining, walks, and a host of other attractions to fill up an entire day out!
But maybe that's not exciting enough for you? In that case, you might like to get closer to some of those wild alligators! You can do just that by renting an airboat at an attraction like the Everglades Swamp, maybe even enjoy a day at Boggy Creek Airboat Adventures and take a look around this beautiful and swampy environment. It's a great way to see the "real Florida" and it's also a very exciting chance to drive or ride in a new vehicle. It makes for a great day out and a fun break from all of the parks and commercial attractions.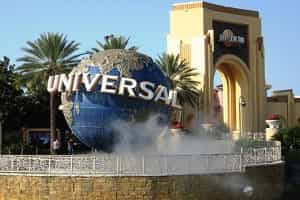 Universal Studios & SeaWorld Theme Parks
Now, if you came to Florida for the rides and theme parks, there are a couple other BIG attractions you need to visit: Universal Studios and SeaWorld. It might not be quite as big as Disney, but it still offers a huge number of rides, some incredible shows, and a host of different characters that you won't find at Disney or anywhere else for that matter.
The synergy between these parks has grown as Disney has bought up a lot of the intellectual properties that used to find their home at Universal, but if you're looking for Simpsons, Marvel, Muppets, Back to the Future, or many other themes and characters, there's still lots to be found here. The rides on average are also a lot bigger and a lot faster, which is great for adults and older kids.
SeaWorld is another HUGE attraction that represents the very top of its class. SeaWorld is of course a theme park, but it also offers large aquariums and waterpark rides to enjoy, too. There are tons of animals to see, lots to learn, and loads to do. You'll be able to watch shows, see trained dolphins, get up close and personal with huge sharks, and ride a number of sea-themed rides.
Expect to get wet here from the rides and from the shows which very often splash the front rows! It doesn't matter though, seeing as the weather is so amazing, you'll dry off in a matter of minutes!
And, if you're planning to come for the Spring of 2020 or beyond, get ready to experience the new Ice Breaker rollercoaster at SeaWorld. It's going to be one of Orlando's only multi-directional roller coasters, going forward and backward, and dropping from heights of almost 100 feet up and angles of up to 100 degrees. It's going to feature the steepest vertical drop in all of Florida and is sure to be the best roller coaster in Orlando for any and all serious thrill seekers.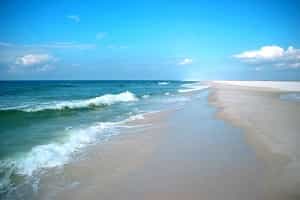 The Florida Beaches
While Orlando proper has no beaches, if you want to completely see Florida, then you should definitely set aside some time to visit the surrounding beaches as no Florida vacation is complete without some sun, sand, and surf. Some of the best most breathtaking spots include Dry Tortugas National Park, Sanibel Island, and Biscayne Bay. You can also take a trip to the most southern-most point of the Continental US by heading down to the Florida Keys!
All these beaches offer great weather for getting a tan or taking a swim, untamed waves for surfing and boogie boarding, and great, sandy beaches for picturesque days. If you're lucky you may even get to see some exciting wildlife on display here, too!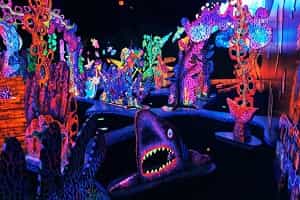 Crazy Mini Golf Attractions
Here's an insider secret that a lot of people don't tell you about when visiting Orlando: you NEED to try the crazy golf! In particular, you need to check out Pirate's Cove Adventure, which is to Crazy Golf what Disney is to theme parks. That is to say that it pulls out ALL the stops to offer a truly fantastic experience. Whether you're hitting your ball along the plank, down waterfalls, or through caves, the level of detail and the crazy shots really make this a memorable experience.
It's perfect for filling a quiet afternoon and of course there are places nearby to eat and a shop as well! If you want to take your Mini-Golfing experience to another level, try the glow-in-the-dark gold at Putting Edge inside the Festival Bay Mall on International Drive.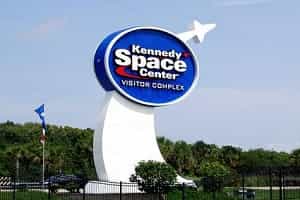 Kennedy Space Center Cape Canaveral
One of the most incredible nearby attractions of all though is undoubtedly the Kennedy Space Center. For kids who are going through a "space phase", this is a dream come true. For everyone else, it's a fascinating up-close look at the reality of space travel. You'll be able to learn about various voyages into space, the nature of the solar system, and the history of NASA. You can inspect real shuttles, moon buggies, and space suits, and you can even test yourself against some strong g-forces.
There's also a massive IMAX screen for watching incredibly immersive documentaries, and if you're really lucky, then you might even get to witness a launch live, although this may take a little extra planning!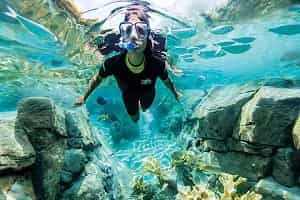 Discovery Cove Orlando
Putting the variety of things to do in Orlando on full display, Discovery Cove is once again a taste of something completely different. Specifically, this is a chance to snorkel or scuba dive with a host of exotic sea creatures, and even to swim with dolphins! The latter is not cheap by any stretch, but it's a truly once-in-a-lifetime opportunity, and you'll be given a souvenir photo to take home that can mark the occasion.
Swimming with a dolphin is just as magical as it sounds. It's all controlled in a shallow pool of course, but these intelligent creatures quickly bond with visitors, and will even take you for a ride if you hold onto their fins!
Fine Dining And Great Shopping
If you're visiting Orlando, then taking the time to do some shopping is an absolute must. There are lots of huge shopping outlets here, which cater to just about everyone. You can get affordable fashion, loads of things for kids, and the latest technology. Definitely take a day out from all the rides and shows to have a look around! The Premium Outlets and the Orlando International Premium Outlets are a must if you plan to do any shopping in Orlando.
Likewise, you should be sure to book yourself into some of the themed restaurants in the area. There are a ton of great ones provided by Disney World, but you'll also find some exciting places to eat out of the area. Orlando is such a melting pot that you can find any type of food you're in the mood for. A particularly memorable experience to enjoy would be one of the dinner shows in the area. These include live entertainment with a three-course meal included!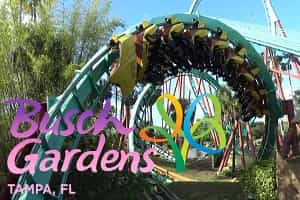 Busch Gardens Tampa Florida
Busch Gardens in Tampa is another amazing day out that is worth the short trip. You'll be able to meet all kinds of animals in this jungle-themed park, see live shows, and enjoy a ton of different rides and attractions. The jungle theme is really what sets this one apart though, and it's a great fit for a part of the country with such a humid climate. There's a great gift shop too and it's a wonderful break from the other parks.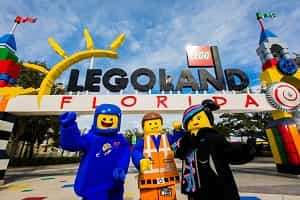 LEGOLAND Florida
Lego has grown in popularity since the company began doing tie-ins with other franchises like Star Wars and Batman, and since the hugely successful movie. LEGOLAND is one of the beneficiaries of that success, and has grown in size and scope with impressive results. This isn't one of the biggest names when it comes to Orlando attractions, and it will take a bit of a drive, but it's certainly worth a trip. It has a huge number of things to do. You can marvel at some of the insanely intricate and elaborate LEGO creations, go on lots of rides that are aimed at a variety of ages (and are particularly fun for young ones), and you can even earn a LEGO driver's license! Of course, there is also a huge LEGO shop, so you can add to your collection.
How Much Is There To Do In Orlando Other Than Disney?
As you can see there are a huge number of things to do in Orlando and they are not all Disney themed. And we haven't even included everything on this list! There are more parks, more water parks, more indoor and outdoor attractions, and of course a host of different places to eat, drink, and shop. That's just one more excellent reason to visit Orlando – and to make sure that you give yourself plenty of time to see everything that the region has to offer.
Oh, and one last tip…Make sure that you stay at a great hotel while you're here and leave yourself just a little free time to actually unwind. While exploring these parks and attractions is definitely guaranteed to be amazing fun, it can also get very tiring. Let's just say you'll rack up a LOT of steps while you're here, that's for sure. You will want to make sure that you give yourself some time to recover and to catch your breath. It will make the park days all the more amazing.