When you go to Disney World, you want to experience everything in the iconic park. Unfortunately, the sad truth is there are only so many hours in the day and you probably won't have enough time to do everything. This is obviously a well-known fact to the park owners (and surely well-planned) as this means you will have to come back again…and again…and so on and so forth.
The attractions, rides, and parades are hugely popular for the young and old alike. However, there is another side of Disney that should get the attention it deserves—the food! Disney World has impressive eats located right inside its gates.
There are all sorts of snacks and meals to discover that are going to knock you right off your feet! This list has some of the best fare you can find inside the Disney parks. So, what are you waiting for? Put on some Mickey Mouse ears, and let's get started!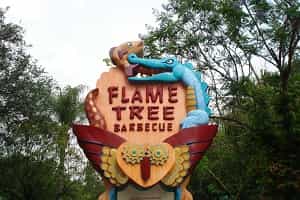 Flame Tree Barbecue
If you find yourself in the mood for some good southern cooking, then look no further than Flame Tree Barbecue. The unique restaurant is located in Animal Kingdom and offers incredible barbecue and other deep south food. As soon as you approach the quick-serve restaurant, you can smell all the fantastic meats that are cooking on the grills.
Flame Tree has outdoor pavilion-style seating with a nice view. As you chow down on the ribs, barbecue sandwiches, and delicious sides, you can glance out at the passing visitors scuttling to and fro. Although this is an informal outdoor eatery, tables are kept clean, and service always comes with a smile.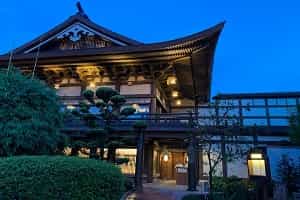 Takumi-Tei
On the other side of the restaurant spectrum is Takumi-Tei in Epcot. This upscale restaurant offers a menu of traditional Japanese food with a Disney twist. It just opened last summer, but the restaurant has quickly become one of the best places to eat that Disney World has ever had.
When you enter Takumi-Tei, you immediately feel as if you have stepped into the far east country. The attention to detail is going to floor you. There are five rooms that all have a different theme. Each area feature a calm and inviting atmosphere; you aren't going to want to leave!
The restaurant has an a la carte menu and an omakase menu. "Omakase" means it is up to the chef to decide your meals. This selection is seven courses of delicious food. Some of the fare presented here include sushi assortments, seafood salads, and wagyu beef. This place is an adult-type establishment, so you may want to save this choice for a romantic Disney World date night.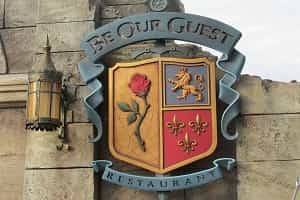 Be Our Guest
It isn't a visit to Disney World until you visit Be Our Guest. This popular establishment is located in Magic Kingdom and is modeled after the Beast's castle in the animated classic, Beauty and the Beast. This place is fun for the whole family and is an unforgettable experience!
The restaurant offers a quick-service breakfast, lunch, and a sit-down dinner. The menu is centered around American and French cuisine with entrees that include spice-dusted lamb chops, pan-seared scallops, and center-cut filet mignon.
The kids' menu also offers plenty of options. There are even selections for the pickiest of eaters. The atmosphere is excellent fun. As you dine, you feel as if you were a part of the movie. Be Our Guest isn't a character dining experience, but it is still a fantastic choice for dining out at Disney World.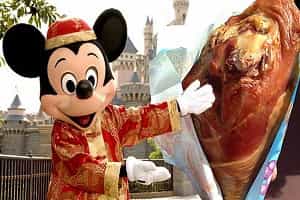 Jumbo Turkey Leg
If you're wanting to stick with snacks or if you feel like taking a break from the sweets and are looking for something to quell your carnivorous cravings, there are plenty of options at Disney. You have to try the huge turkey leg that can be bought off a cart in Magic Kingdom…and for under $10!
Seriously, this poultry is so big it could be a meal all on its own! Extra bonus here is that it's a convenient snack to munch on while waiting in one of the long lines for any of the given rides or attractions around the park.
The turkey is fresh and full of flavor. There is a subtle smoky essence to it, and the juiciness is incredible. When you get one in your hands, make sure you have plenty of napkins available to wipe off that goodness from your fingers (and your face) when you are done. Although it is pegged as a to-go snack, the turkey leg can be messy if you're not careful!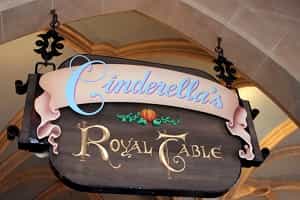 Cinderella's Royal Table
If you want to meet your favorite Disney characters while you're visiting the Disney parks, then Cinderella's Royal Table is the way to go! This Magic Kingdom eating spot is truly a dream come true. As you walk in Cinderella Castle, follow the signs to the Royal Table. When you walk past the grand entrance, Cinderella is there to greet you. The banquet hall is accessible by elevator or a spiral staircase—take your pick!
When you arrive at the hall, the first thing you notice are the castle windows that have a fantastic view of Fantasyland. Ariel, Jasmine, Snow White, and all the other princesses are also walking around from table to table.
You can dine on decadent dishes for breakfast, lunch, or dinner. Some of the food offered include beef tenderloin, fish, and roasted chicken breast. This does require prior reservations and it will cost a pretty penny, but if you have young children, it will be totally worth it.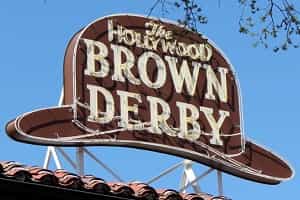 The Hollywood Brown Derby
Hollywood Studios houses one of the most iconic restaurants in all of Walt Disney World. The Hollywood Brown Derby is a replica of the California-based establishment that has been around for decades. The dining area is comfortable with movie décor along its walls.
The Hollywood Brown Derby is best known for its Cobb salad, which is large and very filling. In addition to the salad, the restaurant has more American options that include fish, beef, and chicken. While you can take your children here, it is considered more of an upscale eatery.
You don't have to dress to the nines, but do expect a more sophisticated ambiance. Its outdoor lounge is the perfect place to grab a drink or two to wind down the day.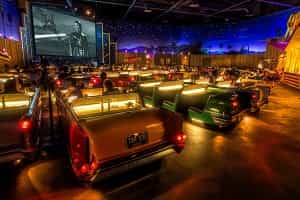 Sci-Fi Dine-In Theater
The Sci-Fi Dine-In Theater is a non-conventional place where you can eat a meal while taking in an old science fiction movie. It's located in Hollywood Studios and has a quirky style that you won't see anywhere else in the park. To top off the eccentric look and ambiance, you are seated in a 1950s classic convertible, which doubles as your booth!
This eatery has diner-style food that includes delicious milkshakes and burgers. For the adults, they also offer craft beers and cocktails. As you dine, you feel like you are eating at a drive-in movie. When you look up at the ceiling, you will notice that it was painted like the night sky. It's a cozy and comfy place that you and your family are going to love!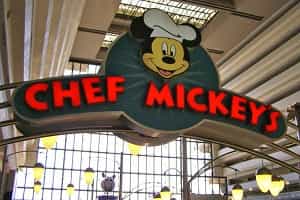 Chef Mickey's
Another great character dining experience includes Chef Mickey's. This incredible restaurant is located inside Disney's Contemporary Resort. It is an all you can eat buffet-style establishment that serves breakfast, brunch, and dinner. The dining area is large and gives families plenty of room to have fun while dining with a long list of Disney favorites.
Mickey, Minnie, Goofy, and friends take the time to visit every table and interact with all the guests. You can hug, high five, and take pictures with them while you dine on the traditional American food.
It has a laid-back atmosphere that is designed to keep kids and their parents cool and calm while they get to know Disney World's characters a little bit more. Chef Mickey's is going to leave you and your family starry-eyed for the rest of your visit here!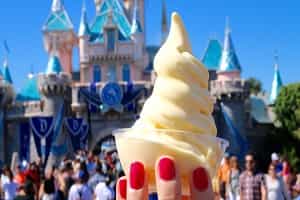 Dole Whip
Perhaps you haven't heard about it yet, or maybe it's all your friend or family member that just got back from Florida can talk about, but you can't forget about trying the new Dole Whip when talking about some of the best treats in Disney World! This cold snack is a must-have at least once during your stay here. It is perfect on a hot Florida afternoon.
What is Dole Whip? Well, it's a dairy-free soft serve dessert that is flavored with pineapple. You can also add pineapple juice to it, which literally sweetens the deal. This one-of-a-kind treat is piled high when you get it, and it'll be gone before you know it! You can find Dole Whip in Magic Kingdom, Animal Kingdom, Epcot, and a few more locales around the park.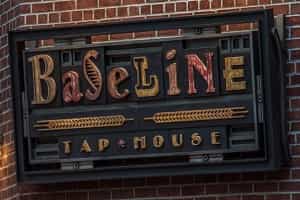 BaseLine Tap House
For the adults who just want to sit back and enjoy a brew, then BaseLine Tap House is right up your alley. This tap house is located in Hollywood Studios and has a full menu of craft beers, wine, and typical bar food. This lively bar has an industrial California feel that looks sharp and edgy.
The tap house offers appetizers and small-bite plates that pair well with any drink of choice. Bavarian pretzels, charcuterie boards, and fondue all hit the belly just right. If you want non-alcoholic drink choices, there are cocktails without alcohol like lemonade and other fresh fruit juices that hit the spot.
BaseLine Tap House is the ideal place to wrap up a long and adventurous day in the parks. The inside is basic, with just a few chairs and tables. If you want a place to sit down, you need to get there when crowds aren't so heavy. Its primary focus is the alcoholic beverages that are all delicious to drink. So, grab your best friends or significant other, and make it a great Disney date night to remember!
What Diet? You're On Vacation!
Dining in Disney World is supposed to be fun and entertaining. Luckily, the park has something for everyone when it comes to cuisine. From casual eateries that cater to families with small children to fine dining that can make any date night perfect, you're sure to enjoy what ever you decide to eat.
Whatever you are looking for, Disney World in Orlando, Florida has got it. Make sure you make proper reservations when necessary, and enjoy all the food and drink the park has to offer!