Disney World is best known for its stellar attractions such as the famous Cinderella Castle, Tower of Terror, and the new Star Wars attractions among many others. However, its live stage shows are incredibly spectacular, and should not be missed.
Throughout the park, there are dozens of performances and musicals that you and your family are going to enjoy thoroughly. No matter what type of entertainment you and your family enjoy, you can surely find a live show at Disney that will keep everyone enthralled from the very beginning. These shows will surely have you wondering why you haven't been to see them before.
They entertain from start to finish and will leave you begging for more! We've rounded up a list of the best live entertainment acts that can be found at Walt Disney World in Orlando, Florida. These shows are truly a feast for the senses to say the least.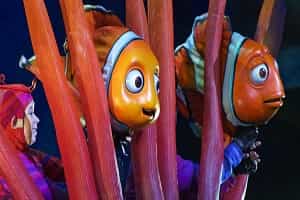 Finding Nemo
Who doesn't love the cute Disney cartoon, Finding Nemo? Well, the musical blows that movie out of the water (literally)! When you visit the park you should make it a point to see this live show. You can find the performance inside Animal Kingdom and it's a half hour of fun out of the sun.
When you sit down, you are immediately taken into the deep sea environment and brought along for the wondrous ride. The show has 14 musical numbers that are all intertwined with the story. The larger than life puppets that are used are going to keep your children intrigued and in their seats. This show is a must for music-loving families.
Frozen
Frozen is an animated movie that rose to meteoric heights as soon as it was released in theaters. Viewers of all ages have fallen in love with Elsa, Anna, Olaf, and all the other cast of characters who make the movie fantastic.
Of course, the music in the animated classic has become just as popular as the animated cast, so it's no surprise that the live stage show meets that level of excellence. Disney Hollywood Studios houses the For the First Time in Forever: Frozen Sing-Along Celebration. The storyline follows the original movie, but with one major difference—you can sing along with the actors! They encourage you to belt out your favorites along with them. It is an incredible experience, especially for the young children in the party!
The show is located in the Hyperion Theater and runs at a few different scheduled times throughout the day. All ages of Frozen fans are going to fall in love with this live theatrical performance.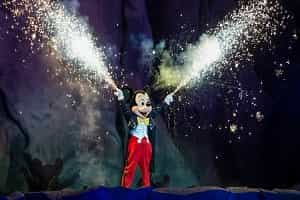 Fantasmic!
The Fantasmic! show is a true classic. It has been around since the late 1990s and has been a long-lasting staple inside Disney World. The live stage show is huge and leaves a lasting impression on all who watch it. Hollywood Hills Amphitheater houses 7,000 seats just for this show.
The storyline centers around Mickey Mouse and his wild imagination. The live performance uses music, lights, pyrotechnics, water, and so much more to tell its story and really get you immersed in it. You get an incredible look into the mouse's mind. Other Disney characters make their way into the show, and nearly 50 actors support the cast. You can even book a dining experience to accompany the 25-minute show. If you are looking for a unique experience and an extra way to enjoy the park – this is it!
Festival of the Lion King
The Lion King is a Disney cartoon that has won over millions of hearts throughout the world since its initial release. The musical soundtrack can still be heard playing on radio stations today and has become a staple for Disney fans around the world.
It should come as no surprise that Disney World wanted to include this fantastic movie within its gates. It created Festival of the Lion King to pay its respects to Simba and other characters. It is a Broadway-style musical that uses stunt work and acrobats to create an African dreamland. As an audience member, you are encouraged to become a part of the show.
The live musical can be found in Animal Kingdom and is made for all ages. Make a point to watch this performance if you can. It'll have you singing "Hakuna Matata" all day and you are going to want to come back on your next visit to Disney World to watch it again!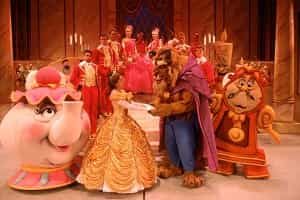 Beauty and the Beast
When Beauty and the Beast was first released in 1991, there were many children who fell in love with Belle and her story. This classic remains in Disney's top movies to watch with your family. Thankfully, Disney World knew they had to keep the story alive and created a live show that does just that.
Located in Hollywood Studios, the performance is a dream. The use of set design and costumes is genuinely out of this world. There are also musical numbers that feature intense choreography. When you see this show in action, you know the cast has spent hundreds of hours perfecting what they put on display. As a Disney World ticket holder you are in luck This show is free of charge with the price of admission!
Mickey's Royal Friendship Faire
Mickey Mouse is back at it again with this extraordinary live performance. It takes place in the Magic Kingdom and appeals to fans of all ages. This show opened just a few years ago and has steadily become a popular musical act to look out for. It is located on the Forecourt Stage at Cinderella Castle, so make sure to have your camera handy for those spectacular photos.
If you don't get there early, the first few rows are going to be packed with park goers waiting on the magic to start. Thankfully, you can watch Mickey and friends from various areas near Main Street, so you are bound to have a good view no matter what. The stage is elevated for this reason.
There is a ton of music, dancing, and fun for the whole family. It is Disney World at its best. There is no flashy stage set or wild lasers or pyrotechnics. It is Mickey, Minnie, Donald, Elsa, Princess Tiana, and many others all in their glory. Since the show occurs a few times throughout the day, this would be a great performance to watch as you get your day started or even to round out your afternoon before you leave the park.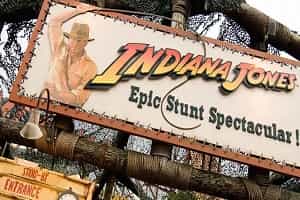 Indiana Jones Epic Stunt Spectacular
If action and pyrotechnics are more of your thing, Indiana Jones Epic Stunt Spectacular should be on the top of your list. This act is one of Disney World's longest-running stage shows. It first debuted in 1989 when the movie franchise was at the height of its popularity.
There are reenactments from some of the most action-packed scenes in the movie. George Lucas produced this live show, so you know it is going to be good! Indiana Jones Epic Stunt Spectacular focuses more on the first film, Raiders of the Lost Ark, so the younger generation may not get what or who they are watching if they haven't seen the movie. For adults and other fans of the film, this show will take you back to the movie's roots. It is fast-paced and full of suspense.
You even have a chance of making it on stage with some of the cast! Throughout the show, if you are older than 18-years old, they randomly pick a patron to join along in the action with them!
Disney Festival Fantasy Parade
If parades appeal more to you, there are plenty that take place throughout every Disney park. One, in particular, Disney Festival Fantasy Parade, has it all. It lasts around 12 minutes and happens late in the afternoon. This parade is popular, so you need to pick your spot at least a half-hour before it starts.
It all happens in Magic Kingdom and features Cinderella, Prince Charming, and many more classic characters. This informal live performance is the perfect way to relax for a few minutes in between jetting off to the other rides and attractions. Catch some of the fancy props that Disney World only showcases in this street performance. This event happens only once a day, so you'll have to plan for it because if you miss it you will have to wait until the next day or your next visit.
Rainy Day Cavalcade
This is one that many people aren't familiar with or don't even know exists. The Rainy Day Cavalcade only happens when it is raining in the park. It takes the place of previously scheduled Magic Kingdom parades that aren't so rain friendly. Take the opportunity to see this fun parade if it pours during your time in Disney World.
There is music and a bit of dancing to get everyone going. Everyone is dressed in their finest rain gear just for this occasion. You can smile, wave, and splash in the water with your favorite Disney characters. How fun does that sound?
Most of the Disney characters show up in Main Street cars and interact with park-goers along the way. The majority of visitors want to experience perfect weather while at Disney World, but that isn't always possible. Enjoy the rain, sit back, and watch this entertaining parade! That's what ponchos are for. Trust us, it's a rare treat!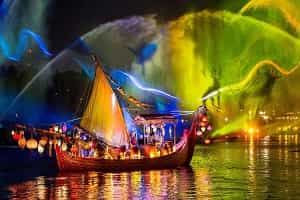 Rivers of Light
Rivers of Light can be found in Animal Kingdom and is a short show that happens at night. The show uses water as its central theme and urges Disney fans to protect and conserve our natural habitats. It's a great message for the kids and there is an extraordinary light show and original music that accompanies the entertainment.
While this show is only meant to act kind of like a filler for passing guests, it should still be watched in its entirety. The message it gives is on point for today and many generations to come.
Disney World has a lot of live stage shows that are sure to make your day at the park an enchanted one. The music, cast of characters, and visual displays that can be seen are some of the best features of Disney. Take some time to find a show or two for your family to watch—you aren't going to regret it!