The hotel is booked. The flights purchased. The time off requested (and approved) by your boss. You finally did it. You finally have your family vacation to Disney set and you're going! Congratulations! Now what? Now the only thing that's left to do is wait and check off the days on your calendar until it's time to go. Well, actually, there's still one more thing to do and that's to pack. So, besides the obvious, clothes, bathing suit, sunblock, what else should be on your Disney Packing List? There's a lot of items that can help make sure that your trip is more comfortable and then there are things that you need. Things that can literally make or break your Disney Vacation, so we'll talk here about 5 items on the secret Orlando packing list that no one will tell you about.
Well, first let's a huge consideration no matter where or when you're going to Disney consider the weather. Whether you're visiting Disney World in Orlando, Florida or Disney Land in Anaheim, California you can expect a warm climate, lots of sun, and a bit of humidity. You should definitely make sure to light clothing. Clothing made of Cotton, Rayon and Linen are usually good options. They're breathable fabrics and will help to block out the sun. Packing a sun hat is also a good idea, especially if you really are planning on spending hours (and days) visiting Disney and other outdoor attractions. In the case of Disney World in Orlando, you will also want to consider packing a poncho. Especially if it's a Mickey or Minnie Mouse one like this one. While ponchos are usually not the most attractive accessory, this one WILL be for a Disney visit and it'll ensure that your day is not ruined if you get caught with a mid-afternoon shower. Plus they're light and compact. Trust us, it's a Disney Packing List Must! You'll thank us later.
Next, you'll want to invest in a pair of nice, sturdy, comfortable shoes. If you're visiting Disney, or any major theme park, you will be expected to do A LOT of walking (maybe even some running). Now, you will want to stay away from sandals. The last thing you want is sunburn on your toes or blisters on your heels. You will want something that will stay securely on your feet and make sure you have plenty of support. Check out these shoes, and they have them in Men's and Women's styles. They're perfect for spending hours walking and standing in line and they're comfortable, stylish, lightweight, and supportive. Best of all there are many color options to choose from.
One other important thing that you may forget to pay attention to during you fun Disney Adventure is hydration. You have to make sure that you keep well hydrated, especially in the Florida heat. Dehydration can lead to dry skin, irritability, lack of energy, and even fainting. Nothing would ruin your Disney vacation quicker than if you, or someone in your family, have a dizzy spell or faints during your trip. An easy way to prevent that is to keep a refillable water bottle with you at all times. There are convenient water fountains all around the parks. The water bottles don't have to be anything fancy. You could get something functional, cost-efficient, and importantly Leakproof like these cheapest most useful water bottles we found. If you decide to not bring your own water bottles, one insider trick is that you can get free water at any Disney quick service restaurant. All you have to do is ask. Of course, you'll have to wait in line for it, so it is probably just better and more convenient to bring your own bottle so you can sip from it whenever you need to.
Also, very important, whenever you're traveling out of town, but ESPECIALLY for a Disney Vacation, it's always the best idea to have all of your important documents and personal belongings together. But in a Disney stay, you're always on-the-go. So some type of wallet or pouch that is made Specifically for Travel is the Only way to go.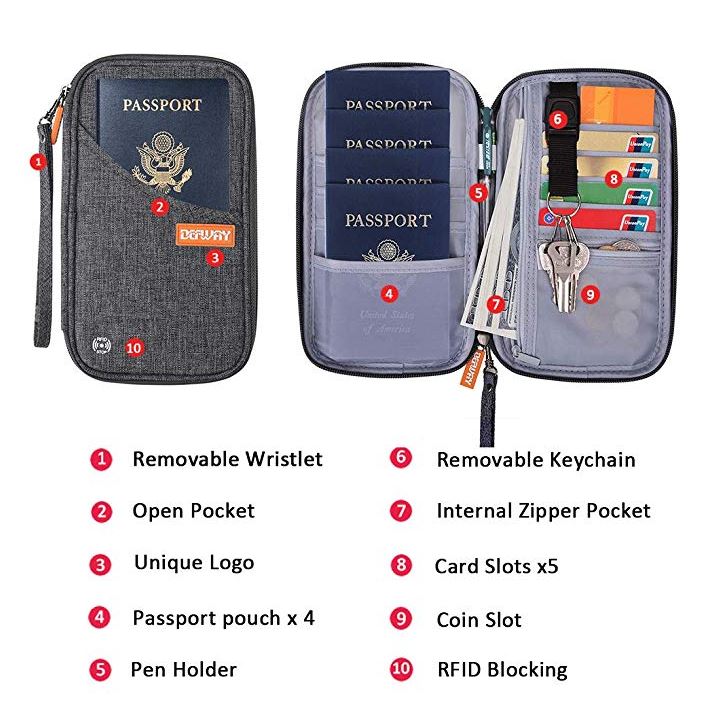 These days, security is first so it has to have RFID blocking protection. That just means it won't be able to be scanned by sneaky card thieves looking to scan card info from your wallet. It will instantly block the signal, keeping your info safe. Also, the travel wallet must have PLENTY of room for any personal belongings you will need to carry around. The best one we've found that fits all the needs and is still cheap is This Travel Wallet. It can hold your phone, a pen, Disney Passes, boarding passes, credit cards, passports, IDs, loose change, cash, and much more. It also comes with a detachable wrist strap keychain which will help keep it with you at all times. There are many colors to choose from and at under $20 you, and everyone in your traveling party, can get one and travel with more peace of mind.
The last thing on the Real Must Have Disney Packing List, and for any vacation really and honestly, is a good camera. Every family vacation calls for moments that you will want to remember forever. Posing with Pooh? Making Silly Faces with Tinkerbell? While most cell phones these days do often serve as a camera, you never know when the battery may run out or when your memory will get full. Enter the Akaso Camera.
With this camera you will get 2 rechargeable 1050mAh batteries included (each battery provides an hour and a half of recording), a remote to take pictures on demand, built in WiFi to allow you to easily upload and share your videos and photos, and more. Not to mention it comes with a waterproof case to capture pictures you may have never dreamed about in the pool or at the beach when you're done at the theme parks. When compared to the GoPro, many claim this is better in some aspects without the Heavy Price tag, and for the price you can't do better online for a true camera for a vacation. We've looked.
Taking a family vacation and going to Disney World or Disney Land is always a big deal. There's usually a lot of stress with making sure you don't forget any of the essentials and making sure to fit in everything that you and the family want to do in the few days you're visiting. It can be hectic, but if planned correctly you can ensure that everyone has a great time. With this list of items to pack for Disney you are sure to ace your Disney vacation with flying colors. You and your family are going to have a great time, make lots of memories, and finally have your Dream Disney Vacation Come True!